【Birria Ramen】Mexican Cuisine Brings New Ramen Possibilities
Published: May 4, 2022/ Last Updated:Sep 21, 2023
- 11 min read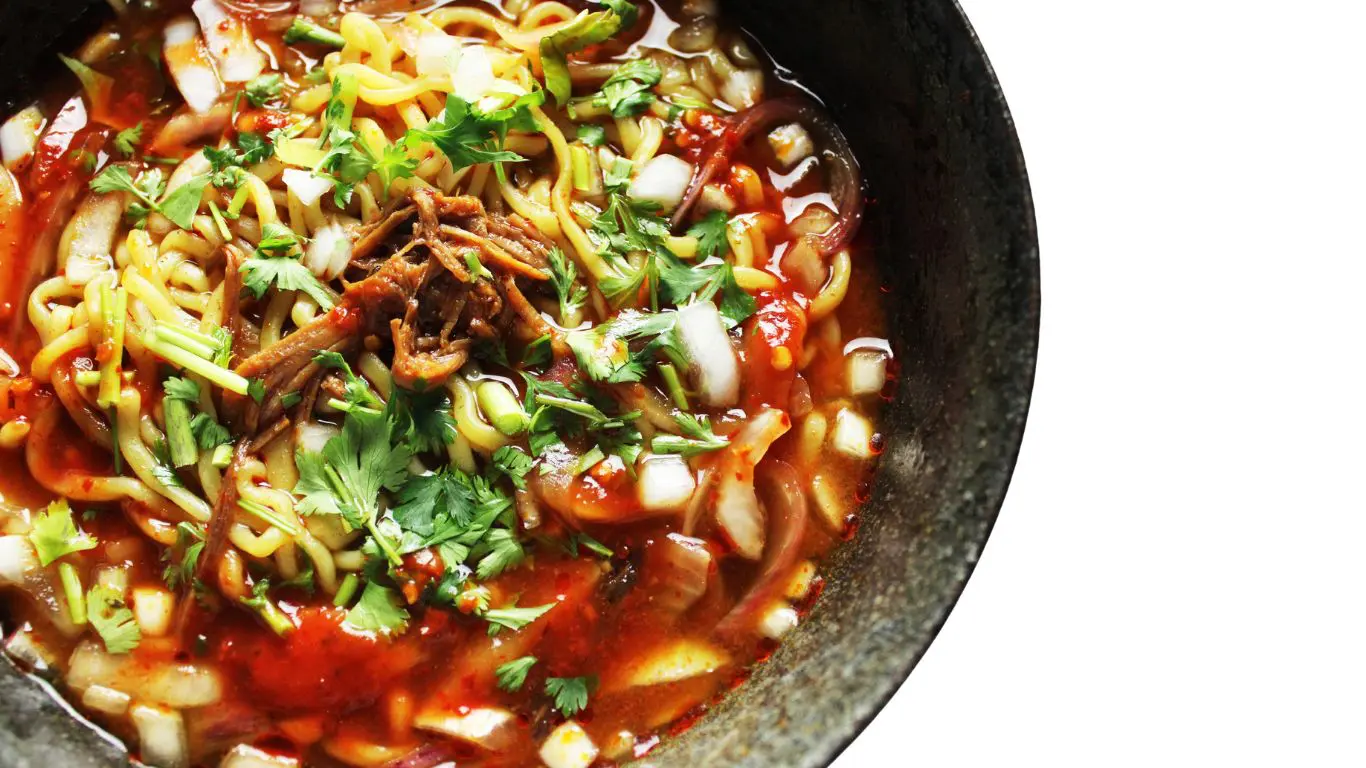 Cinco de Mayo is Spanish for the 5th of May and is the anniversary of Mexico's victory over the French Empire at the Battle of Puebla. The holiday commemorates the unlikely win of the poorly equipped Mexican army in 1862. Today, it is widely recognized as a celebration of heritage by Mexican Americans living in the United States. Some articles cite that the amount of beer consumed on Cinco de Mayo exceeds that of St. Patrick's Day and the Super Bowl, and the excitement in the U.S. surrounding the holiday greatly surpasses that of the celebrations in Mexico.
Cinco de Mayo is a glamorous and grand holiday that is celebrated with Mexican food such as nachos and tacos, toasts of tequila, colorful costumes, and dancing. Customarily, the food is traditional Mexican cuisine, with dishes ranging from familiar favorites, such as tacos and guacamole, to those that were served in Mexico before the Spanish invasion, such as tamales and pozole. Enjoying any one of these dishes is a perfect way to celebrate Cinco de Mayo.
Inspired by the Mexican cuisine that honors Cinco de Mayo, we would like to introduce the "ramen" that is intertwined with Mexican food culture, particularly "birria ramen"! Perhaps the ramen lovers reading this have already heard of this dish before, and perhaps many of you have already tried it. In fact, birria ramen is one of the new crazes that has gained attention in the United States in recent years. As you may guess by the name, this ramen is closely related to Quesabirria (birria taco), which also has gained immense popularity through social media. In this issue, we will focus on birria ramen and look at the new ramen possibilities that Mexican cuisine itself may inspire in the future.
■What is "Birria" Anyway?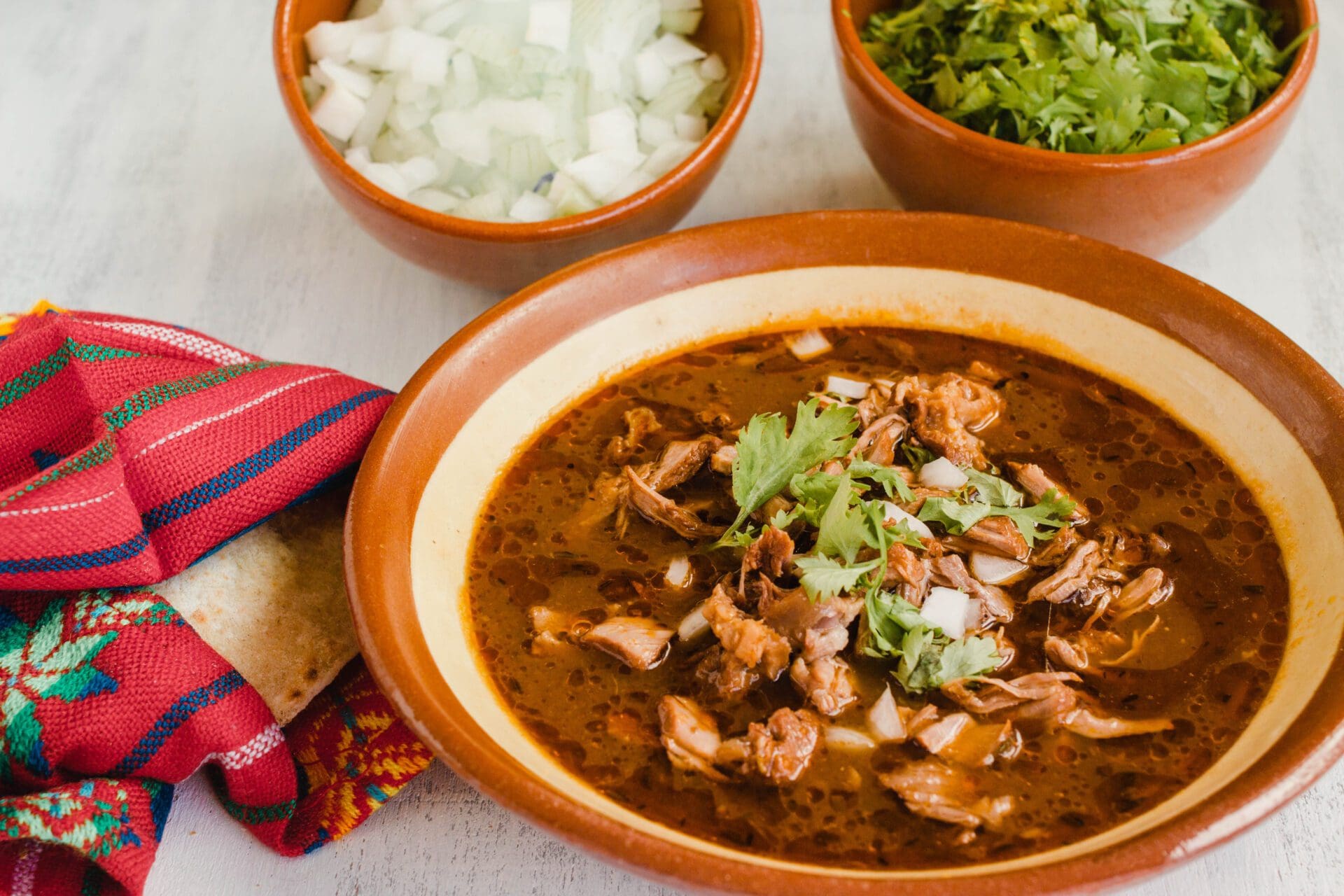 Birria is a traditional Mexican stew (soup) dish. It is made by slowly simmering chili peppers, goat meat, garlic, thyme, and other ingredients over low heat, and is enjoyed with toppings such as cilantro and onions. Nowadays, lamb and beef are favored over goat meat in the stew, and the dish is characterized by its tender, flaky meat. Birria has become very popular in the United States as a soup to dip tacos in. We will look at the roots of birria and its evolution into birria ramen, which led to a boom in the United States.

■History of Birria
Let us begin with the history of birria. It originated in the Mexican state of Jalisco, after the Spanish invasion brought goat meat to the area. The Spaniards offered the meat to the Mexicans because they did not know how to cook the gamey and stringy meat; thus, it was named birria, which is a derogatory Spanish term for, "worthless." On the other hand, the Mexican people were masters of cooking with herbs and spices and used it to create a dish similar to the one that we know today.
The traditional cooking method of birria was a technique that steamed the meat, and it was not until around 1950 that the dish evolved into the stew-like dish that is popular today. It is said that Guadalupe Zárate, who opened a taco shop in Tijuana after moving from Coatzingo, added water to his birria to prevent the meat from burning. At the same time, Zárate opted to use beef in his dish instead of the traditional goat meat. The resulting birria was like a Mexican beef stew, made with a flavorful sauce of chili, tomatoes, onions, garlic, and a host of herbs and spices. This transformation led to the local popularity of the Tijuana-style beef birria (birria de res).
The evolution of birria did not stop here: in the 2000s, tacos with beef birria as a filling were invented in Tijuana. The well received Quesabirria (cheese birria) includes beef birria and cheese folded in a tortilla. One characteristic of quesabirria is its mouthwatering red appearance. This is from dipping the tortilla in the supernatant oil of beef birria before cooking. The second characteristic is that it is served together with a cup of beef birria stew. This stew is called consommé and is used as a sort of dipping sauce for the quesabirria.

■Birria boom started from SNS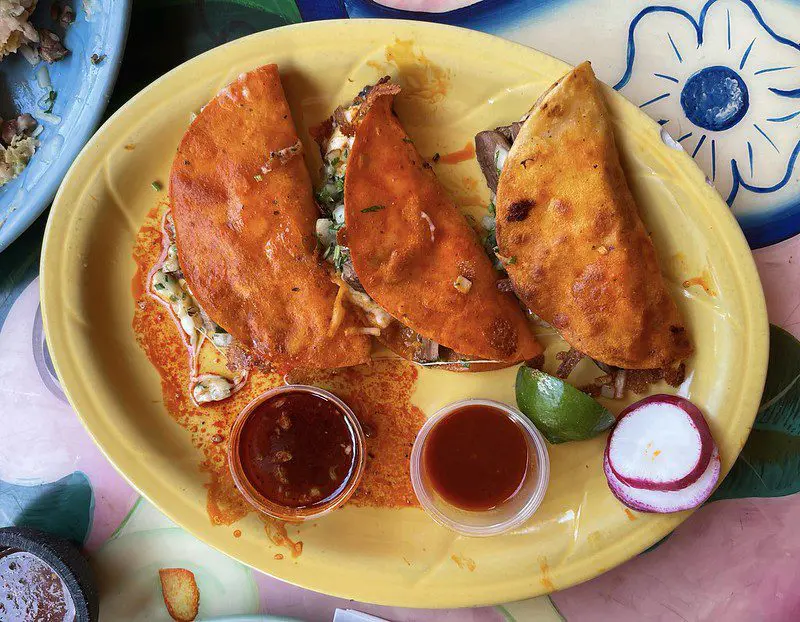 Image by ©Sarah Stierch,
Flickr.com
Quesabirria (more familiarly known as "birria tacos") was born, and it took the United States by storm with Los Angeles at the epicenter. The two restaurants that brought quesabirria from Tijuana to Los Angeles are "Birrieria Gonzalez" and "Teddy's Red Tacos." They are credited with catapulting it to Mexican food stardom in the United States. On November 4th, 2018, Birrieria Gonzalez posted a picture of a quesabirria dipped in consommé on his Instagram, spreading the popularity of the dish to an even wider audience in LA and thus leading to its status of today.
Quesabirria quickly became viral on Instagram as influencers continued to post images of this unique and "Insta-worthy" way of eating it. The number of restaurants offering quesabirria steadily increased, thanks to the excitement on social media. It is no exaggeration to say that the quesabirria's popularity has now reached a nationwide scale with no sign of slowing down.

■What is "Birria Ramen," the Second Wave of the Birria Boom?
Let us shift our focus to birria ramen, a new trend that is taking place amid the ongoing quesabirria boom. Birria ramen, as the name implies, is a type of ramen that uses birria stew as its broth. It is now attracting attention from both quesabirria lovers and ramen lovers.
Birria ramen was created in Mexico City around 2015. Antonio de Livier, a famous celebrity chef, invented the birria ramen and added it to his menu at Ánimo Ay Caldos!, where it is called Birriamen. His Birriamen has become so popular that he now sells 350 bowls a day.
Birria Ramen landed in the U.S. around 2019, and according to this article by L.A. TACO, the "first restaurant to start serving birria ramen in Los Angeles" to their knowledge is L.A. Birria, which has a location in Los Angeles. This article was published on October 11, 2019, so birria ramen had already made its appearance in Los Angeles by that time. Cocina Los V added birria ramen to its menu around the same time and has had people lining up to try it. In Texas, Calisience's quesabirria and birria ramen have been so well received, that its customers wait in line for up to an hour to try them. With quesabirria already gaining national recognition, its derivative, birria ramen, is slowly spreading in popularity from the West Coast, and it is only a matter of time before its popularity spreads across the country.

■Make your own birria ramen at home!
Birria ramen is currently booming in popularity, but the number of restaurants offering it is still limited. Here we introduce some of the restaurants that offer birria ramen. Although their locations are still concentrated in the Los Angeles area, we expect to see an increase of them throughout the U.S (updated 9/19/2023: As expected, birria ramen restaurants are popping up all over the United States. Ride the wave of the viral Birria Ramen and dive into our curated list of the hottest spots to savor the sensation!)
L.A. Birria
3330 S Central Ave, Los Angeles, CA 90011
https://losangelesbirria.com/
Instagram: @l.a_birria
Cocina Los V
4122 E Olympic Blvd, Los Angeles, CA 90023
https://cashdrop.biz/cocinalosv
Instagram: @cocina.los.v
Calisience
3318 E Belknap, Fort Worth, TX 76111
http://www.calisience.com/
Instagram: @calisience
Although the number of restaurants serving birria ramen is limited, it is a dish that can be easily reproduced at home. This time, we will show you how to make birria ramen to enjoy in the comfort of your own home. At Myojo USA we have also tried to reproduce it using our own noodles. If you can purchase the birria soup from a Mexican restaurant or have leftover birria soup at home, please give it a try.
<Birria ramen made at home>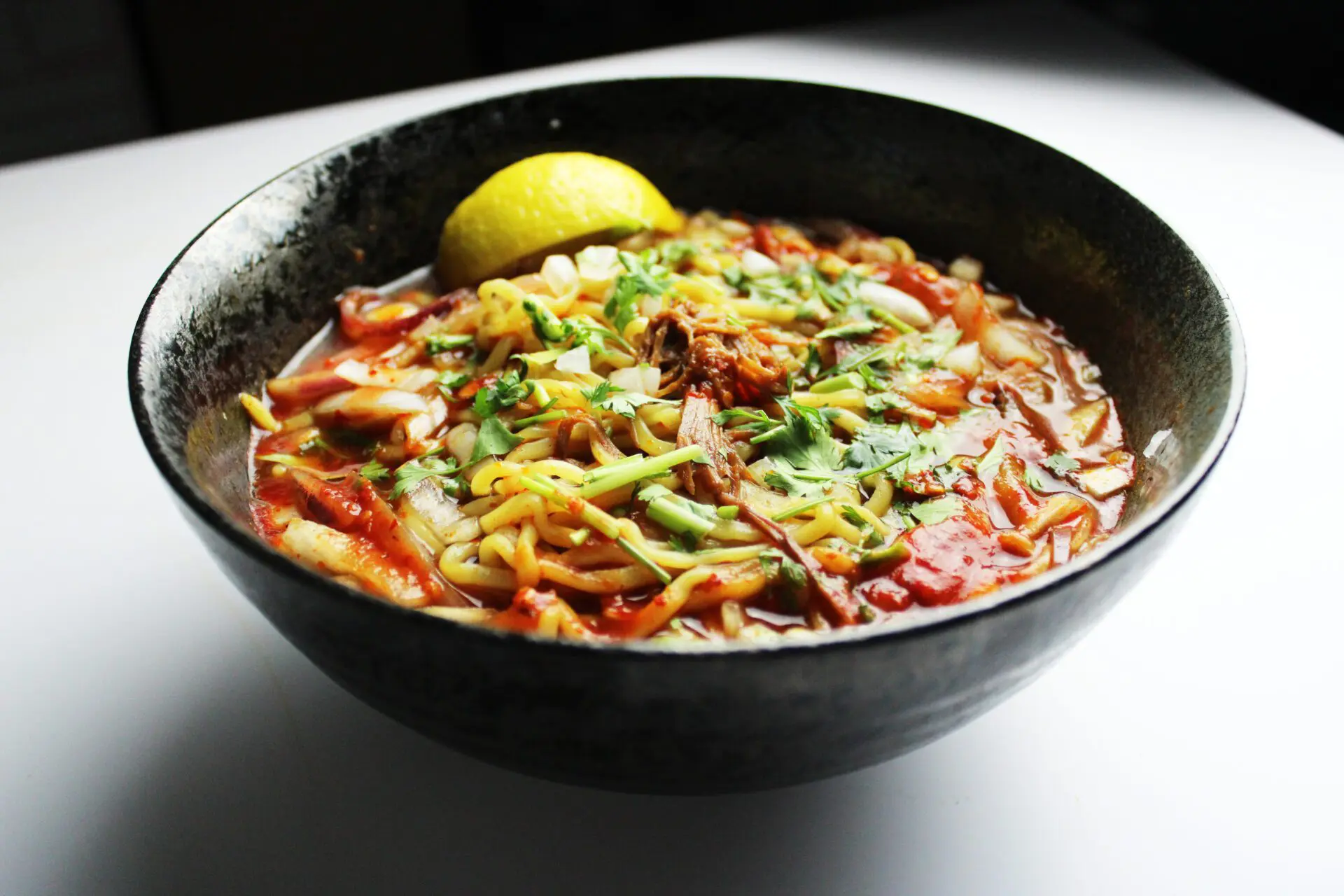 Buy soup at a Mexican restaurant or grocery store or use leftover birria from your home
With the popularity of quesabirria, more and more Mexican restaurants are selling the stew under the name consommé. Buy the consommé and use it as a soup for ramen noodles. For families who are familiar with the recipe, try it with leftover birria.
Prepare noodles
Prepare ramen noodles from a local supermarket. Boil the noodles and combine with the soup in step #1. If you have some leftover Myojo USA ramen noodles at home, try some with them!
Finish with toppings.
Some restaurants offer consommé with cilantro, onion, and lemon. Top with ingredients of your choice and your birria ramen is ready.
■DISCOVER THE BEST BIRRIA RAMEN SPOTS IN THE U.S.! (Updated on September 19, 2023)
The birria ramen sensation that exploded in Los Angeles is sweeping the nation, captivating palates from coast to coast! From bustling Mexican eateries to an unexpected twist at Japanese-style ramen houses, why settle for one culinary world when you can have the best of both? Don't miss the chance to indulge in this mouthwatering fusion—compare the unique spins each restaurant brings to birria ramen! We curated a list of must-visit restaurants where you can savor this culinary marvel. Already found a hidden gem that serves birria ramen and is missing from our list? Spill the beans—we'd love to hear your recommendations!
・New York, NY
Shinka Ramen & Sake Bar
93 Bowery, New York, NY 10002
https://www.shinkaramen.com/
・Charlotte, NC
Maria's Mexican Restaurant
5234 South Boulevard, Charlotte NC 28217
https://mariasmexicanrestaurantcharlotte.com/
・Columbus, OH
Las Tapias Birria
530 Norton Road Columbus, Ohio 43228
・Oklahoma City, OK
Gorō Ramen
3000 Paseo, Oklahoma City, OK 73103
https://www.gororamen.com/
・Denver, CO
Kiké's Red Tacos
1200 W 38th Ave, Denver, CO 80211
https://kikesredtacos.com/
・Portland, OR
Birrieria Pepe Chile
4038 N Williams Ave., Portland OR 97227
https://www.birrieriapepechile.com/
■Is There "Mexican Fusion Ramen" Created by the Japanese?
Birria ramen is a modern style of ramen created by people with a background in Mexican cuisine and culture. In response to this trend, Japanese people are also trying to create new flavors of ramen by incorporating elements of Mexican cuisine into the traditional ramen with which they are more familiar. Here we would like to introduce some of these interesting attempts.
First, we would like to introduce the "Shrimp Ceviche Ramen" and "Spicy Chili Lime Ramen" shown in the following video.
Nori, the chef of "Ramen Izakaya," where you can find these dishes, has succeeded with incorporating the essence of Mexican cuisine into Japanese ramen. The Shrimp Ceviche Ramen, in particular, is a highly creative take on the Japanese Hiyashi chūka (cold ramen). It combines Mexican ceviche and ramen to create a refreshing cold ramen that can be enjoyed during the hot summer months. This will come as a surprise to people in the U.S., as many Americans associate ramen with hot soup.
Ramen Izakaya
13727 Victory Blvd, Valley Glen, CA 91401
Website: https://ramenizakaya.com/
Instagram: @ramen_izakaya
Not all people inspired by the idea of Mexican fusion ramen are professional chefs. Amateurs who love ramen have also shown off their wonderful new ramen in the video below.
There are two types of ramen presented here: "fajitas + soy sauce ramen" and "elote + tonkotsu ramen." Fajitas are, strictly speaking, a Tex-Mex dish (created by Hispanics living in Texas before the Texas Annexation). This time, I would like to focus on "elote + tonkotsu ramen," which is closely related to traditional Mexican cuisine. Elote, often served at Mexican food stalls, is characterized by its mayonnaise flavor. Many people might think this combination is a mismatch, but this could not be further from the truth, though it may not have been an idea that even a professional chef would have thought up. Since tonkotsu ramen is one of the most popular ramens in the U.S., this combination has the potential to be a breakout hit in the U.S. as well! In Japan, there's also Sapporo ramen that incorporates corn as an ingredient, so perhaps it will be more easily accepted by the Japanese, too.
*Here are the products used in this video.
Fajitas + PREMIUM VEGETARIAN SHOYU RAMEN
PREMIUM VEGETARIAN SHOYU RAMEN
Elote + PREMIUM SHIO TONKOTSU RAMEN
PREMIUM SHIO TONKOTSU RAMEN
What we have introduced here is only a small part of Mexican fusion ramen. Mexican cuisine and Japanese ramen are in the process of exploring new flavors and bringing them closer by taking advantage of the unique characteristics of both. We look forward to seeing the new ramen that will emerge from this movement in the future.

■Conclusion
Inspired by the Mexican festival, Cinco de Mayo, we introduced the ramen influenced by Mexican cuisine. Mexican food is a traditional cuisine that was registered as an intangible cultural heritage by UNESCO in 2010. Nowadays, new dishes such as birria ramen and ramen inspired by Tex-Mex cuisine are being created by fusing the food cultures of various countries and regions. Originally, noodle dishes were not mainstream in Mexico, but through ties with other food cultures such as ramen in Japan, a new trend of birria ramen is spreading as "Mexican-style ramen." Mexican cuisine is famous for its variety of soup. Expectations are high for the possibility of a new type of ramen following birria ramen.
We hope you will try the ramen we have introduced here as a dish to celebrate Cinco de Mayo or as a variation to your everyday dishes. We look forward to ramen being the newest member of the Cinco de Mayo celebratory cuisine. Additionally, I would be happy if you can find your own favorite Mexican cuisine through ramen.
Happy Cinco de Mayo!

Reference links:
メキシコ料理 – Wikipedia
シンコ・デ・マヨ – Wikipedia
シンコデマヨとはメキシコが世界に誇る祝日!お祭りの全貌を一挙解説 | アメリカ info
Cinco de Mayo beer sales outpace St. Patrick's Day and Super Bowl | Fox News
11 Authentic Cinco de Mayo Foods and Facts | Hy-Vee
The Real History of Cinco De Mayo, and How It's Celebrated Around the World | Insider
Birria – Wikipedia
Quesabirria – Wikipedia
The Origins Of The Birria Taco | Vallarta Eats Food Tours
Birria and ramen. It just makes sense | Los Angeles Times
East LA food stand fuses ramen and birria into one – ABC7 Los Angeles
Birria Ramen Are Like Two Homies, but This Is How You Take It to the Next Level – Oishii Desu "It's Delicious"
米国で一番人気のビリヤラーメン メキシコ料理とラーメンの融合 – みそラーメン
'Birria Ramen' Arrives in L.A., Tacos 1986 Pop-Up at Animal Tonight, and Taco Trucks Hope to Ease New Rideshare Anxiety at LAX: The TacoWire – L.A. TACO
Birria Ramen Has Come to Fort Worth, and It Is Glorious – Texas Monthly
How Birria Became America's Hottest Taco Trend in 2020 – Eater
テクス・メクス料理 – Wikipedia
Easy Quesabirria Recipe | VICE