【New Products】4 New Flavors, such as Spicy-Good Tantanmen and Fresh Ippei-Chan Yakisoba are here!
Published: Jul 18, 2022/ Last Updated:Jul 18, 2022
- 4 min read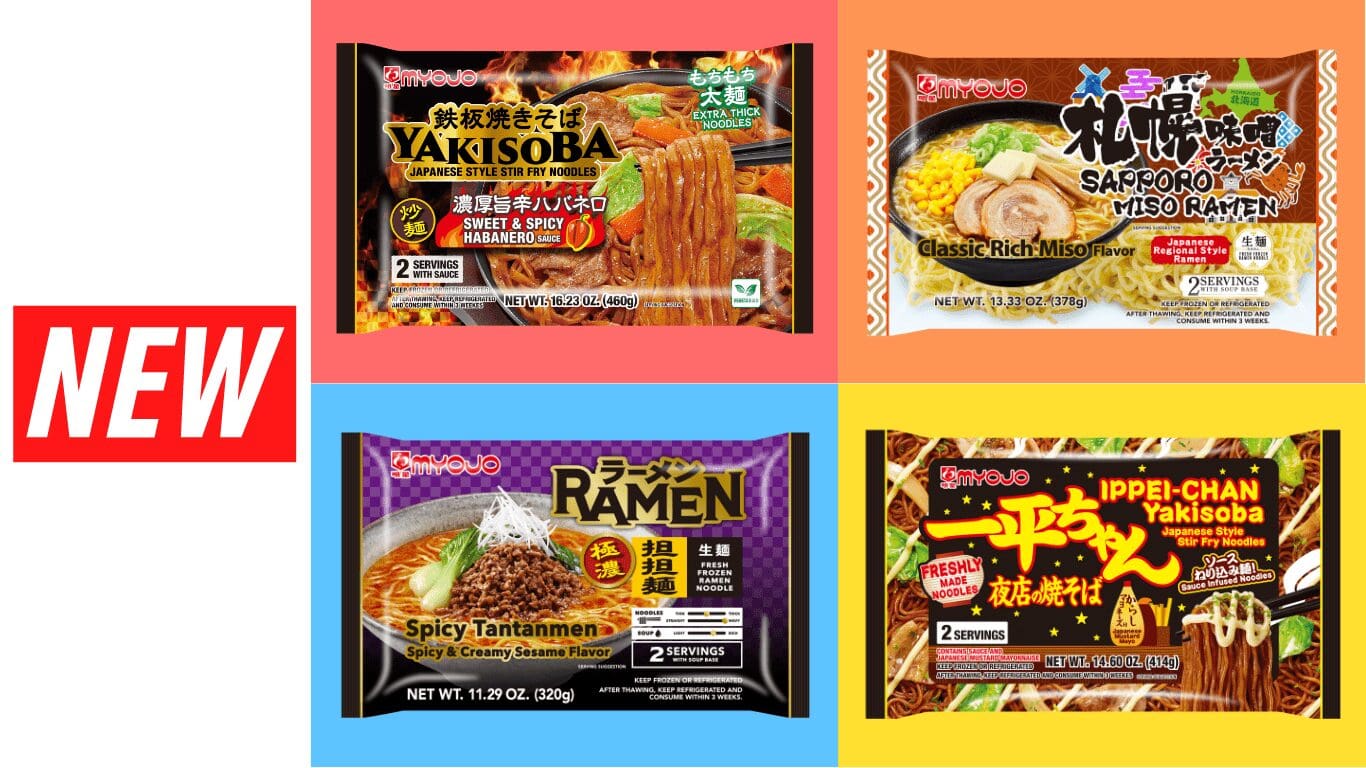 ---
Mouth-watering "Tantanmen" and the fresh version of "Ippei-Chan Yakisoba", known for its 'Mayo Beam' in Japanese commercials are now available! We released four new products on June 13, 2022.
※New products will be in stock at the end of June. Please wait until the products arrive at stores near you!
---
New Products Now on Sale
■The New Products We Have Been Waiting For!
Myojo USA began selling two kinds of ramen and two kinds of yakisoba on June 13, 2022. Four products will be added to Myojo's lineup, including spicy "Tantanmen" with Sichuan peppers, "Sapporo Miso Ramen" with a rich broth, addictively spicy "Habanero Yakisoba", and the fresh version of "Ippei-Chan Yakisoba".
Please enjoy at home the fresh noodles made in our factory in Chino, California, and the unique products that will carve a new page in the history of Myojo USA!
New Products
■Premium Ramen Series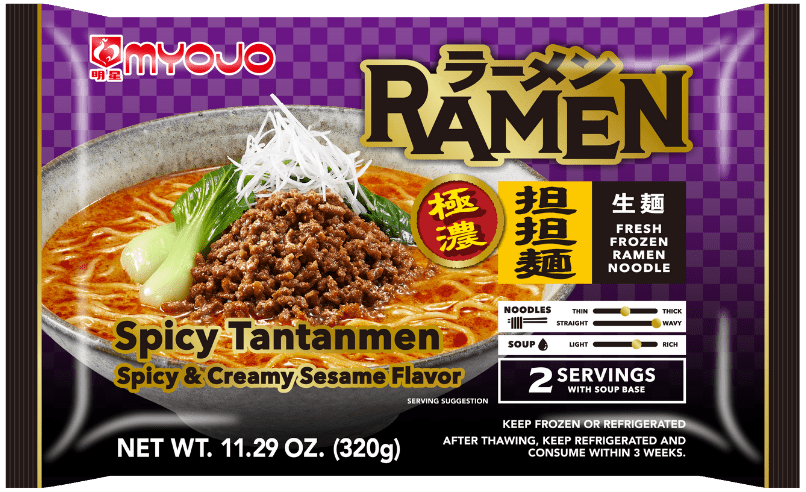 A one-of-a-kind addition to the premium series! An authentic ramen that is full of spices and fragrant sesame in one slurp!
Savory pork and miso-based broth, sesame, and Sichuan Peppers are combined for a rich flavor and a hint of spice. It's a proudly made taste that makes you want to drink to the last drop! Serve with minced meat, bok choy, and chopped green onions.
■Regional Ramen Series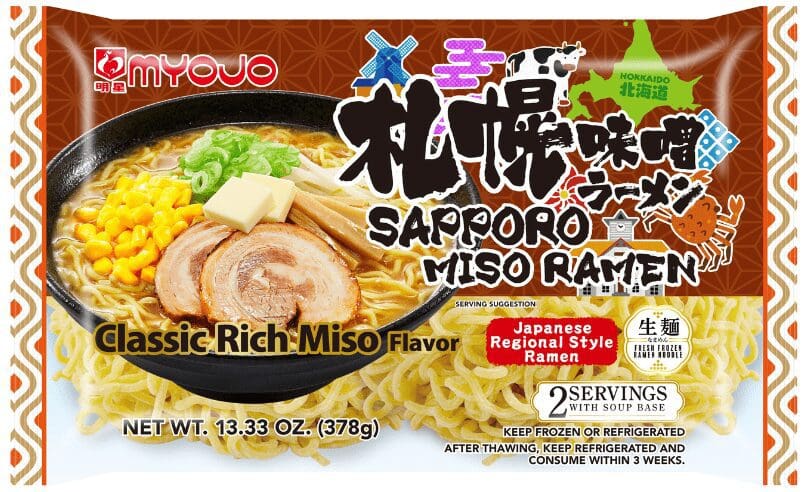 After the Nagasaki Champon and Okinawa Soba, the new Sapporo Miso Ramen is said to be one of the representatives of Japan's local ramen. To live up to its name, the soup is made rich, and the taste is authentic!
Our aged, medium thick wavy noodles capture the rich taste of the miso-based soup, paired with the umami of the chicken and savory garlic. The rich-yet-smooth sweetness of the miso-based soup fills your mouth, giving an authentic experience.
■Premium Yakisoba Series
Premium Spicy Habanero Yakisoba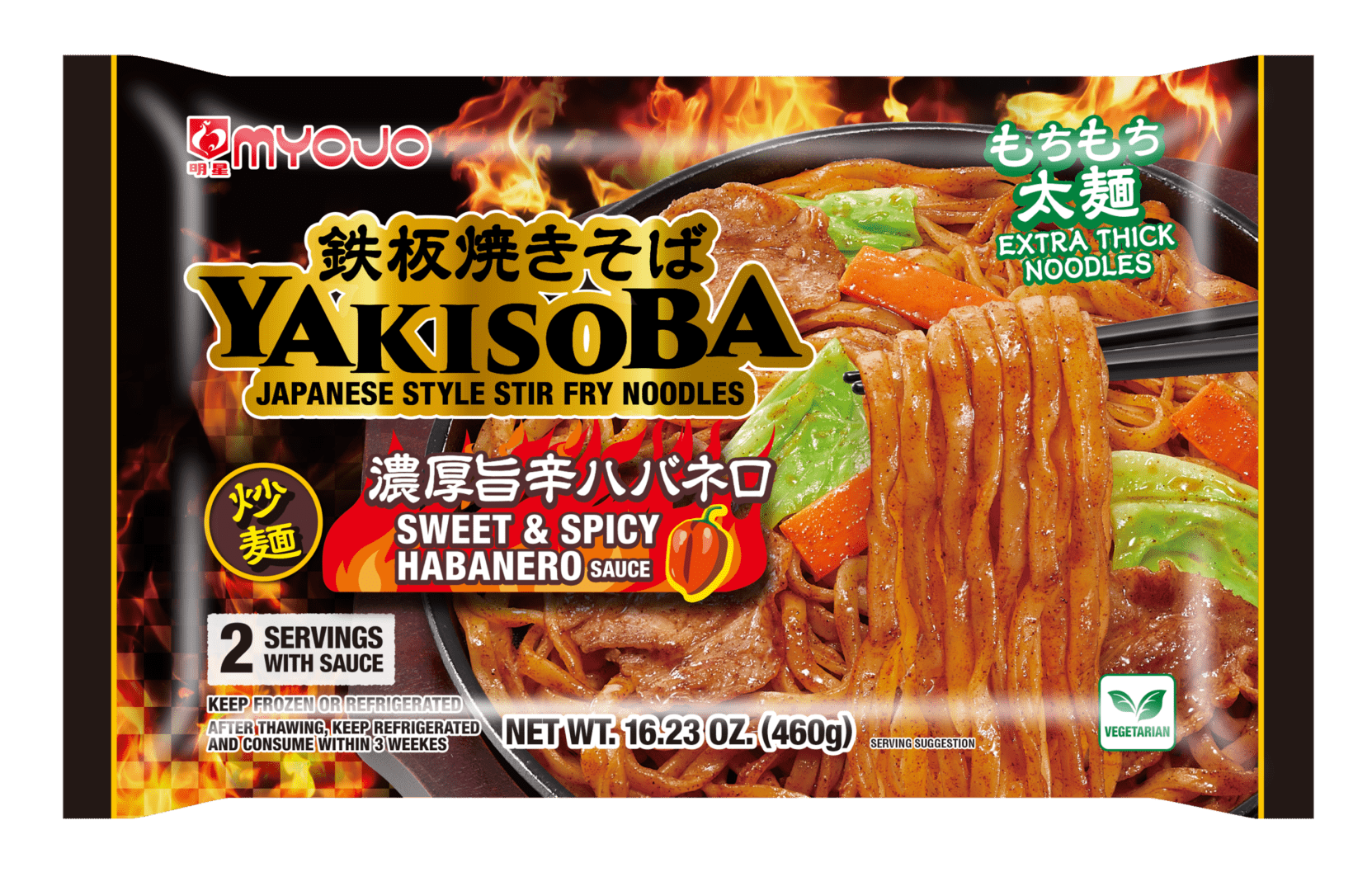 We challenged ourselves to take a spicy approach for Myojo USA's yakisoba series! We have aimed for a deep taste that is spicy but delicious by adding sweet fruits and vegetables!
Habanero is one of the hottest varieties of chili peppers, with a Scoville ranging from 100,000 to 350,000. The sweet and sour flavor of the yakisoba sauce is joined with a punch of spicy. The sweet and spicy combination is excellent with our thick and chewy noodles! Even if it is super spicy, the addictive taste will keep you slurping for more!
■Ippei-Chan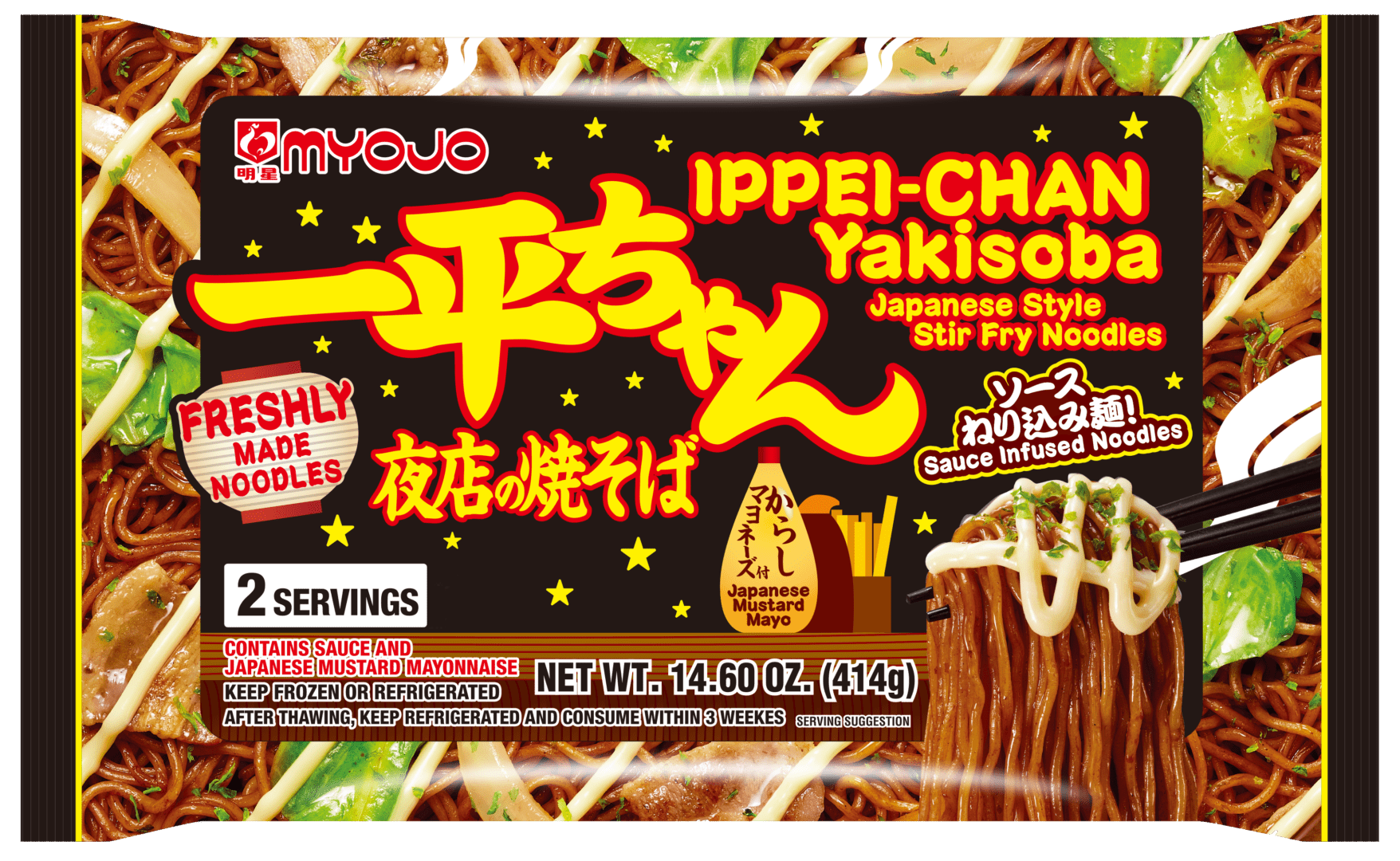 In the world of Japanese Instant yakisoba (fried noodles), Ippei-Chan is well-known. The famous Ippei-Chan is now available fresh in the states! The noodles come with a special Japanese mustard mayonnaise.
Our fresh Ippei-Chan Yakisoba is unique, characterized by noodles infused with a secret sauce and a fragrant sauce that reminds you of yakisoba sold in food stalls. Unlike the well-known instant yakisoba, the smooth texture of fresh noodles served with a specialty mustard mayonnaise is a unique food experience only available in the United States! Serve with red ginger, bonito flakes, and aonori for an even better experience.
Untold Story of New Product Development
■Staff's Thoughts
While we have just released several new products, it has actually been ten years since we last launched a new product. This release was something we have been wishing for and was finally achieved! The development of new products was absolutely challenging. We have been manufacturing authentic Japanese noodles in the states since 1991, but some products took many years to release. This was due to it being a new product for the first time in years, and the delays caused by Covid-19.
Overcoming such hardships, Myojo USA celebrated its 30th anniversary last year in 2021. As a new start for us to celebrate our history and to continue to take on challenges in the future, we are very pleased to have launched four new products.
We hope that everyone will enjoy Myojo USA's products, which we developed with great care, at home!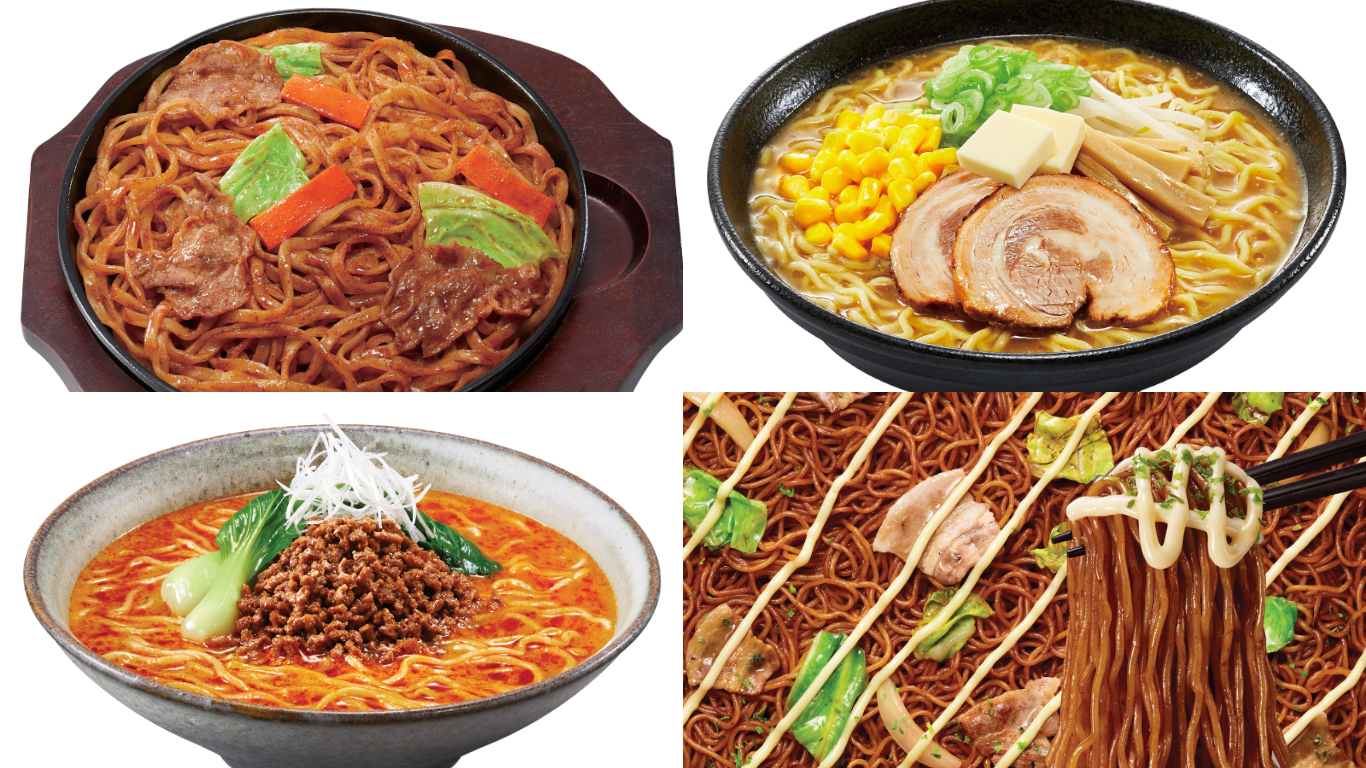 ■Aiming for a Taste That Leaves You Satisfied
In developing the products, we have paid careful attention to the taste. To achieve a taste that leaves people satisfied, we have made many improvements. We will be sharing some development stories, only available here!
While developing the two new products, "Tantanmen" and "Habanero Yakisoba", we faced some challenges since it was our first time creating spicy products. Since we were not familiar with the various levels of spiciness, we were not sure of how spicy the noodles should be. We aimed for a taste that is not only spicy but also accompanied by delicious flavors. We were proud of the spicy taste that was finally completed for the first time and looked forward to our staff's reactions. The final product was very popular among everyone!
"Sapporo Miso Ramen" is one of the highest-level lineups among Myojo USA's products. We are committed to creating authentic flavors. In this Regional series, we rediscovered what defines Japanese ramen and chose to make Sapporo Miso Ramen, one of the "Three Greatest Ramen" in Japan. We have put lots of care into creating ramen in the states to show that this is what we call "Japanese Ramen". The Sapporo Miso Ramen is developed with a desire to deliver the same deliciousness as the ramen in Japan, but in the United States!
"Ippei-Chan" is familiar to everyone in Japan, but we have taken the challenge to make the noodles fresh. Taking advantage of our strengths as a noodle manufacturing company, we have made an American exclusive Ippei-Chan, made with fresh noodles! The fresh Ippei-Chan Yakisoba is a long-awaited product that we have been waiting for, and it feels as if we are sending our child away. The staff of Myojo USA hopes that our "Ippei-Chan" will be loved by all!
Be sure to check out our products at stores near you!