Hiyashi Chuka (Cold Ramen), a Refreshing Ramen for Summer
Published: Jul 7, 2022/ Last Updated:Jun 30, 2023
- 8 min read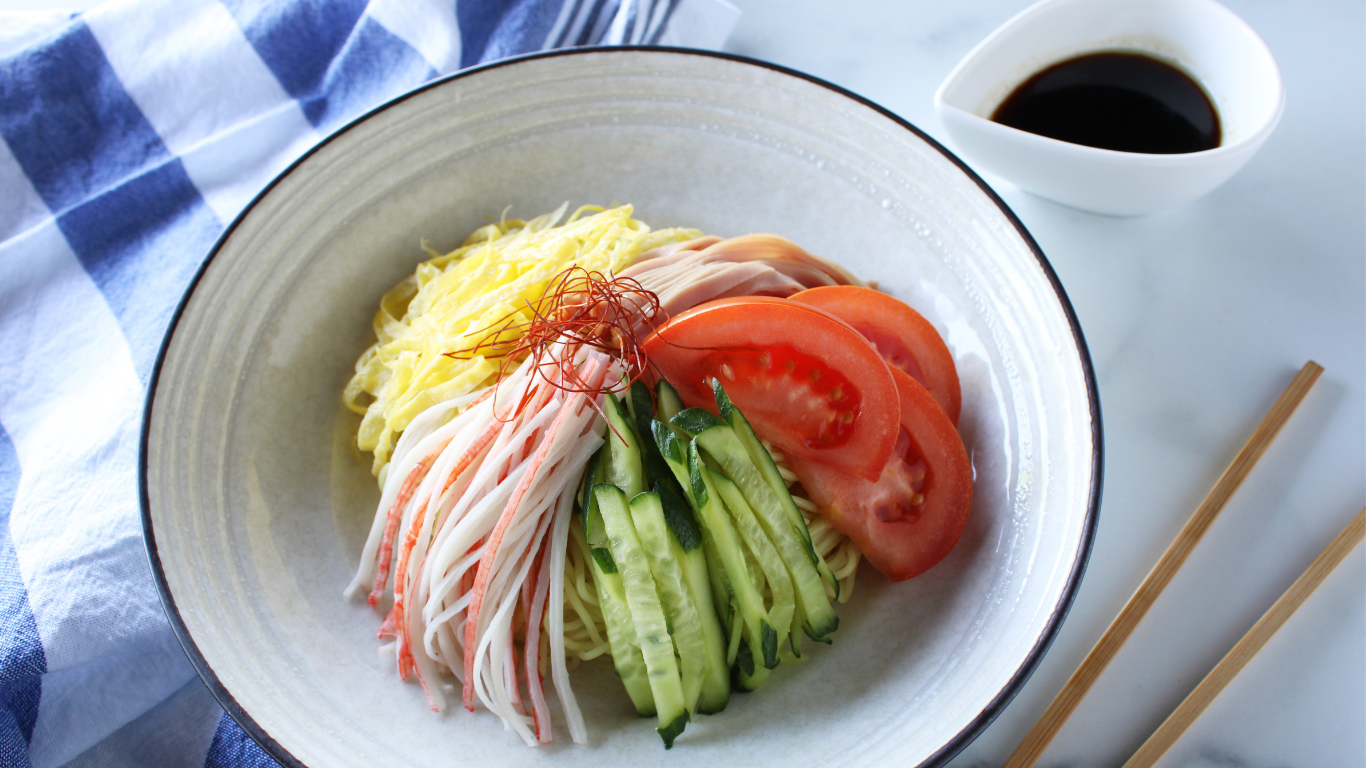 Hello, ramen fans! The weather is gradually heating up, which means many of you are planning your summer vacations. As we enter the sweltering midsummer months, eating ramen with hot soup may sound more unbearable than enjoyable, even for the hardcore ramen fans. We understand why you might be tempted to reach for something that will cool you down, but we have great news for those who miss the delicious taste of ramen when it is too hot to enjoy it.
Did you know that there is a type of ramen that can provide cool relief in the midst of summer? In this article, we want to introduce Hiyashi Chuka (Cold Ramen), a refreshing alternative to the more common hot ramen. Hiyashi chuka directly translates to "Chilled Chinese," though it is not of Chinese origin. The name refers to the cold Chinese noodles that are used in the dish. A chilled noodle may come as a surprise to those unfamiliar with cold soup, and some of you may be wondering how it compares. In terms of popularity, chilled ramen in Japan is now a seasonal summer favorite. After the rainy season ends and summer begins, ramen shops and Chinese restaurants display their signs to inform locals and tourists that hiyashi chuka is available. For Japanese people, enjoying hiyashi chuka on a hot summer day is almost customary.
In this issue, we will provide you, the ramen lover, with information on hiyashi chuka, a dish that is perfectly delicious for summer. We will also introduce a recipe that can be easily prepared, so please try it at home.
■The Characteristics of Hiyashi Chuka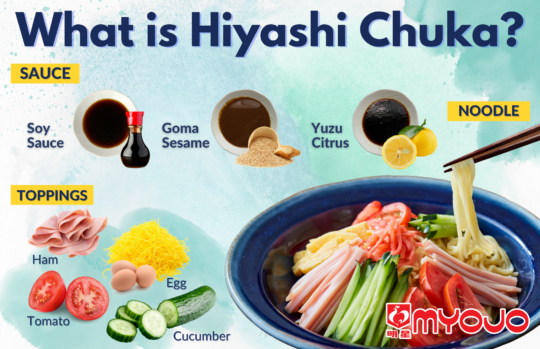 First, for those unfamiliar with hiyashi chuka, here are some basic characteristics of the dish.
Noodles
It is made with boiled Chinese noodles that are chilled in cold or ice water, drained, and then placed on a plate.
Sauce
Two types of sauces are commonly used: one is a refreshing combination of soy sauce and vinegar, and the other is a rich sesame-based sauce.
Toppings
There are many variations, but we will list the most common. Ham, kinshi tamago (shredded, thinly sliced eggs), steamed chicken, and crab cakes are popular protein items, served with seasonal summer vegetables such as cucumbers and tomatoes. All these toppings are julienned into small pieces and arranged in a colorful, radial pattern that is characteristic of the dish.In addition, red ginger is often added as a garnish, with Japanese mustard as a condiment.
■History of Hiyashi Chuka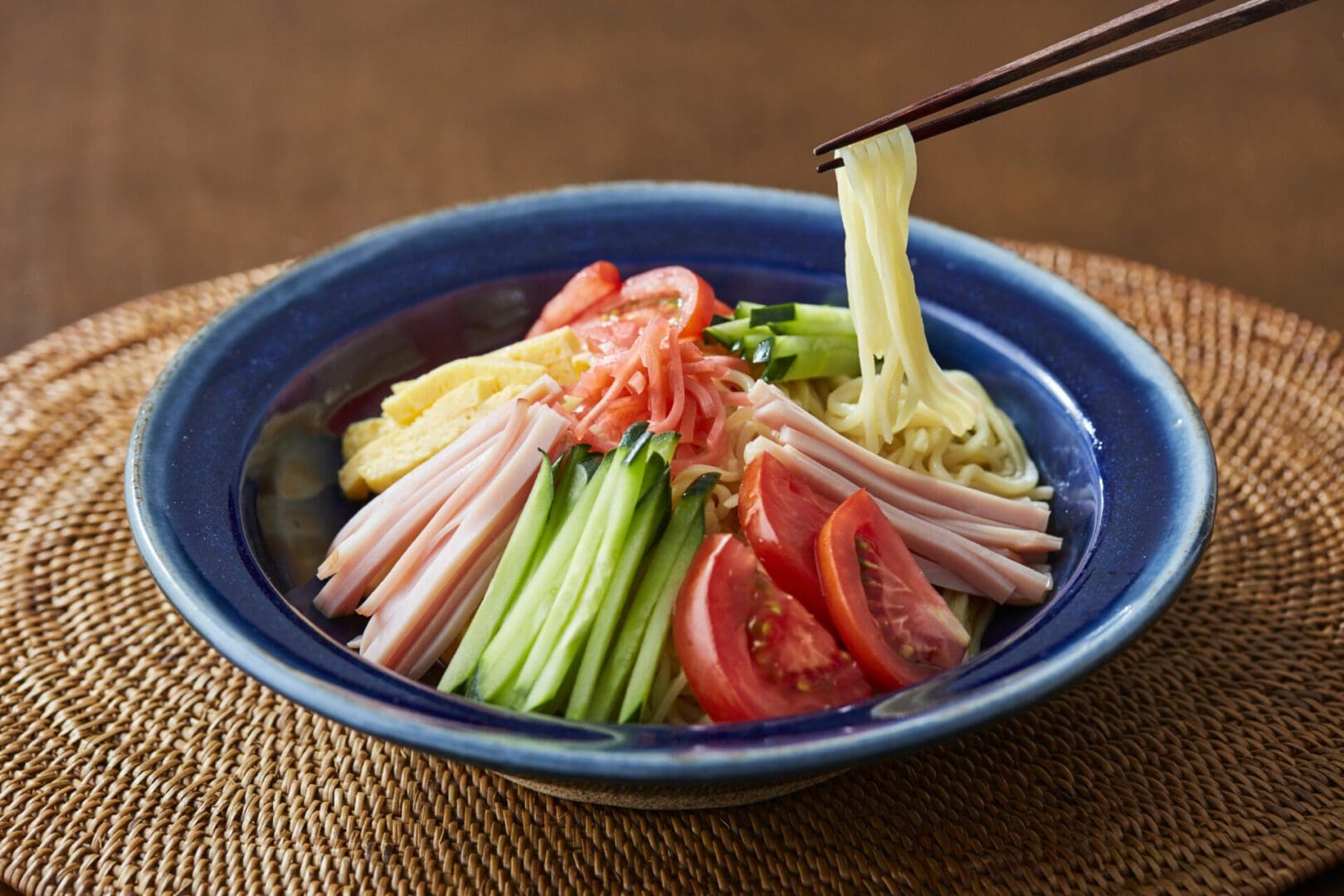 We have already mentioned that hiyashi chuka is a Japanese dish, but when and where did it originate? There are many theories, but we will explain the two most popular ones.
Some believe that the dish was first served in 1937 at the Chinese restaurant Ryu-tei (龍亭), in Sendai City, Miyagi Prefecture. At the time, Chinese restaurants did not cater to those seeking relief from the hot summer months, and to combat this, the owner of Ryu-tei invented ryan ban men (涼拌麺), which was served with a refreshing sour soup based on soy sauce and vinegar. At the time, cabbage and carrots were used as toppings in addition to today's standard cucumbers and tomatoes.
The second theory to the invention of hiyashi chuka begins at Yosuko Saikan (揚子江菜館), a restaurant in Jimbocho, Tokyo. It is said that the dish originated from go syoku ryan ban men (五色涼拌麺) around 1933 and was inspired by the Shanghai cuisine of ryan ban men (涼拌麺) and Japanese zaru soba (cold soba noodles). The characteristic feature of this style is the radial arrangement of shredded toppings, a style that continues today. Fun fact: this stylized arrangement of toppings was inspired by the snowcapped Mount Fuji.
Therefore, it can be said that the modern hiyashi chuka is a combination of the taste of Ryu-tei seasoning and the presentation of Yosuko Saikan.
So far, we have traced the roots of the soy sauce and vinegar-based hiyashi chuka. Now, let us explore the history of the sesame-based sauce, the second most popular flavor for this ramen. The most well-known theory is that it originated when Chuka No Sakai (中華のサカイ) in Kyoto started serving hiyashi chuka with sesame sauce in 1939. Incidentally, this hiyashi chuka served in Kyoto was called rei-men (冷麺, meaning "chilled noodles"), and even today, hiyashi chuka is commonly referred to as rei-men in the Kansai region of Japan.
Finally, I would like to offer some insight into why this unique cold ramen variation originated in Japan. One of the main reasons is due to the accessibility of clean water throughout the country. Dishes such as zaru soba and somen (素麺) utilize cold water to cool boiled noodles and were popular before the creation of hiyashi chuka. It was likely that these dishes inspired the owners of Ryu-tei and Yosuko Saikan to use fresh, cold water to chill Chinese noodles.
■Q&A about Hiyashi Chuka
We have shared some basic information about hiyashi chuka, but if you have never tried the dish, it may be difficult to imagine its taste. So, we compiled a list of frequently asked questions about hiyashi chuka in a Q&A format.
Q1. How do you eat hiyashi chuka?
A1. There is no wrong way to eat hiyashi chuka. Even in Japan, there are two types of people: those who enjoy mixing it with other ingredients, and those who opt out of mixing it. You can eat hiyashi chuka whichever way you prefer. Something worth noting here is that Japanese mustard is very spicy, so be careful not to dissolve it into the soup all at once.
Q2. Is hiyashi chuka healthy?
A2. The calorie count of hiyashi chuka is said to be about 470 kcal, which is lower than the standard 680~730 kcal in shoyu ramen. In addition, the various ingredients (Chinese noodles, ham, eggs, and vegetables) in the dish promote a good balance of carbohydrates, protein, vitamins, and minerals.
Q3. Is it different from ramen salad?
A3. Ramen salad is made with crushed, dried noodles that are mixed with coleslaw and other ingredients that gradually moisten them, whereas hiyashi chuka uses Chinese noodles that are boiled and then cooled with cold or ice water. Also, the ingredients and sauces used in both dishes are vastly different.
■What is the Origin of the Name Hiyashi Chuka
As mentioned in the previous chapter, the name Hiyashi Chuka is generally used, although there are variations of the name, such as rei men in the Kansai region and hiyashi ramen (冷やしラーメン, meaning "chilled ramen") in Hokkaido. In fact, the name "Hiyashi Chuka" is a recent term for the dish that is said to have caught on in 1960. The noodle manufacturing company, Daikyu Seimen (だい久製麺) in Sendai, where the aforementioned Ryu-tei is located, began selling a hiyashi chuka to make at home called Ganso Daikyu Hiyashi Chuka (元祖だい久 冷やし中華, meaning "original daikyu hiyashi chuka"). This product became instantly popular, leading to the variant terms such as Hiyashi Soba (冷やしそば, meaning "chilled soba noodles"), and Hiyashi Chuka Soba (冷やし中華そば, meaning "chilled chuka soba") with Hiyashi Chuka (冷やし中華).
■July 7th is Hiyashi Chuka Day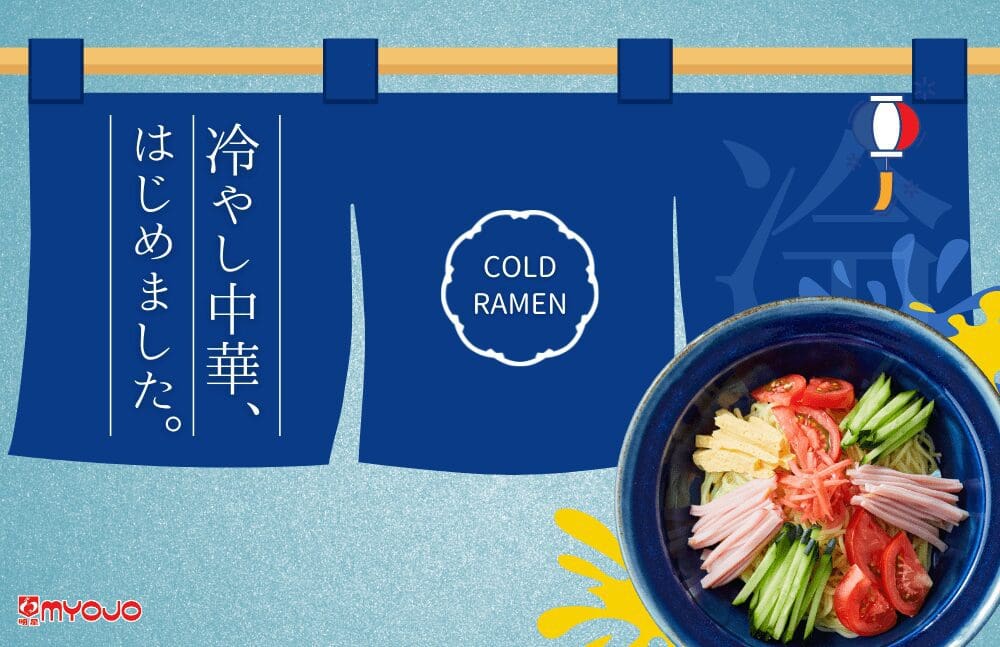 Did you know that July 7th is actually Hiyashi Chuka Day? This day was registered by the Japan Anniversary Association in 1995 on behalf of hiyashi chuka lovers. The reason July 7th was chosen is because this day marks the beginning of Xiaoshu (小暑, the 11th term of the 24 solar terms in the Chinese calendar), when the rainy season ends to make way for the hottest time of the year. As previously mentioned, this is the best time to enjoy hiyashi chuka.
■Let's Make Hiyashi Chuka at Home! (Basic version)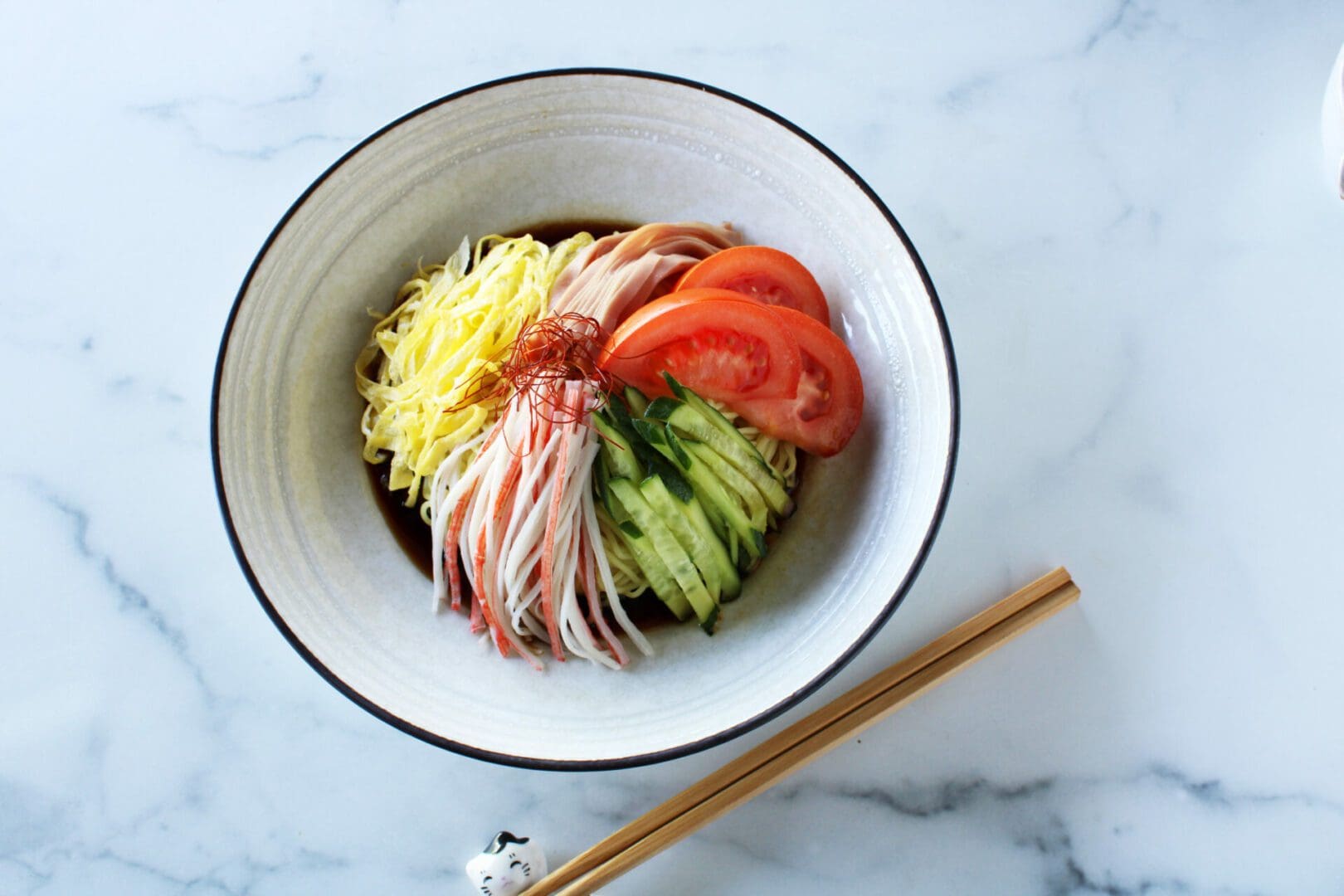 As mentioned above, July 7th is Hiyashi Chuka Day, kicking off the season to enjoy the delicious dish (please note that this aligns with the Japanese climate, and may differ from the U.S. seasons). With that in mind, isn't this the perfect opportunity to try making hiyashi chuka? You can try the dish at your local ramen shop if they offer it. Unfortunately, not all ramen shops in the U.S. serve hiyashi chuka. In that case, why not try making the dish at home! It is easy to make. First, choose your favorite flavor of Myojo Hiyashi Chuka from the list below.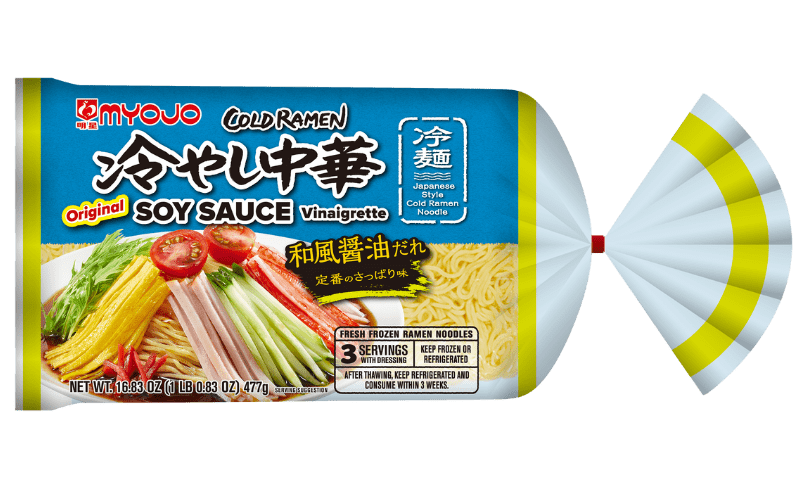 ORIGINAL HIYASHI CHUKA (with soy sauce vinaigrette)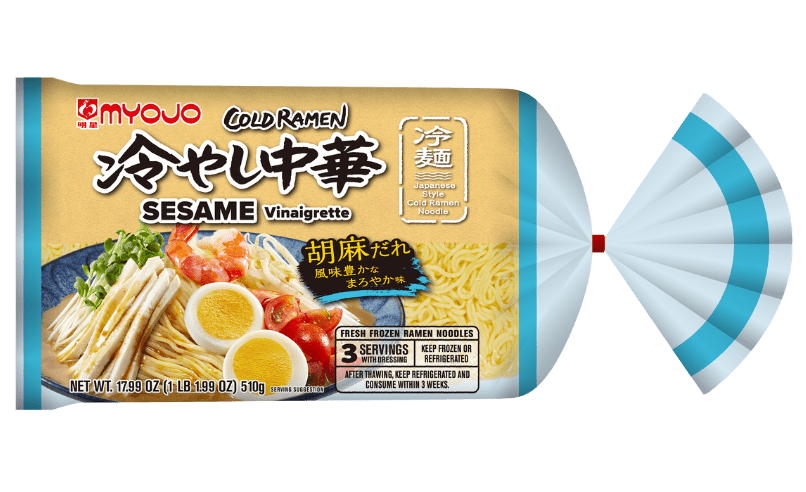 SESAME HIYASHI CHUKA (with sesame vinaigrette)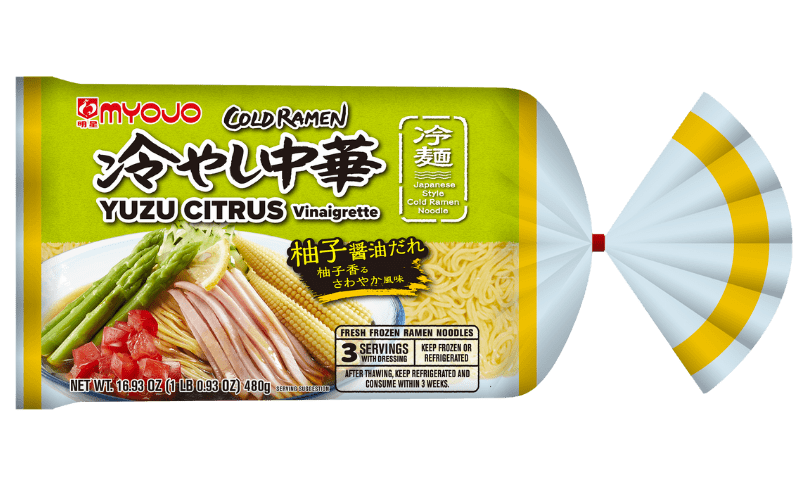 YUZU HIYASHI CHUKA (with yuzu citrus vinaigrette)
* Find out where you can get Myojo Hiyashi Chuka here.
All you need to do is prepare the cucumbers, ham, tomatoes, and shredded, thinly sliced eggs in advance. Making the sliced eggs is a bit time-consuming, but it is not difficult. In fact, shredded, thinly sliced egg is called Kinshi Tamago in Japan, and is an ingredient closely associated with Japanese cuisine, such as Chirashi Sushi. We will also introduce a video that explains how to make kinshi tamago, so take this opportunity to master the topping.
< How to Make Hiyashi Chuka >
Boil plenty of water (about 4 cups) in a medium saucepan.
Add thawed noodles to boiling water, stirring occasionally, and boil for 2 minutes to 2 minutes and 15 seconds (if noodles are frozen, add an extra minute to the boiling time). Adjust the hardness of the noodles to your liking.
After boiling, cool the noodles in cold or ice water, drain well, and place in a bowl.
Garnish with cucumber, ham, tomato, kinshi tamago, etc., as desired, and serve with the accompanying sauce.
< How to Make Kinshi Tamago >
■Let's Make Hiyashi Chuka at Home! (Advanced version)
We have discussed the basic elements that make up hiyashi chuka, but like ramen, this dish is a recipe that is quite easy to modify (after all, hiyashi chuka may be called a derivative form of ramen). There are already many variations of the dish, depending on the choice of ingredients and sauces. We will introduce three recipes that we particularly recommend, so if you have mastered the basic hiyashi chuka, please try these recipes as well.
HIYASHI CHUKA WITH POKE
This dish is perfect for seafood lovers. Poke, which can be eaten on its own, goes great with hiyashi chuka. Add avocado for color.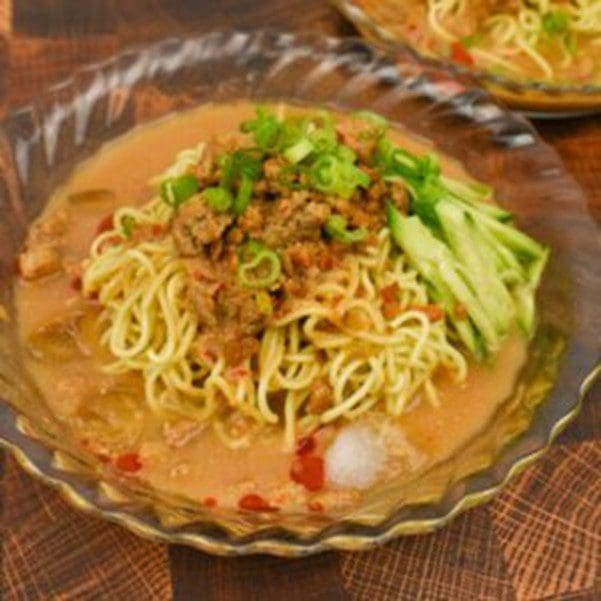 HIYASHI SESAME TANTANMEN
This recipe is a chilled version of tantanmen with minced meat as an ingredient. The tangy and spicy flavor with a hint of freshness will surely become addictive.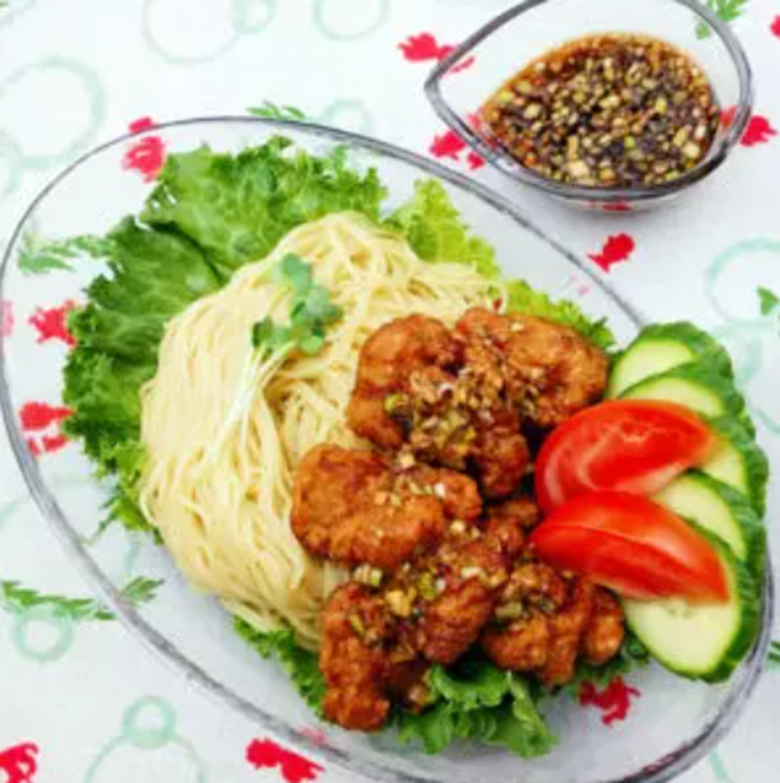 KARA-AGE TOPPED HIYASHI CHUKA WITH VINAIGRETTE SAUCE
For those of you who want to try hiyashi chuka but do not have the time to make it, how about this quick recipe? This dish is boldly decorated with karaage (Japanese fried chicken) purchased at a deli.
■Conclusion
This time, we introduced "Hiyashi Chuka," a menu item that is well known in Japan, but that is not so familiar in the U.S. We hope you will be interested in it after reading this article. Hiyashi chuka is a perfect summer recipe that is refreshing even on hot days when one's appetite tends to drop. We hope you will add it to your repertoire.
The hiyashi chuka introduced in this article is just a standard one, and there are already many other hiyashi chuka recipes out there (Please check out the recipes we have on our website, but it is just the tip of the iceberg). With the simple base of chilled Chinese noodles, cold sauce, and toppings, hiyashi chuka is a highly versatile dish that can be arranged in a variety of ways. For example, you can choose basil, mozzarella cheese, and tomatoes as toppings and balsamic vinegar as sauce for an Italian-style hiyashi chuka, or you can use pork, radish, carrots, and cilantro as toppings and nuoc mam as sauce for a Vietnamese-style spin on the dish. The possibilities are endless. The "Shrimp Ceviche Ramen," which was featured in a previous article, can be considered a Mexican-style version of hiyashi chuka. Perhaps you can create your own using your favorite toppings and sauces. If so, please contact us at Myojo USA!
That is about it for this issue. We will be back with more substantial ramen information, so stay tuned!
Reference links:
冷やし中華 – Wikipedia
Hiyashi chūka – Wikipedia
小暑 – Wikipedia
揚子江菜館
龍亭冷やし中華・元祖の味
中華のサカイ本店 / TOPページ
株式会社 だい久製麺 | めんとつゆの食文化を拓く
7/7は冷やし中華の日!さっぱりした夏料理で暑さを吹き飛ばそう | 食・料理 | オリーブオイルをひとまわし
そろそろ食べたい『冷やし中華』の記念日は七夕と同じ7月7日らしい! |ナンスカ
いつから?元祖!冷やし中華発祥店の歴史|冷やし中華はじめましたの謎 – めんおぶらいふ
【クックドア】涼拌麺と冷やし中華はスープに違いあり!
夏の大定番!冷やし中華の知られざる発祥のいきさつを徹底紹介 | Pokke「ポッケ」
発祥は仙台?東京?意外と知らない「冷やし中華」誕生と普及の歴史|@DIME アットダイム
大食軒酩酊の食文化 – 冷やし中華 | 食文化を知る・学ぶ | 味の素 食の文化センター
Hiyashi Chuka (Cold Ramen) – Chopstick Chronicles
Hiyashi Chuka (Cold Ramen) 冷やし中華 • Just One Cookbook
HIYASHI CHUKA RECIPE (冷やし中華) CHILLED RAMEN SALAD
【仙台名物グルメ】冷やし中華発祥の鍵は「中国料理 龍亭」にあった!|るるぶ&more.
夏の風物詩・冷やし中華、驚きの誕生秘話に迫る|Pen Online
【管理栄養士監修】冷やし中華のカロリーや糖質量などを詳しく解説! | 食・料理 | オリーブオイルをひとまわし