Hiyashi Chuka with Poke (Diced Raw Fish)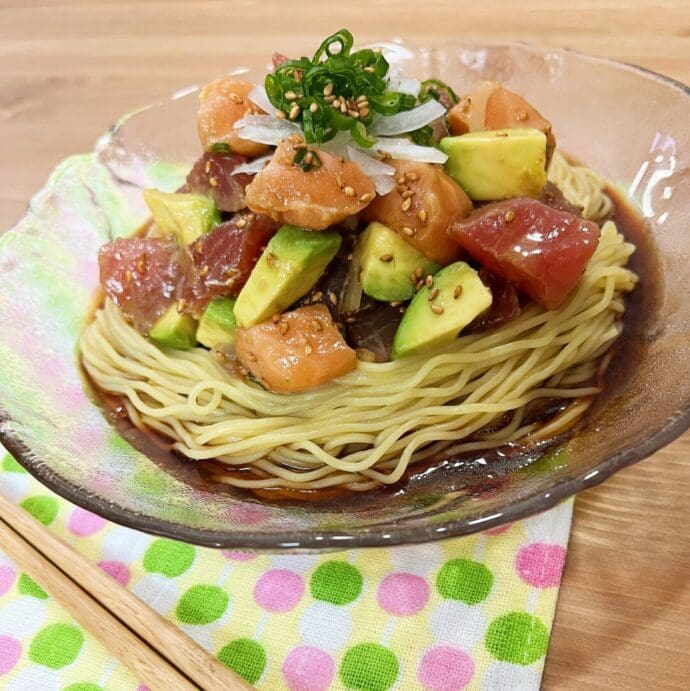 Poke is a diced raw fish served as an appetizer or a main dish, a popular Hawaiian cuisine. What are some other ways to enjoy poke besides rice and salad? Serve it with some chilled, fresh ramen noodles! Hiyashi Chuka, (Cold Ramen) is a great way to cool down on a hot weather. Because fresh raw fish and poke is readily available in the states, you can taste the Japanese-Hawaiian fusion dish using our Original Hiyashi Chuka! Add the avocado last for a fresh green look, and enjoy!
Yields
2 servings
Cook Time
15 mins
Print
Ingredients
Noodles
2

servings

Original Hiyashi Chuka
Sauce
2

packets

Original Hiyashi Chuka Sauce
Toppings
1

piece

Tuna

1

piece

Salmon

1

Avocado

2

Green Onions

⅙

Onion

1

tbsp

Sesame Seeds

1

tsp

Sesame Oil

2

tbsp

Ponzu Vinegar

1

tsp

Mirin
Instructions
Dice the salmon and tuna to cubes, set aside. Thin slice the onions, and chop the green onions. Set aside some onions and green onions for topping. Dice the avocado into cubes and add lemon juice.

Using a frying pan, roast the sesame seeds until fragrant.

In e separate bowl, mix salmon, tuna, onions, green onions, roasted sesame seeds, ponzu vinegar, sesame oil,  and mirin. Marinate for over 10minutes.

Boil water in a pot and cook the noodles, following the package instructions.  Once the noodles are cooked, rinse with cold water and drain well. Place the noodles in a bowl.

Add in avocado for the marinade from step 3 and the poke is ready! Top the noodles with poke.

To finish, add the onion and green onion that you have set aside and sprinkle on roasted sesame seeds. Swirl in the hiyashi chuka sauce, and enjoy!
Recipe Reviews
There are no reviews yet. Be the first one to write one.