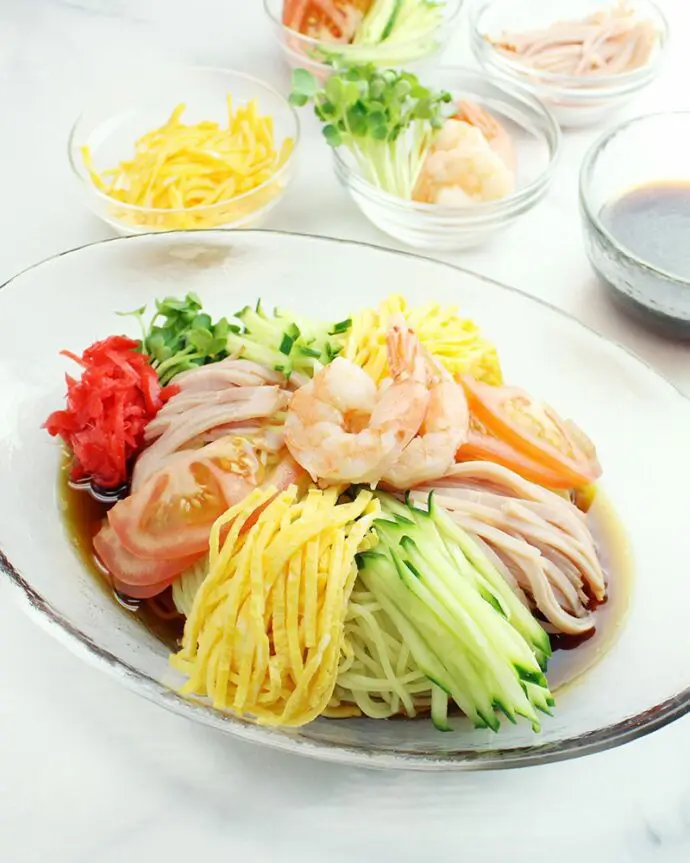 Do you like ramen? Hiyashi chuka is a great option for those that enjoy ramen but want something to cool down. Unlike Ramen, Hiyashi Chuka is cold ramen served with a vinaigrette sauce. The toppings are refreshing and colorful, which makes it a perfect dish for a hot summer day! Use our Original Hiyashi Chuka, and enjoy chilled, fresh ramen noodles to stay cool!
Yields
1 serving
Cook Time
20 mins
Print
Ingredients
Noodles
1

serving

Original Hiyashi Chuka
Sauce
1

packet

Original Hiyashi Chuka Sauce
Toppings
⅓

Cucumber

thinly sliced

½

Tomato

thinly sliced into about 6 pieces

2

pieces

Ham

thinly sliced

1

Egg

1

tsp

Sugar

1

tsp

Vegetable Oil

2

Shrimps

Radish Sprouts

by preference

Red Ginger

by preference

Salt

by preference
Instructions
Thin slice the cucumber,tomato (Thin-sliced halves), and ham. Boil the shrimps and set aside.

Beat the eggs with sugar and salt. Heat oil in a frying pan or pan specifically for omelet and spread the egg mixture. Make a thin egg omelet and flipping the omelet over to cook both sides. Once the omelet is ready, let it cool on a cutting board. Thin slice the omelet to thin shreds. Shredded eggs are called kinshi tamago in Japanese.

Follow the package instruction and cook the noodles. Once the noodles are ready, rinse in cold water and drain well. Place on a plate.

Top the noodles with cucumber, tomato, ham, eggs, and shrimp. Garnish with radish sprouts and red ginger. Before serving, swirl in the hiyashi chuka sauce and you are done!
Recipe Reviews
There are no reviews yet. Be the first one to write one.