Hinamatsuri-Themed Chirashi Hiyashi Chuka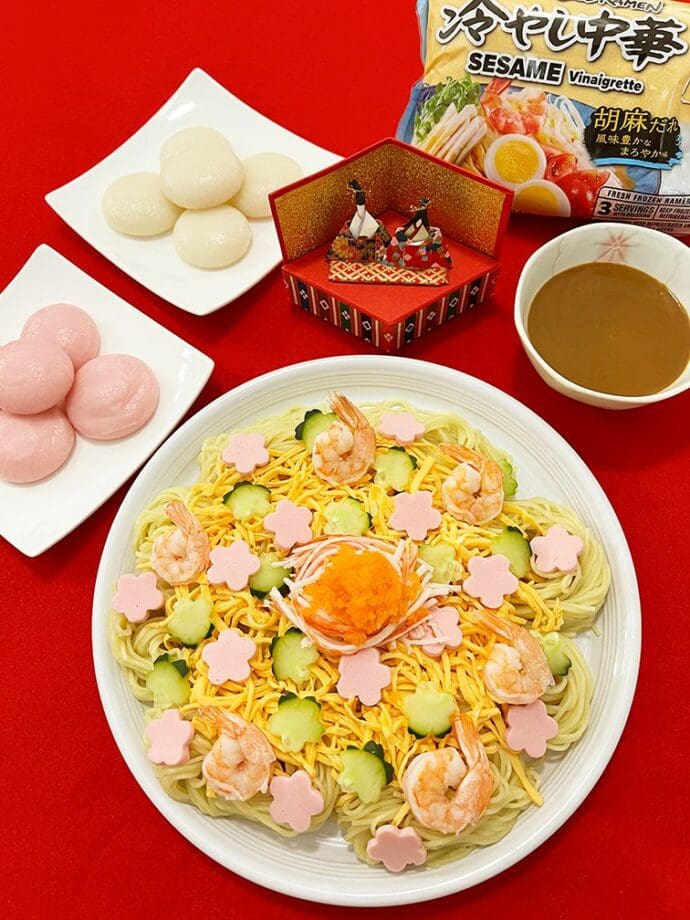 Hinamatsuri, also known as Girl's Day is a Japanese tradition celebrated on March 3. Girl's Day is celebrated by displaying a set of ornamental dolls and enjoying traditional sweets and foods! Why not celebrate Girl's Day with a specially decorated Hiyashi Chuka? Enjoy Myojo-Style chirashi, using Sesame Hiyashi Chuka!
Yields
3 servings
Cook Time
10 mins
Print
Ingredients
Noodles
3

servings

Sesame Hiyashi Chuka
Sauce
3

packets

Sesame Hiyashi Chuka Sauce
Toppings
2

Eggs

¼

tsp

Potato Starch

2

tbsp

Water

1

tsp

Sugar

1

tsp

Oil

½

Cucumber

½

Fish Sausage

3

tbsp

Masago (Capelin Roe)

1

piece

Imitation Crab

6

Shrimps
Instructions
Dissolve the potato starch with water to make slurry, and crack the eggs to the same bowl. Add in sugar and mix well.

Heat oil in a pan and add the egg mixture, in 3-4 separate parts. Make 3-4 pieces of a thin layer of egg. After cooking the eggs, let it cool and cut the eggs to thin shredded strips.

Thinly slice the cucumber and fish sausage. Using a flower punch, cut out flower-shaped cucumbers and fish sausage. Peel the imitation crab to shreds and boil the shrimps in salt water.

Follow the package instructions to cook the noodles. Rinse the cooked noodles with cold water to chill and drain well.

On a large plate, place the noodles and top with shredded egg, flower-shaped fish sausage, eggs, and shrimps. At the center, add the imitation crab and finish topping with masago. In a separate small bowl, prepare the sauce and pour over the noodles before serving. Mix the noodles and enjoy!
Recipe Reviews
There are no reviews yet. Be the first one to write one.