Sesame Hiyashi Chuka with Kalua Pork and Bitter Gourd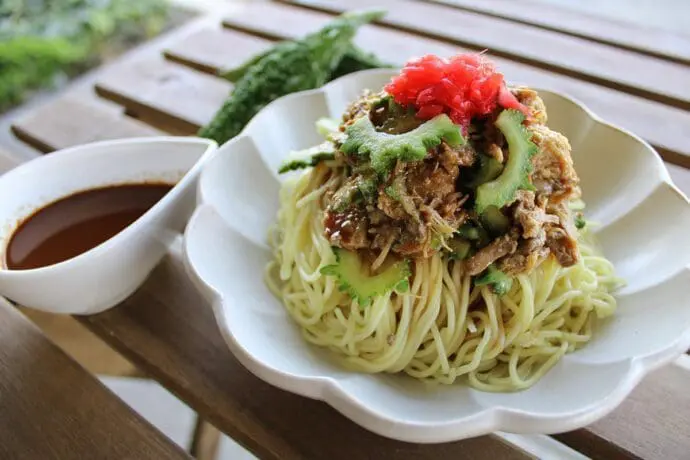 Bitter gourd (bitter melon) is a vegetable that looks like a cucumber with bumps. It has a bitter taste, which is common in Okinawan dishes. In Okinawa, bitter gourds are called goya. The bitterness of the gourd enhances appetite and has 5 times more vitamin c than cucumber and tomatoes! Enjoy bitter gourd with a sweet and tangy kalua pork (bbq pork), and slurp away with our refreshing Sesame Hiyashi Chuka cold ramen noodles!  
Yields
1 serving
Cook Time
15 mins
Print
Ingredients
Noodles
1

serving

Sesame Hiyashi Chuka
Sauce
1

packet

Sesame Hiyashi Chuka Sauce
Toppings
1/4

lb

Kalua Pork (or BBQ Pulled Pork)

1/4

Bitter Gourd (Bitter Melon/Goya)

Red Ginger

by preference, you can follow our linked recipe

Salt

by preference
Instructions
Slice the bitter gourd into half the vertical way and cut to thin slices. 

Boil the sliced gourds in salted water. 

Mix bitter gourds with kalua pork (or bbq pulled pork).

Boil plenty of water in a pot and follow the package instructions to cook the noodles.

Once the noodles are cooked, rinse in cold water and drain well. 

Place the drained noodles to a bowl/deep dish. Arrange the mixed gourd and pork from Step 2 over the noodles and top with red ginger. Swirl in the sesame hiyashi chuka sauce, and you are done! 
Recipe Reviews
There are no reviews yet. Be the first one to write one.