Pork Shabu-Shabu Salad with Sesame Hiyashi Chuka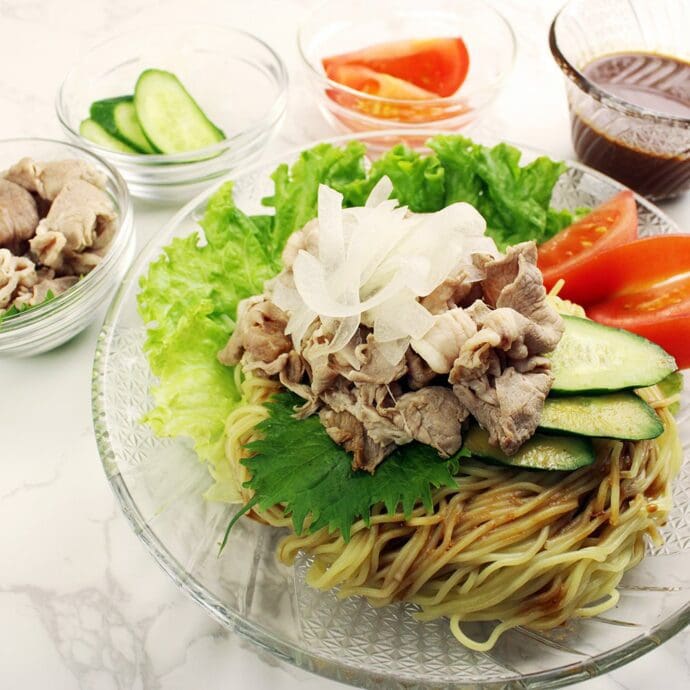 Beat the heat with Hiyashi Chuka! Besides the original soy sauce, sesame sauce is another popular sauce served with cold ramen. Using our Sesame Hiyashi Chuka, enjoy chilled fresh ramen noodles with boiled pork! The creamy and nutty flavor of the sesame hiyashi chuka sauce is great hot or cold. Top the noodles with seasonal vegetables for a refreshing yet well-balanced meal!
Yields
1 serving
Cook Time
20 mins
Print
Ingredients
Noodles
1

serving

Sesame Hiyashi Chuka
Sauce
1

packet

Sesame Hiyashi Chuka Sauce
Toppings
¼

lb

Thin sliced pork

1

tbsp

Sake

2

slices

Ginger

¼

Tomato

3

slices

Cucumber

Sliced Onion

by preference

1

leaf

Shiso

1

leaf

Iceberg Lettuce
Instructions
Slice the pork to big bite sized pieces.

Boil water in a pot and add in ginger and sake. Add in the pork from Step 1 and boil to cook. Once the pork is cooked, drain well, and let it cool.

Slice the cucumber, tomatoes, and onions. Drench the sliced onions in water to remove the bitterness. Rinse the lettuce and drain well.

Follow the package instructions and boil the noodles.

Once the noodles are cooked, rinse in cold water and drain well.

Place the lettuce on a plate and arrange the noodles over the lettuce. Top the noodles with shiso leaves, cucumber, and shabu shabu pork.

To finish, top the pork with sliced onions and garnish with tomatoes. Before serving, swirl in the sesame hiyashi chuka sauce. Enjoy!

 
Recipe Reviews
There are no reviews yet. Be the first one to write one.