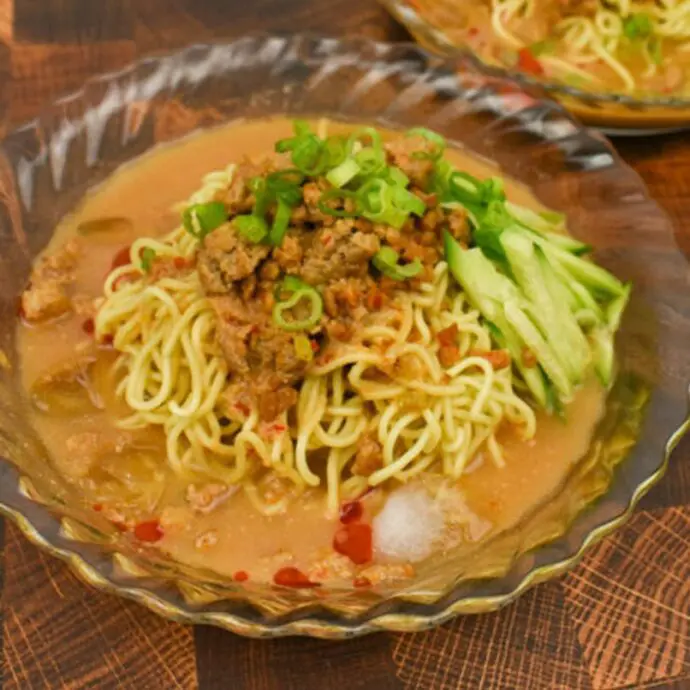 Tantanmen is a Japanese take on the Sichuan Dan Dan noodles. Unlike Dan Dan noodles, Tantanmen has a mellow creamy flavor from sesame paste and soy milk. Because sesame paste can be hard to find, we recommend using peanut butter! Peanut butter is a good alternative for a nutty creamy flavor. While Tantanmen is usually hot, you can make it cold by rinsing the noodles in cold water and adding ice! For this recipe, we used our our Sesame Hiyashi Chuka. Try it out, as this can definitely be a summer favorite!
Yields
1 serving
Cook Time
15 mins
Print
Ingredients
Noodles
1

serving

Sesame Hiyashi Chuka
Sauce
1

serving

Sesame Hiyashi Chuka Sauce

1

tbsp

Peanut Butter

1

tsp

Doubanjiang

½

cup

Cold Water

½

Green Onion

minced

Salt & Pepper

by preference

La-yu Chili Oil

by preference
Instructions
Make the topping: Heat a wok/pan with 1 tsp of sesame oil, and add 80g of ground pork to the pan. Cook the pork while seasoning with salt and pepper. Add 1 tsp of minced ginger, ½ of the minced green onion, and 1 tsp of doubanjiang to the pan and cook together.

Make the sauce: In a small bowl, mix Sesame Hiyashi Chuka Sauce, 1 tbsp of peanut butter, and 1 tsp of doubanjiang. Add ½ cup of cold water to the bowl, mix well.

Cook the ramen noodles: Follow the instructions on the package. Drain the cooked noodles and rinse with cold water to cool down.

To serve: Place the cold noodles in a bowl and pour the cold soup over the noodles. Top the noodles with cooked pork and thin sliced cucumber, then the rest of the green onions. Finish up by swirling in chili oil.
Recipe Reviews
There are no reviews yet. Be the first one to write one.