Kara-age Topped Hiyashi Chuka with Vinaigrette Sauce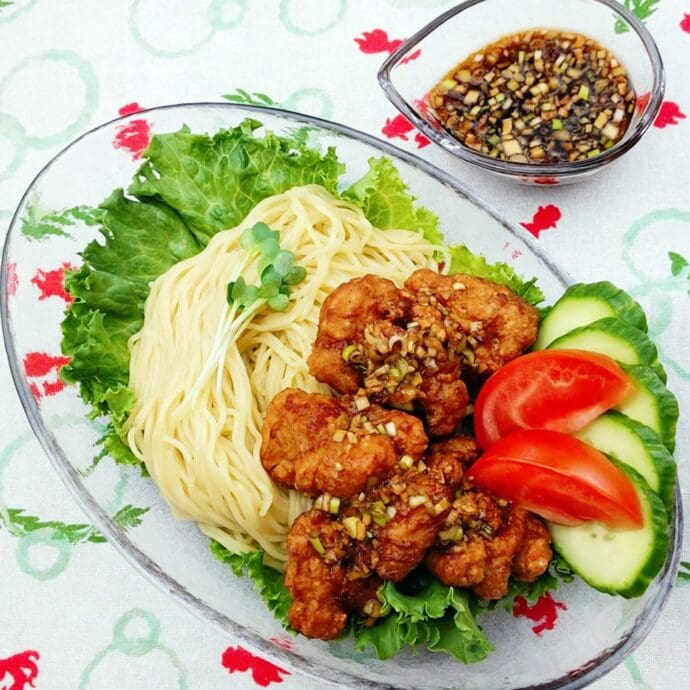 Looking for a refreshing dish with plenty of meat? Enjoy cold ramen by arranging our Hiyashi Chuka sauce and adding store-brought kara-age! Our Original Hiyashi Chuka is great by itself, but it tastes even better if you add toppings! The refreshing taste of the soy sauce vinaigrette, savory kara-age, and fresh ramen noodles make a delicious combination! If you cannot find kara-age, you can always make it homemade for double the goodness. Enjoy!
Yields
1 serving
Cook Time
15 mins
Print
Ingredients
Noodle
1

serving

Original Hiyashi Chuka
Sause
1

packet

Original Hiyashi Chuka Sauce
Sauce
1

tbsp

Soy Sauce

1

tsp

Sugar

½

tbsp

Vinegar

½

tsp

Ginger

Grated

1

tsp

GreenOnions

minced
Toppings
5

slices

Cucumbers

2

slices

Tomatoes

1

leaf

Leaf Lettuce

Radish Sprouts

for garnish

Frozen Kara-age (Japanese-style Fried Chicken)

by preference
Instructions
Heat up the frozen kara-age using an oven, and slice the cucumbers, tomatoes, and green onions. Set aside.

In a small bowl, mix the following: soy sauce, sugar, vinegar, gratedginger, green onions, and the Hiyashi Chuka Sauce. Set aside.

Boil plenty of water in a pot and follow the package instructions to cook the noodles. Rinse with cold water and drain well.

Place a piece of lettuce on a plate/bowl and place the noodles on top. Arrange the toppings from step 1 and pour about 2 tbsp of Hiyashi Chuka sauce over the kara-age. Garnish with Radish sprouts, and you are done! Before serving, pour the rest of Hiyashi Chuka sauce over the noodles. Enjoy!
Recipe Reviews
There are no reviews yet. Be the first one to write one.