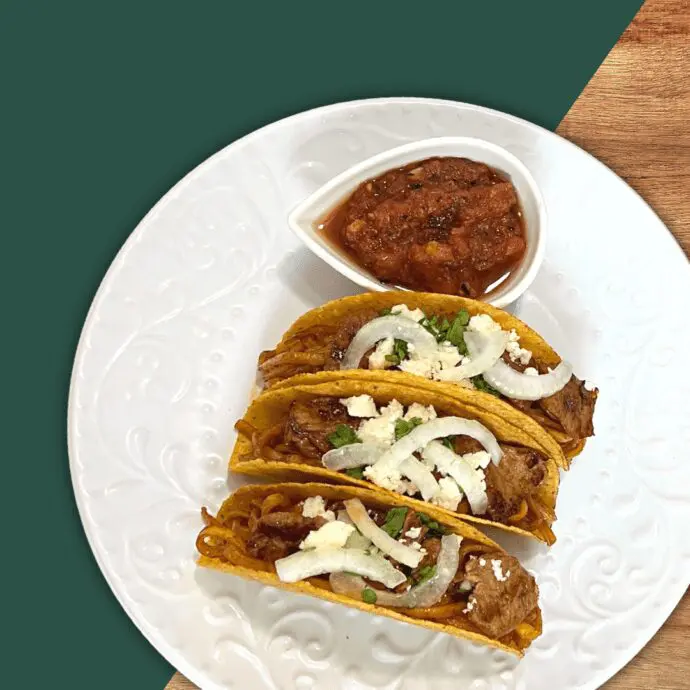 What is a unique way to enjoy Premium Sweet & Spicy Habanero Yakisoba? Tacos! Sounds bizarre, tastes spicy and delicious! Try this Japanese-Mexican dish without having to use chopsticks! While we recommend topping the tacos with queso fresco, you can try it with other preferred cheese. Sprinkle some tajin for a change in flavor, and enjoy!
Yields
1 serving
Cook Time
10 mins
Print
Ingredients
Yakisoba
1

serving

Premium Sweet & Spicy Habanero Yakisoba
Sauce
1

packet

Premium Sweet & Spicy Habanero Yakisoba Sauce
Toppings
1

bag

NEXT Harami (Skirt Steak)

1

tbsp

Vegetable Oil (For NEXT Harami)

1

tbsp

Vegetable Oil (For Yakisoba)

¼

cup

Water

1

tbsp

Store-bought Yakisoba Sauce (For NEXT Harami)

3

pieces

Taco Shells or Tortillas

SlicedOnions

by preference

Cilantro

by preference

Queso Fresco

by preference

Salsa

by preference

Tajin

by preference (Optional)
Instructions
Chop the cilantro and slice the onions to thin slices. Set aside.

Heat vegetable oil in a frying pan and cook the NEXT Harami. Add store-brought yakisoba sauce and stir together. Set aside.

In a separate pan, heat vegetable oil and add in the yakisoba to stirfry. After a little stirfrying, pour in water to steam cook the noodles. Loosen the noodles and pour in the hanabero yakisoba sauce. Stir-fry until the noodles are evenly coated with the sauce. The noodles are ready!

Place the yakisoba inside a taco shell/tortilla and add the NEXT Harami. To finish, top it off with some cilantro, queso fresco, and onion slices. Try it with salsa and/or a sprinkle of Tajin. Enjoy!
Recipe Reviews
There are no reviews yet. Be the first one to write one.