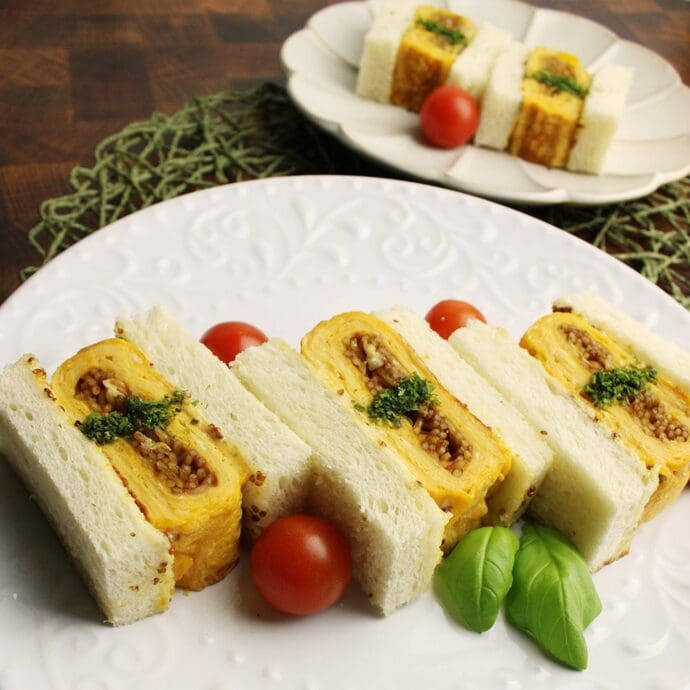 What's a good finger food you can make at home? Japanese Egg Sandwich! For this recipe, we wrapped our Premium Original Yakisoba with egg omelet!  Our fresh yakisoba noodles have a thick, chewy texture, which is perfect with the thick and tangy yakisoba sauce. By enveloping the noodles with eggs, the tangy flavor of the sauce becomes mild and fluffy. Add Japanese mayonnaise and country mustard for a little more kick!
Yields
2 servings
Cook Time
10 mins
Print
Ingredients
Yakisoba
1

serving

Premium Original Yakisoba
Sauce
1

packet

Premium Original Yakisoba Sauce

¼

cup

Water
Sauce
2

tbsp

Japanese Mayonnaise

1

tbsp

Country Mustard
Toppings
1

leaf

Cabbage

½

tbsp

Red Ginger

1

tsp

Vegetable Oil

4

Eggs

1

tsp

Dashi (Dashi in Water)

1

tsp

Vegetable Oil

2

Sliced Breads

Mini Tomatoes

by preference
Instructions
Chop the cabbage and red ginger.

Heat vegetable oil in a frying pan and lightly cook the cabbage and red ginger. Add in the yakisoba noodles and cook while following the package instructions.

In a separate bowl, mix the egg and dashi. Mix well.

For this step, you will be using a rectangular pan (Rolled Egg Omelet pan). Heat oil in the pan and pour in 1/3 of the egg mixture from Step 3. Spread the mixture to thin layer and place the yakisoba noodles from Step 2. Starting from the edge, roll the egg towards you. Once you roll the egg with yakisoba, pour in another 1/3 of the mixture to the space and thinly spread to a layer. Roll up from the edge and repeat the procedure. Once you are done with the mixture, shape the egg omelet using a spatula. Atsuyaki Tamago, a.k.a. Rolled Egg Omelet is ready!

Mix Japanese mayonnaise with country mustard and spread on bread (One side only).

Sandwich the the rolled egg omelet from Step 3 with the breads from Step 5. Slice off the crust if necessary and cut the sandwich to 3 slices. Place the sandwich on a plate and garnish with mini tomatoes. Enjoy!
Recipe Reviews
There are no reviews yet. Be the first one to write one.