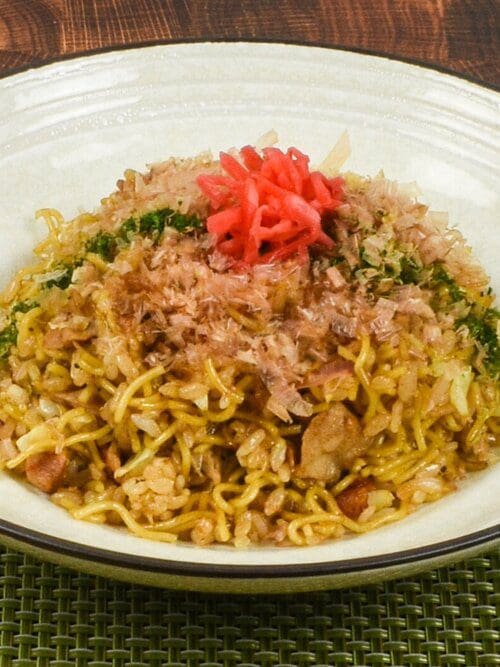 Craving street food? Here's something you probably have not heard before – Soba Meshi! Soba Meshi is a mixed dish of yakisoba and fried rice. Soba Meshi originates from Kobe, Japan. The fragrance of the sauce attracts people walking in the streets! Try this easy recipe using our Signature Original Yakisoba! 
Yields
1 serving
Cook Time
15 mins
Print
Ingredients
Yakisoba
1

serving

Signature Original Yakisoba 

1 ½

cups

Cooked Rice 

1

tbsp

Sesame Oil 

80

g

Pork Slices

cut to small slices 

⅙

Cabbage

diced 

1

tsp

Cooking Oil 

2

tbsp

Tenkasu (Tempura Bits) 

Salt

by preference

Pepper

by preference
Sauce
1

packet

Signature Original Yakisoba Seasoning 
Toppings
Aonori (Dried Green Laver) 

Dried Bonito Flakes 

Red Ginger

you can follow our recipe 

Otafuku's Yakisoba Sauce

optional 
Instructions
Microwave 1 bag of yakisoba noodles for 30 seconds to 1 minute. Chop the noodles to 1-2cm sizes. Add the chopped noodles and 1.5 cup of cooked rice to a bow. Stir in 1 tbsp of sesame oil and mix well. 

Heat a frying pan with 1 tsp of cooking oil. Add 80g of pork slices and stir-fry. Once the pork slices are cooked, add ⅙ chopped cabbages. Season with salt and pepper. 

Add the noodles and rice mixed in step 1 to the pan. Once the noodles and rice are stir-fried, stir in a bag of yakisoba sauce. Mix well. Add 2 tbsp of tenkasu and lightly mix. 

Transfer Step 3 to a bowl/plate and top with aonori, dried bonito flakes, and red ginger. 

*If you mix the toppings with the Soba Meshi before eating, it will taste even better!  

*If you want more sauce, add in Otafuku's yakisoba sauce. 
Recipe Reviews
There are no reviews yet. Be the first one to write one.