Habanero and Jalapeno Yakisoba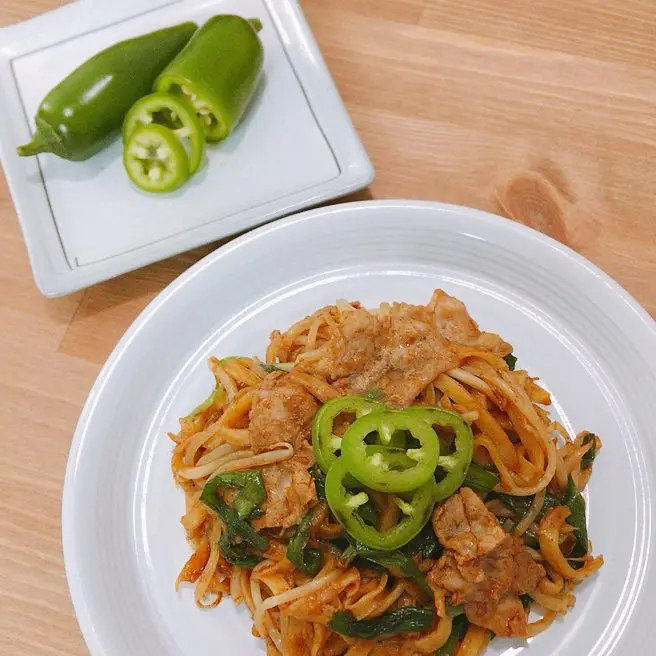 Craving a spicy, fiery meal? Add some jalapenos to our Premium Sweet & Spicy Habanero Yakisoba for some extra heat! Go basic with the meats and vegetables and enjoy the heat while the fresh noodles are still piping hot! Take care not to burn yourself!
Yields
1 serving
Cook Time
15 mins
Print
Ingredients
Yakisoba
1

serving

Premium Sweet & Spicy Habanero Yakisoba
Sauce
1

packet

Premium Sweet & Spicy Habanero Yakisoba Sauce
Toppings
¼

lb

Thin-Sliced Pork

1

cup

Bean Sprouts

½

bundle

Chives

¼

Jalapeno Peppers

1

tbsp

Vegetable Oil

Salt & Pepper

by preference
Instructions
Cut the thin-sliced pork to bite sized pieces and cut the chives to 5 cm lengths. Thinly slice the jalapenos and set aside. (Wear gloves to prevent getting burned by jalapeno. If you prefer a less spicy dish, remove the seeds.

Heat oil in a frying pan and cook the pork. Season with salt and pepper and add in the jalapeno and bean sprouts.

Add in the yakisoba noodles with little amounts of water and loosen.  Stir-fry the noodle with the meat and and vegetables. Swirl in the sauce and continue to stir-fry. Lastly, add in the chives and stir together.

Place the cooked noodles on a plate and you are done!
Recipe Reviews
There are no reviews yet. Be the first one to write one.