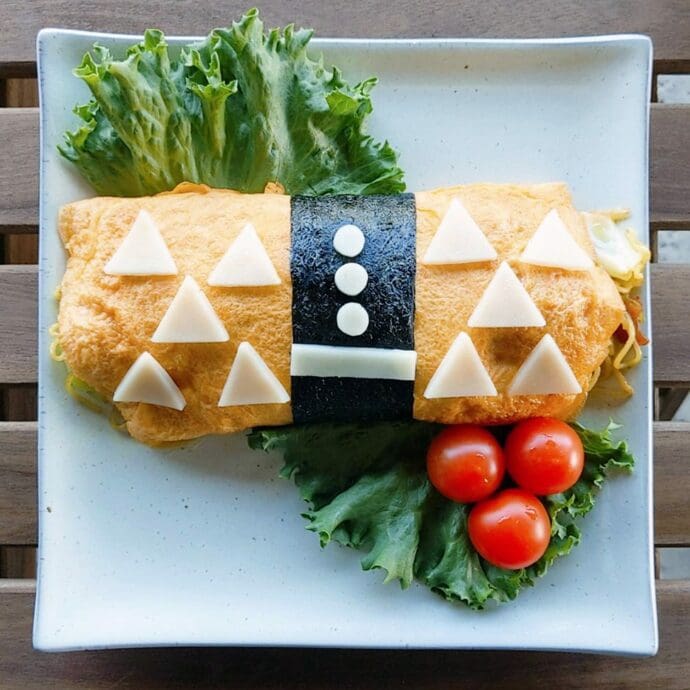 Demon Slayer (Kimetsu no Yaiba) was so popular in Japan, that the movie was a big hit. Great news is that the movie is also being released in the states! To celebrate this, we turned one of our favorite characters into Curry Omusoba (Omelet wrapped Yakisoba)! Zenitsu Agatsuma is a character in Demon Slayer. While he acts cowardly, Zenitsu is a strong and courageous character! Zenitsu is popular for his strength and ability to show his emotions. For this recipe, we used our signature Curry yakisoba for the yakisoba noodles! The omelet is arranged to resemble Zenitsu's outfit! While it looks fun, the cheesy omelet wrapped in curry yakisoba noodles are simply irresistible! Enjoy the looks and enjoy the taste!
Yields
1 serving
Cook Time
15 mins
Print
Ingredients
Yakisoba
1

serving

Signature Curry Yakisoba
Sauce
1

packet

Signature Curry Yakisoba Seasoning
Toppings
80

g

Thin-sliced Pork

1

leaf

Cabbage

⅙

Onion

2

Eggs

¼

Nori Seaweed

2

Cheese Slices

1

tbsp

Vegetable Oil (For Yakisoba)

1

tbsp

VegetableOil (For Eggs)

¼

cup

Water

Salt and Pepper

by preference

1

leaf

Lettuce

3

Mini Tomatoes
Instructions
Cut the cabbage and pork into bite sizes, and thinly slice the onions.

Heat vegetable oil in a frying pan and cook the pork. Season with salt and pepper. Add in the cabbages and onions to the pan. Continue to stir-fry.

Add in the yakisoba noodles to the pan. Pour in ¼ cup of water to loosen and cook the noodles. After the noodles are loosened and the water has evaporated, sprinkle in the curry yakisoba seasoning. Continue to stir-fry until the seasoning is evenly distributed. The yakisoba is ready! Set aside the yakisoba.

Rinse the frying pan used to stir-fry yakisoba. After drying the pan, heat vegetable oil in a pan and cook the eggs into a thin omelet.

Once the omelet is ready, place the yakisoba in the center. Flip the omelet over so that the yaksioba is wrapped in the omelet, and place on a plate. The Omusoba is ready!

Wrap a strip of seaweed on the center of the omusoba and decorate with triangle shaped cheese slices.

Garnish with leaf lettuce and mini tomatoes, and you are done!
Recipe Reviews
There are no reviews yet. Be the first one to write one.