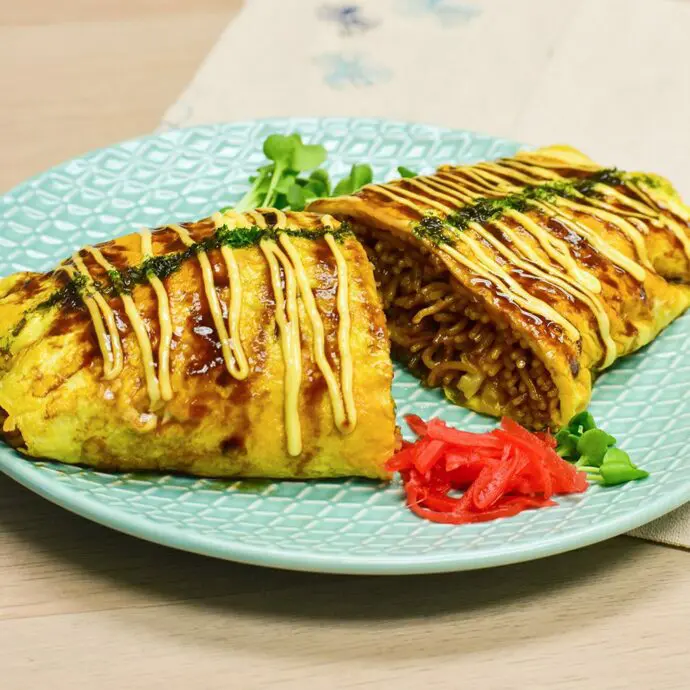 Looking to change up your usual breakfast? Well, look no further. We would like to introduce to you an unlikely combo: yakisoba inside of an omelet, AKA Omusoba! This dish consists of stir-fried noodles wrapped inside of an omelet with added ingredients like meat, vegetables, and sauce drizzled on top. It is popular comfort food in Japan, especially on cold or rainy days.
For this recipe, we used our Signature Original Yakisoba. Make sure to try this out, as the savory and tangy flavor of yakisoba pairs surprisingly well with the fluffy omelet!
Yields
1 serving
Cook Time
15 mins
Print
Ingredients
Yakisoba
1

serving

Signature Original Yakisoba 

80

g

Pork Komagire (scraps)

cut into bite-sized pieces 

¼

Onion

thinly sliced 

3

Cabbage Leaves

cut into bite-sized pieces 

¼

cup

Water 

1

Egg with 1 tbsp Milk mixed in 

1

tsp

Vegetable Oil

for Yakisoba 

1

tsp

Vegetable Oil

for Omelet 

Salt

by preference

Pepper

by preference
Sauce
1

packet

Signature Original Yakisoba Seasoning 
Toppings
Mayonnaise 

Yakisoba Sauce 

Aonori (Dried Green Laver) 

Red Ginger

you can follow our recipe 
Instructions
Heat vegetable oil in a frying pan and add pork. Season with salt and pepper and cook thoroughly. 

Once the meat is cooked, add onions and cabbage and stir fry. 

Slide pork and vegetables to the edges of the frying pan and add Yakisoba noodles in the middle. Add water and cover, letting it steam until the water is fully evaporated. Once the noodles are loose, add seasoning packet and toss everything together until combined. Add salt and pepper to adjust the taste. Transfer to a plate and set it aside. 

Clean the frying pan and remove excess water. Heat vegetable oil and pour in egg and milk mixture and make a thin omelet.  

Once one side is cooked, place Yakisoba noodles in the middle and carefully wrap the egg over it. Flip it onto your serving plate.  

Add Yakisoba sauce and mayonnaise to your liking and garnish with aonori and red ginger and you are done!  
Recipe Reviews
There are no reviews yet. Be the first one to write one.