Habanero Yakisoba with Spicy Sausage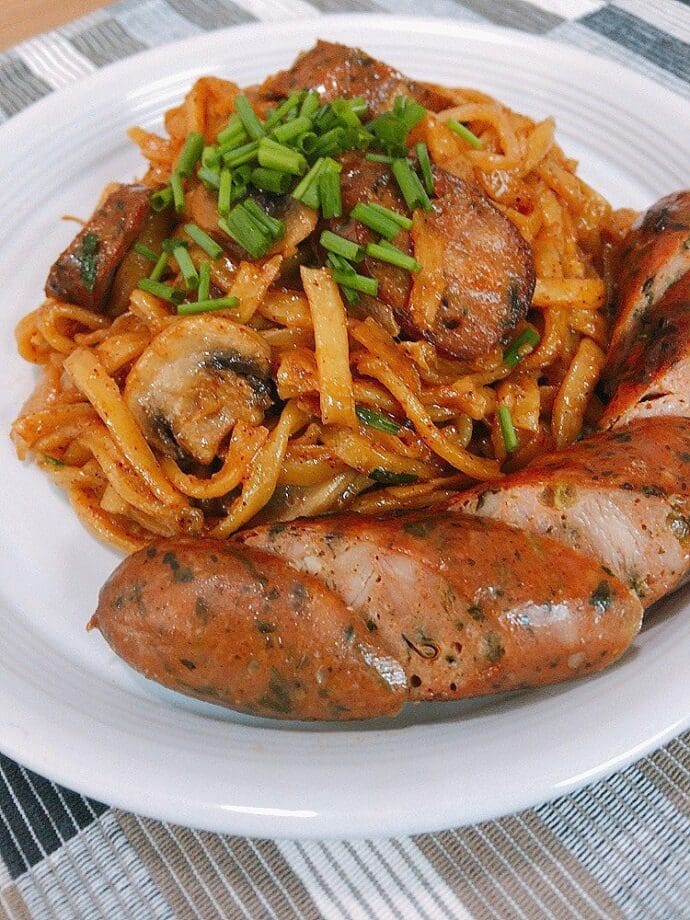 Craving spice? Try our Premium Sweet & Spicy Habanero Yakisoba! The sweet and spicy habanero yakisoba sauce tastes great with our fresh yakisoba noodles. In this recipe, we've added heavy cream for a thick and creamy taste.  Add some spicy smoked chicken sausages for some extra heat and enjoy!
Yields
1 serving
Cook Time
20 mins
Print
Ingredients
Yakisoba
1

serving

Premium Sweet & Spicy Habanero Yakisoba
Sauce
1

packet

Premium Sweet & Spicy Habanero Yakisoba Sauce
Toppings
2

Store-Brought

Spicy Smoked Chicken Sausages

¼

Onion

2

Mushrooms

Salt & Pepper

by preference

Chives

by preference

1

tbsp

Butter
Instructions
Slice the onion and mushroom, set aside. Cutthe chives to 1 cm lengths.

In a small bowl, mix the yakisoba sauce and heavy cream. Set aside.

Using a frying pan, grill the store-bought smoked spicy chicken sausage. Once the sausage is thoroughly cooked, cut to bite sized pieces. One sausage is going to be served with yakisoba, and the other sausage will be a side dish.

Heat a separate pan and add in butter, onions, and mushrooms. Season with salt and pepper, sauté.

After the onions are cooked, add in the yakisoba noodles, following the package instructions to add water and loosen the noodles. Stir the noodles with the onions and mushrooms. After the noodles are cooked, add in the sauce from step 2 and add in the chives. Stir well.

Place the yakisoba in a plate and place the sausage next to the yakisoba. Lastly, top with chives and you are done!
Recipe Reviews
There are no reviews yet. Be the first one to write one.