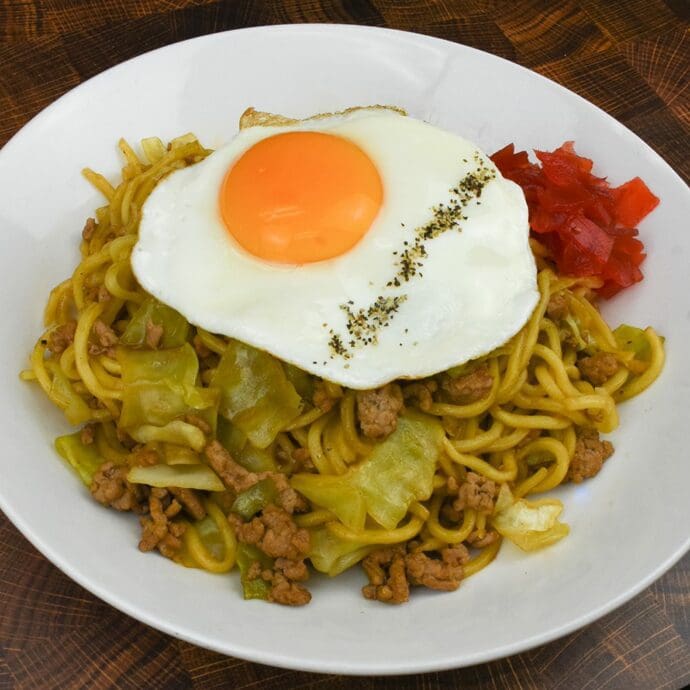 Yokote Yakisoba is a regional fast-food originating from Akita, Japan. Yokote Yakisoba is served with a sunny side up egg and Fukujinzuke (a red pickled vegetable). The sweet and tangy flavor of the sauce and thick noodles is popular among the locals in Yokote City, Akita prefecture. For this recipe, we used our Premium Original Yakisoba to recreate Yokote-style Yakisoba! Add mentsuyu and mirin to our sauce for a sweeter sauce! Mix the sunny side up with yakisoba and enjoy! 
Yields
1 serving
Cook Time
20 mins
Print
Ingredients
Yakisoba
1

serving

Premium Original Yakisoba 

¼

cup

Water

100

g

Cabbage 

100

g

Ground Pork 

1

tsp

Vegetable Oil

for Yakisoba 

1

Egg

1

tsp

Vegetable Oil

for Egg 
Sauce
1

packet

Premium Original Yakisoba Sauce 

3

tbsp

Water 

½

tbsp

Mentsuyu 

½

tbsp

Mirin
Toppings
Fukujinzuke

optional 

Pepper 

by preference
Instructions
In a small bowl mix ½ packet of the sauce, water, mentsuyu, and mirin. 

Cut the cabbage to bite sizes. 

Heat the vegetable oil in a frying pan. Cook the ground meat and add in the cabbage once the meat is cooked. Continue to stir-fry. 

Add in the Yakisoba and ¼ cup of water. Cover with lid and steam cook. Remove the lid and loosen the noodles. Stir-fry until the water is evaporated. 

Swirl in the sauce from Step 1, and stir until the yakisoba is entirely covered with sauce. Remove from heat in place the noodles on a plate. 

Wash the frying pan and dry. Heat vegetable oil in a frying pan and crack in the egg. As soon as the egg white hardens, remove from heat. Place the sunny side up on top of the yakisoba from Step 5. 

Place the fukujinzuke on the side and sprinkle some pepper. The yakisoba is now ready to eat! 
Recipe Reviews
There are no reviews yet. Be the first one to write one.