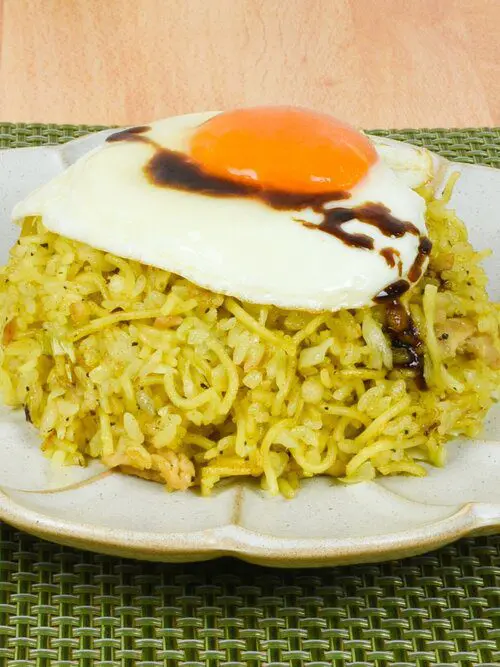 Craving street food? Try Soba Meshi! Soba Meshi is a mixed dish of yakisoba and fried rice. Soba Meshi originates from Kobe, Japan. For this recipe, soba meshi is going to be spiced up by using our Signature Curry Yakisoba. The savory flavor of the curry spice mixed with eggs are worth trying!
Yields
1 serving
Cook Time
15 mins
Print
Ingredients
Yakisoba
1

serving

Signature Curry Yakisoba

1 ½

cups

Cooked Rice

1

tbsp

Sesame Oil

80

g

Pork Slices

cut to small slices

⅙

Cabbage

diced

1

tsp

Cooking Oil

2

tbsp

Tenkasu (Tempura Bits)

Salt & Pepper

by preference
Sauce
1

packet

Signature Curry Yakisoba Seasoning
Toppings
1

Egg

Otafuku Yakisoba Sauce

by preference
Instructions
Take out the noodles from the bag and microwave for 30 seconds to 1 minute. Chop the noodles to 1-2cm sizes. Add the chopped noodles and 1 cup of cooked rice to a bow. Stir in 1 tbsp of sesame oil and mix well.

Heat a frying pan with 1 tsp of cooking oil. Add 80g of pork slices and stir-fry. Once the pork slices are cooked, add ⅙ chopped cabbages. Season with salt and pepper.

Add the noodles and rice mixed in Step 1 to the pan. Once the noodles and rice are stir-fried, stir in a bag of yakisoba sauce. Mix well. Add 2 tbsp of tempera bits and lightly mix. Transfer to a bowl/plate.

Cook 1 egg as you like (sunny side up is recommended), top it on the Curry Sobameshi. Drizzle some Otafuku's yakisoba sauce, and you are done! *If you mix the egg with rice before eating, it will taste even better!
Recipe Reviews
There are no reviews yet. Be the first one to write one.