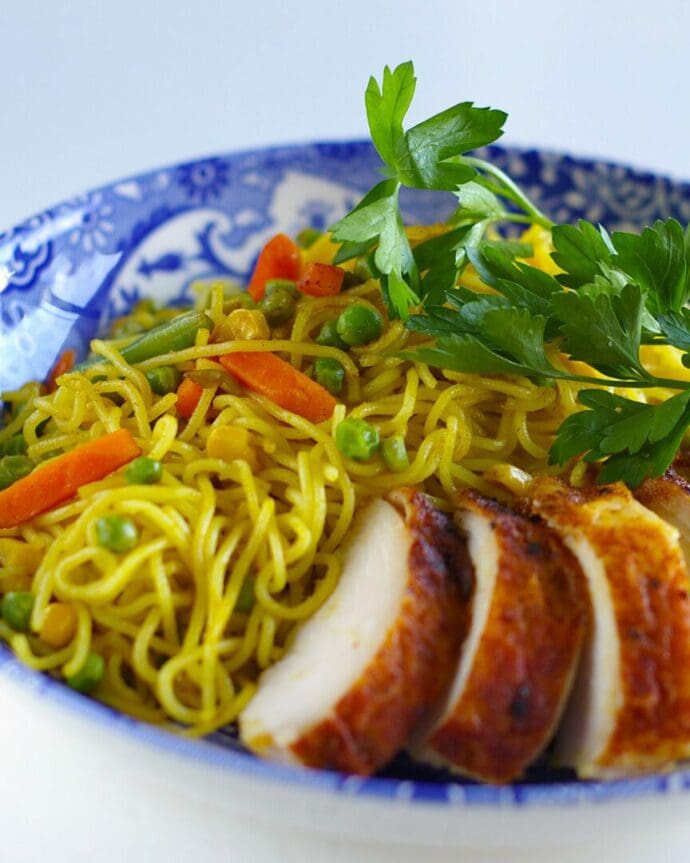 During the holiday seasons, whole chicken is often seen in dinner tables, as many prefer chicken over turkey. If there's leftover chicken, why not turn it into a tasty one-plate dish? Chicken can never go wrong with our Signature Curry Yakisoba. While the chicken juice enhances the taste, the wine will eliminate the unwanted smell off the chicken. Cook with frozen vegetables for a quick but delicious meal! 
Yields
1 serving
Cook Time
15 mins
Print
Ingredients
Yakisoba
1

serving

Signature Curry Yakisoba 

80

g

Rotisserie Chicken

sliced into bite-sizes

1

cup

Frozen Mixed Vegetables

¼

cup

Chicken Juice from the Rotisserie Chicken (or Water) 

2

tbsp

White Wine 

1

tbsp

Olive Oil 
Sauce
1

packet

Signature Curry Yakisoba Seasoning
Instructions
Coat a frying pan with olive oil and preheat over medium heat. Add the mixed vegetables and stir fry until half-cooked.  

Push the vegetables off to the side of the frying pan and put the yakisoba noodles and the chicken into the pan separately. Keep the noodles as one piece. Cook for 30 seconds each side then pour the water over the noodles, and the wine over the chicken. 

Cover the pan with a lid. Cook for 1 minute until the liquid evaporates. 

Sprinkle the curry flavored seasoning over the noodles and mix well. Transfer to a serving plate, and garnish with the Italian parsley. Enjoy! 
Recipe Reviews
There are no reviews yet. Be the first one to write one.