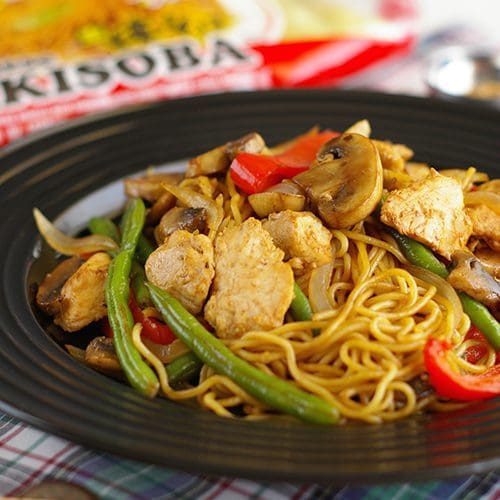 Looking for a recipe that uses ingredients easily found in the states, but not your typical ingredients for yakisoba? Try it Western-style! In this recipe, chicken is used instead of sliced pork, and yellow mustard is added as garnish! Make this westernized yakisoba, using our Signature Original  Yakisoba!
Yields
1 serving
Cook Time
15 mins
Print
Ingredients
Yakisoba
1

serving

Signature Original Yakisoba
Sauce
1

serving

Signature Original Yakisoba Seasoning
Toppings
2

Mushrooms

sliced

¼

Onion

wedged

5

Green Beans

¼

Red Bell Pepper

wedged

2

Chicken Tenderloins

2

tsp

Olive Oil
Garnish
1

tbsp

Mayonnaise

1

tsp

Yellow Mustard

½

Spring Onion

chopped

2

tsp

Sesame Seeds

roasted
Instructions
In a small plate, combine mustard and mayonnaise. Set aside.

Remove the sinew/tendon from the chicken tenderloins and slice into bite sized pieces.

In a frying pan, place the mushroom, onion, green beans, bell pepper, and the chicken tenderloins. Pour 2 tbsp of water and cover with lid.

Place the frying pan over the stove top and turn on the heat to medium. Cook for 2 to 3 minutes. With this method, the umami and juice of vegetables are well induced. (This technique is called "Kasaneni" in Japanese.)

Open the lid and place the noodles then cover with the lid again. (If the water is already evaporated, add 2 tbsp of water.) Cook for another 1 minute.

Open the lid and sprinkle with the soup base. Mix well.

Pour the olive oil and mix well. Transfer to the serving plate.

Serve the Yakisoba with mustard mayonnaise, roasted sesame seeds and spring onion.
Recipe Reviews
There are no reviews yet. Be the first one to write one.