Habanero Yakisoba with Pineapple and Cashew Nuts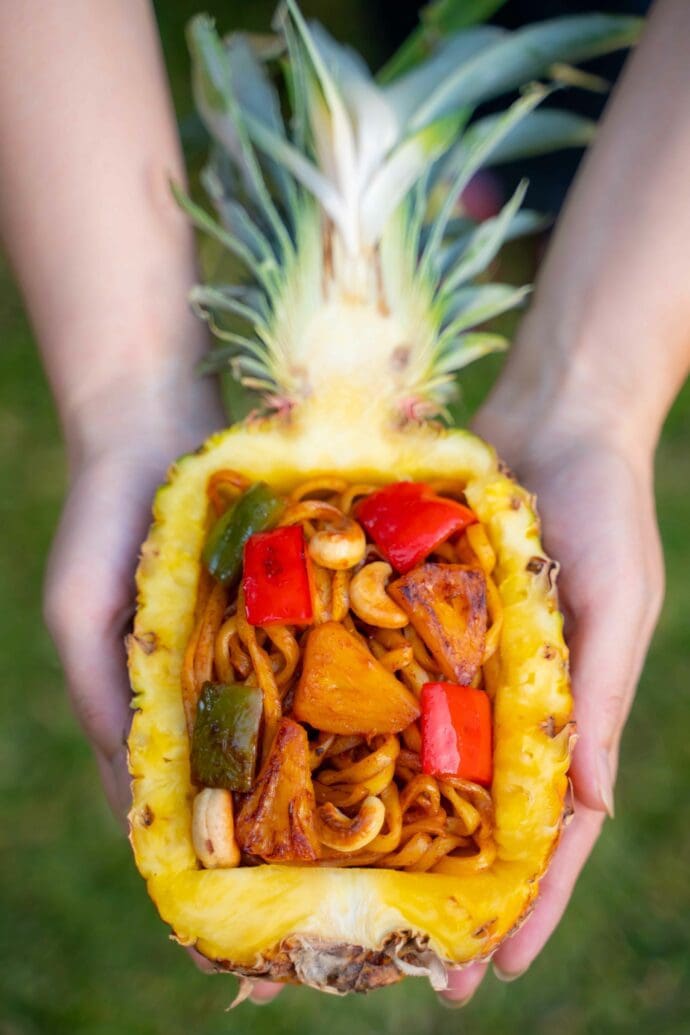 The sweet and sour flavor of the yakisoba sauce is combined with a punch of spicy habanero chili.  The sweet and spicy combination is excellent with the thick and chewy noodles!  Even if it's super spicy, the addictive taste will keep you slurping for more!  The package contains 2 servings of noodles and sauce.  Vegetarian-friendly.
Tips and Variations: Try adding ham and sausages for meat. For a variation, use a pineapple as a plate.  It makes an easy party food!
Yields
2 servings
Cook Time
15 mins
Print
Instructions
Cut the green pepper and pineapple into bite-sized pieces. 

Heat the cooking oil in a big frying pan, over medium heat.  Stir fry the cashew nuts until golden brown and transfer to a plate.

Stir fry the pineapple and peppers and add the noodles.  Pour 1/4 cup of water then puta lid on.  Steam for 30 seconds then separates the noodles and stir fry.

Add the sauce and mix well.  Transfer to serving plates.

To make a sunny side egg, fry the eggs overmedium heat.  With a spoon, pour thecooking oil over the egg yolk while frying.

Place the eggs on the Yakisoba and you are done!
Recipe Reviews
There are no reviews yet. Be the first one to write one.