Pepper Lunch-Style Ippei-Chan Yakisoba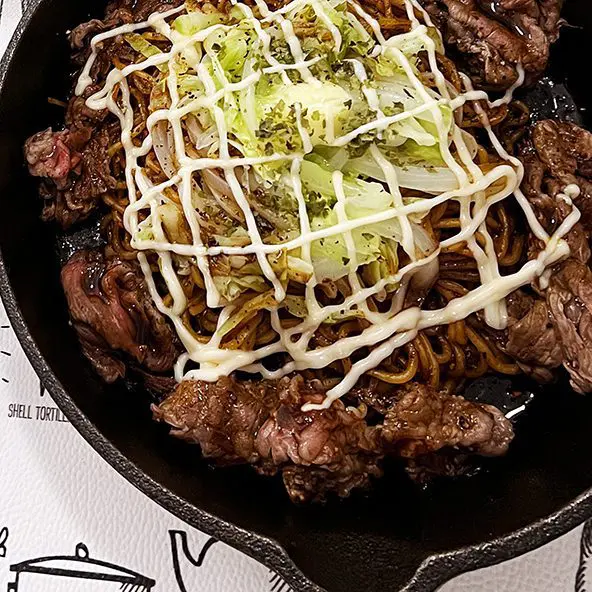 Ever heard of Pepper Lunch? It is a Teppan "Fast Steak" restaurant that is widely popular in Japan. There are some restaurants also available in the states! Many food lovers have made Pepper Lunch-Style recipes at home, cooking beef and rice over a skillet. In this recipe, we used our Ippei-chan Yakisoba. The well-known instant Ippei-chan Yakisoba from Myojo Foods is now available FRESH! Enjoy our fresh yakisoba noodles drizzled with the signature mustard mayonnaise, Pepper Lunch-style! Cooking over a skillet is a fun and delicious way to enjoy our noodles.
Yields
1 serving
Cook Time
10 mins
Print
Ingredients
Yakisoba
1

serving

Ippei-Chan Yakisoba

Water

small amounts (to steam and loosen noodles)
Sauce
1

packet

Ippei-Chan Yakisoba Sauce

1

packet

Ippei-Chan Mayonnaise
Toppings
½

lb

Thin-Sliced Beef

1

leaf

Cabbage

⅙

Onion

1

tbsp

Butter

1

tbsp

Vegetable Oil

Aonori (Dried Green Laver)

by preference

Pepper

by preference
Instructions
Cutthe thin-sliced beef to bite sized pieces, cabbage, and onion to thin slices. Place the cabbage and onion in a microwave safe container and cover with a microwave safe wrap. Microwave for 1 minute.

Heat oil in a skillet and add in the yakisoba noodles. cook the noodles and add in small amounts of water to steam and loosen the noodles.

Pour in 1/2 of the yakisoba sauce and stir together. Using a spatula, push or slice the noodles to the center of the skillet.

Top the noodles with cabbage and onions, and place the beef around the noodles. Sprinkle on the rest of the yakisoba sauce over the beef and let the beef cook.

Add butter on top of the vegetable, sprinkle mayonnaise and aonori. To finish, sprinkle pepper. Before serving, stir all together and enjoy!
Recipe Reviews
There are no reviews yet. Be the first one to write one.