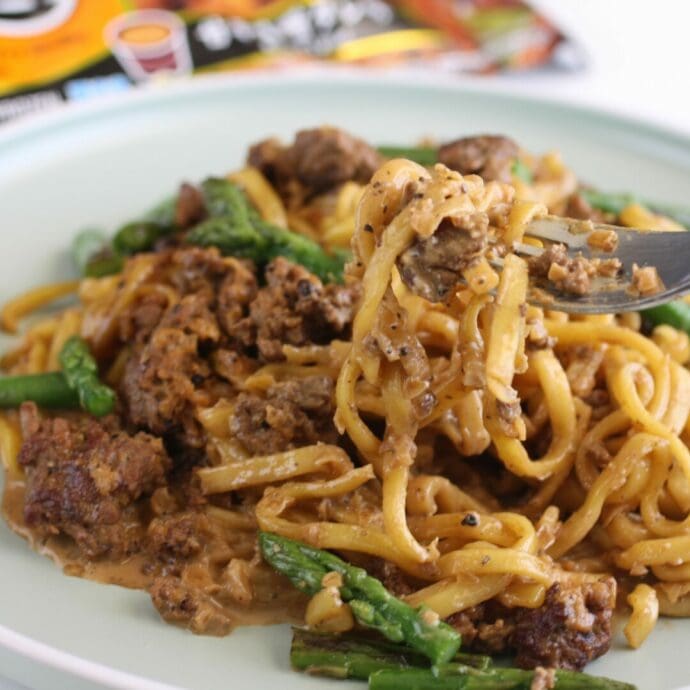 If you want to try something advanced, experimenting with the sauce is a good way to start! In this yakisoba recipe, unique ingredients such as hamburger patty and heavy creams are used to cook with our Premium Savory Miso Yakisoba. While heavy cream is not what you would usually add to your yakisoba sauce, the thick and creamy sauce surprisingly go well with yakisoba! The Miso sauce enhances the flavor of the creamy French-style sauce. Grill the burger patties with some butter, onions, and sprinkle on black pepper for an appetite boost! Give this beef yakisoba a try! 
Yields
1 serving
Cook Time
15 mins
Print
Ingredients
Yakisoba
1

serving

Premium Savory Miso Yakisoba
Sauce
1

packet

Premium Savory Miso Yakisoba Sauce

1/4

cup

White Wine

1/4

cup

Heavy Cream

1/4

cup

Water

10

g

Butter
Toppings
1

Hamburger Patty (about 1/4 lb)

5

Asparaguses

cut into bite-sizes

50

g

Onion

finely chopped

1

tsp

Black Pepper

coarsely grounded

1

tsp

Canola Oil
Instructions
Heat a cast-iron frying pan over high heat until smoke comes out. Coat the pan with the canola oil. Grill the patty for one minute. Then flip over to grill the other side for one minute. When flipping, grill the asparaguses beside the patty. 

Take out the asparagus onto a plate and set aside. 

Turn down the heat to medium and add the butter and onion. Stir-fry the onion until golden brown. By using cooking spoon, break the patty into small pieces while cooking with the onion. 

Add the black pepper and mix well. 

Add the wine and evaporate the alcohol by shaking the pan (be careful, flame might come up!).

Add the heavy-cream, water and Miso flavor sauce and mix well.  

Add the noodles into the sauce, then cover with a lid. Cook for one minute. 

Separate the noodles. Put back the asparaguses. Cook another one minute. 

Transfer to a serving plate. Enjoy!
Recipe Reviews
There are no reviews yet. Be the first one to write one.