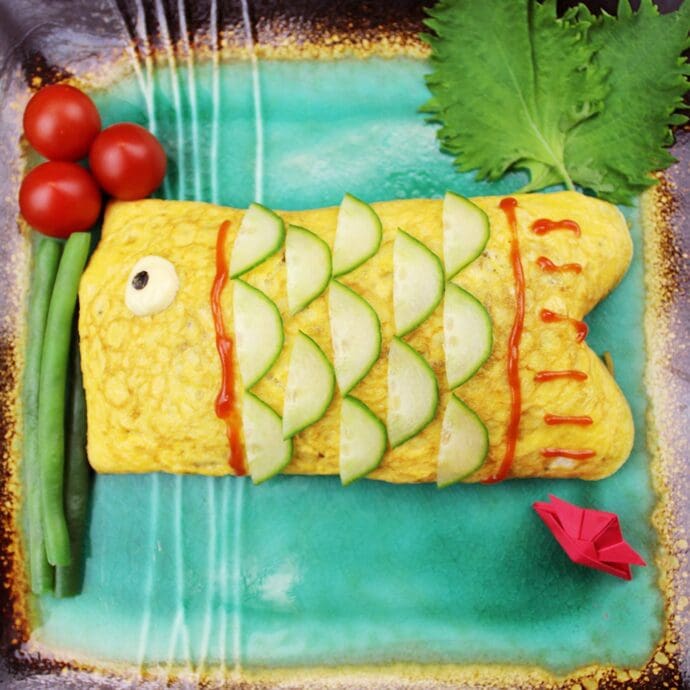 For Children's day, you will see plenty of Koinobori (Carp-shaped windsocks). In Japanese culture, carps (koi) symbolize courage and strength because of they have the power to swim up a waterfall. The colorful and vibrant colors of koinobori flying with the blue sky in the background is a pretty scene! To celebrate, we have turned our Signature Original Yakisoba into a Koinobori Omusoba! Have fun and decorate omusoba with some condiments!
Yields
1 serving
Cook Time
15 mins
Print
Ingredients
Yakisoba
1

serving

Signature Original Yakisoba
Sauce
1

pack

Signature Original Yakisoba Seasoning
Toppings
80

g

Pork Belly

thin sliced

1

leaf

Cabbage

⅙

Onion

2

Eggs

¼

Cucumber

¼

cup

Water

Salt & Pepper

by preference
Other
Ketchup

Mayonnaise

Nori Seaweed

3

Green Beans

3

Mini Tomatoes

Shiso Leaves
Instructions
Cut the cabbage and pork belly to bite sizes and thin slice the onions.

Heat Vegetable Oil in a frying pan and stir fry the pork belly. Season with salt and pepper. Add in cabbages and onion, stir fry.

After cooking the meat and vegetables, add in the yakisoba noodles. Pour in ¼ cup of water to steam cook the noodles. Once the noodles are loosened, continue to stir-fry. Add in the yakisoba seasoning and stir-fry until the seasoning is well blended with the noodles. Set aside.

Rinse the frying pan and dry with a towel. Heat vegetable oil in a pan. In a small bowl, mix 2 eggs. Pour the mixed eggs in the pan and make a thin omelet.

When one side is cooked, flip the omelet over and place the yakisoba on the center. Wrap the yakisoba with both ends of the omelet and place on a plate. Using a chopstick or spatula, push the right end of the omusoba to form a fish tail.

Slice the cucumber in half and cut them into thin slices. Top the omelet with sliced cucumbers to imitate fish scales. Use ketchup to draw the fins. For the eyes, use mayonnaise and small circular slice of nori seaweed.

Cut the corner of the green peas and soak in salt water. Microwave for 1 minute. Garnish with green peas, mini tomatoes, shiso leaves, and you are done!
Recipe Reviews
There are no reviews yet. Be the first one to write one.