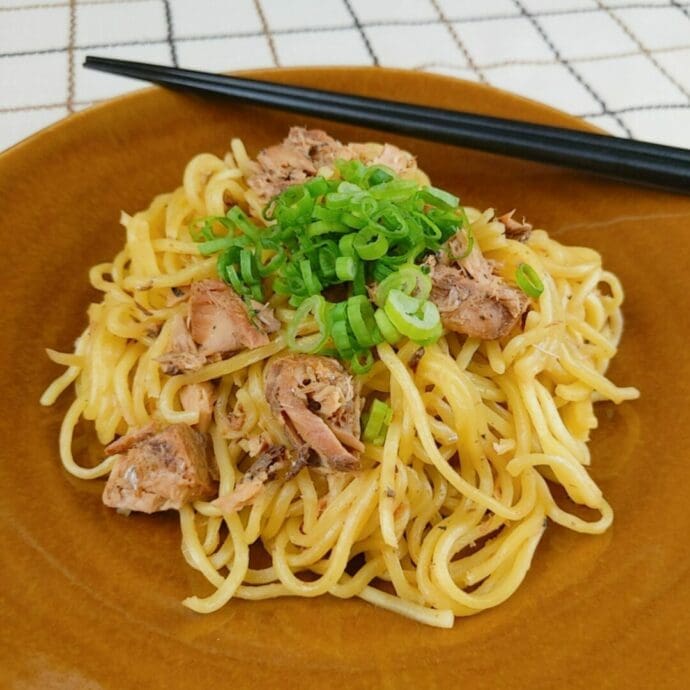 Looking for a quick and easy way to eat our Premium Original Yakisoba? Grab a can of Mackerel, simmered in Miso! Ishigaki Island is an island in Okinawa, Japan. The people of Ishigaki loves eating Kara-soba, a quick and easy dish made with Yaeyama Soba and a can of saba (mackerel)! Besides mackerel, people also eat with tuna, sanma (pacific saury), or spam. While Yaeyama Soba can be difficult to find, we have learned that it also works with our Premium Original Yakisoba! The chewy texture of the yakisoba is perfect for this quick and easy dish!
Yields
2 servings
Cook Time
5 mins
Print
Ingredients
Yakisoba
2

servings

Premium Original Yakisoba
Toppings
1

can

Mackerel Simmered in Miso

Green Onion

by preference
Instructions
Take the yakisoba noodles out of the bag and place in a microwave safe bowl. Lightly cover the bowl with plastic wrap and microwave for 2 minutes.

After microwaving and allowing the yakisoba to cool down, place the yakisoba in a Ziploc bag or a plastic bag. Pour in the mackerel in juices in the bag and mix well. Rub the bag to ensure that the yakisoba is covered entirely.

Pour the yakisoba on a plate and top with green onions. You are done!
Recipe Reviews
There are no reviews yet. Be the first one to write one.