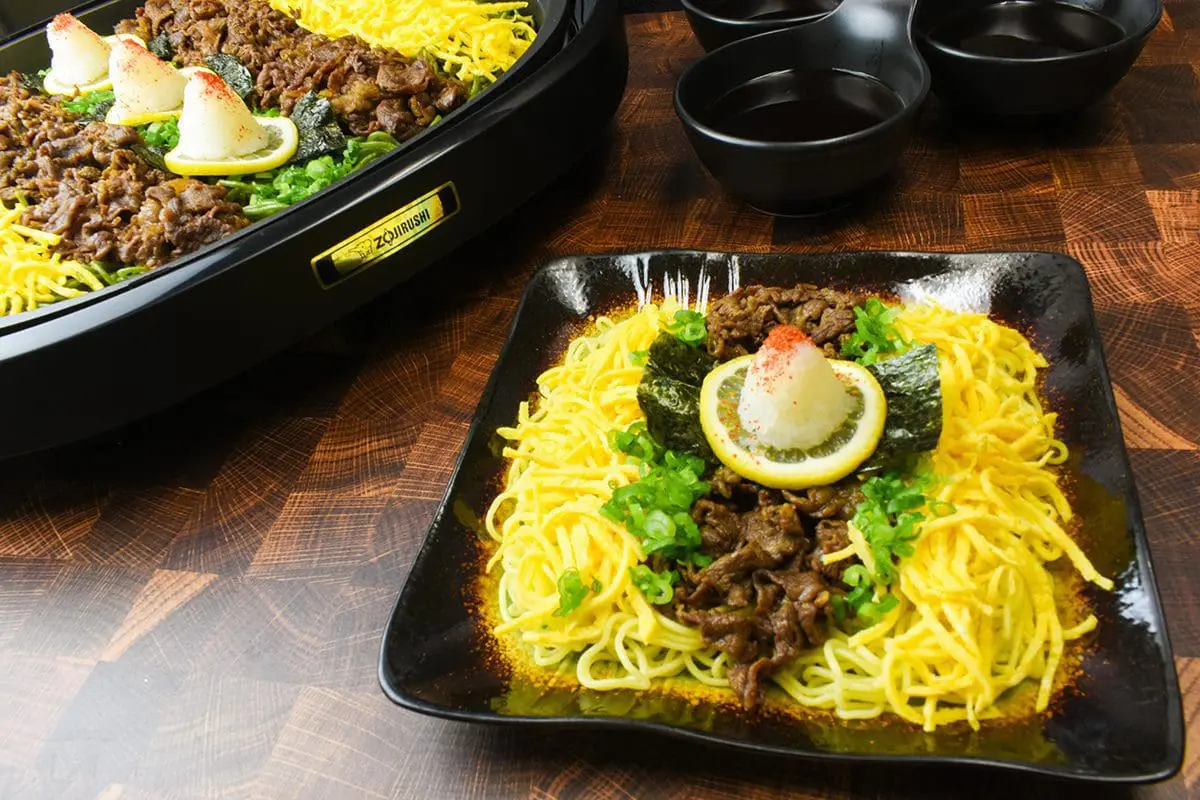 What is Kawara Yakisoba? It is a local dish originating from Yamaguchi Prefecture. Kawara means roof tile, and Kawara Yakisoba is literally matcha soba cooked on a roof tile. Matcha soba, or Cha-soba is cooked along with Kinshi Tamago (shredded egg crepes), beef, green onions, lemons, seaweed, and grated daikon radish topped with chili peppers. Dip the noodles and toppings in a dipping sauce and enjoy! Instead of Cha-soba, we used our Kale Noodles. You can also use our Signature Yakisoba Noodles Only as an alternative! Cook the noodles on an electric skillet/hot plate and enjoy it with your family and friends!
Yields
3 servings
Cook Time
15 mins
Print
Ingredients
Noodles
3

servings

Kale Noodles (or Signature Yakisoba Noodles Only)
Sauce
100

ml

Udon Tsuyu

3

cups

Water

½

tbsp

Mirin
Toppings
6

Eggs

1

tbsp

Sugar

½

tbsp

Mirin

¼

cup

Water

½

tbsp

Vegetable Oil

1

Green Onion

300

g

Beef

thinly sliced

2

tbsp

Soy Sauce

1

tbsp

Mirin

1

tbsp

Sugar

1

tbsp

Sake

½

cup

Daikon Radish

grated

3

slices

Lemon

sliced

1

tbsp

Vegetable Oil
Instructions
Crack the eggs and pour in a bowl. Add sugar, mirin, and ¼ cup of water, mix well. Heat vegetable oil in a frying pan and cook 3-5 thin egg crepes. Let the egg crepe cool down and cut it to thin slices. Kinshi Tamago is ready.

Finely chop the green onions and grate the daikon radish. Slice the lemons and cut the seaweed to 3 strips.

To make the dipping sauce, pour Udon Tsuyu, water, and mirin into a pot to boil. Once the dipping sauce is ready.

Cut the thinly sliced beef into bite sizes. Cook in a frying pan and add in soy sace, mirin, sugar, and sake. Let it cook until the beef is cooked thoroughly.

Boil plenty of water to cook the noodles. Cook the Kale Noodles for 1 min 30 sec. If you are using Signature Yakisoba, follow the package instructions. Once the noodles are cooked, drain and rinse the noodles with cold water. Add olive oil to the noodles to prevent the noodles from sticking together.

Lightly oil the electric skillet and spread the noodles, covering the surface. Place the beef, and green onions on top of the noodles, arranging it anyway you want it. Top the noodles with slices of lemon and add grated daikon radish. Sprinkle the chili peppers, and the skillet is ready!

Pour the dipping sauce in a small cup or a bowl. Dip the noodles and topping sauce and enjoy!
Recipe Reviews
There are no reviews yet. Be the first one to write one.