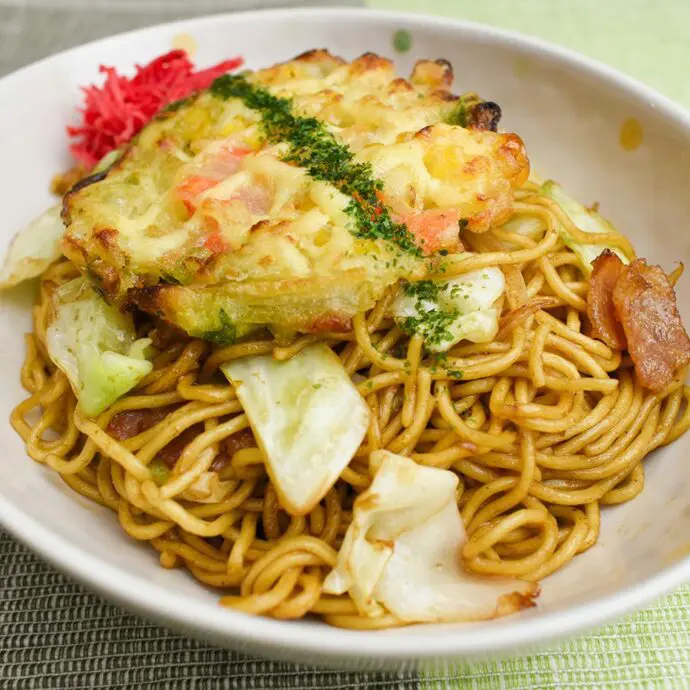 Looking for something to add to our Myojo Signature Original Yakisoba? Try Kakiage (fried vegetable tempura) and Japanese mayonnaise! By baking the kakiage with mayonnaise, the mayonnaise becomes fragrant and irresistible. The roasted mayonnaise goes well with the yakisoba sauce, making it worth a try!
Yields
1 serving
Cook Time
15 mins
Print
Ingredients
Yakisoba
1

serving

Signature Original Yakisoba
Sauce
1

packet

Signature Original Yakisoba Seasoning
Toppings
1

Kakiage (Fried Vegetable Tempura)

2

leaves

Cabbage

¼

Onion

90

g

Pork

thin slices

1

tbsp

Vegetable Oil

Salt and Pepper

by preference

Mayonnaise

by preference

Red Ginger

by preference

Aonori

by preference
Instructions
Cut the cabbage and pork to bite sizes, and thinly slice the onions.

Drizzle mayonnaise on the kakiage and bake in the toaster oven for 7 minutes.

Heat the vegetable oil in a frying pan and stir-fry the pork slices. Add in cabbage and onions and continue to stir-fry. Sprinkle on salt and pepper to taste.

Add the yakisoba in Step 3 and add the sauce seasoning. Mix well and cook thoroughly. The yakisoba is finished!

Place the yakisoba on a plate and top with the kakiage from Step 2. Finish off by topping with some aonori and red ginger. Enjoy!
Recipe Reviews
There are no reviews yet. Be the first one to write one.