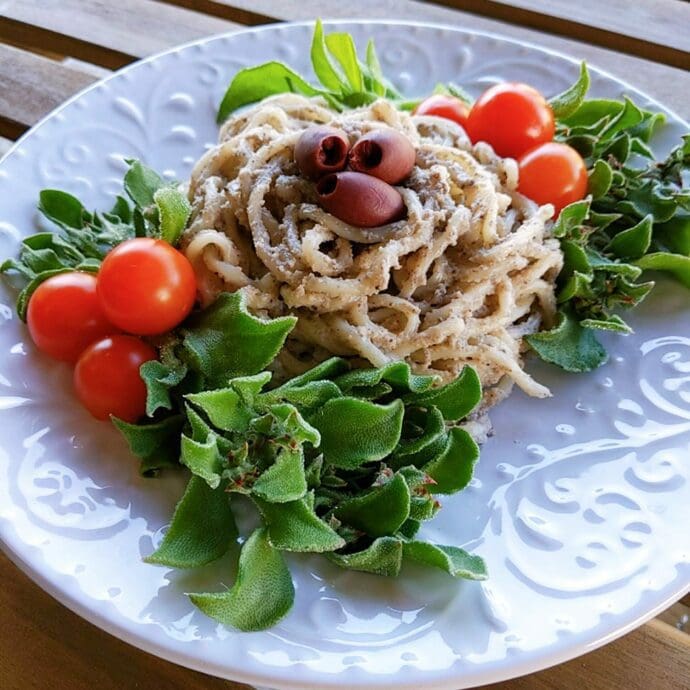 Looking for a healthy recipe to try? In this recipe, cashew nuts are turned into a creamy sauce to enjoy with our Fresh Udon! Add some flavors with Kalamata olives and and garlic! While this recipe is inspired by a Western recipe, we have used ingredients common in Japanese markets for a balanced taste. Koji salt helps balance the flavors, making the sauce mild and not too overpowering. For the garnish, we have used mini tomatoes, ice plants for a healthy decoration. Ice plants are edible succulents, which has a distinctive frosty look. Ice plants taste salty with a lemony bite. If you do not have ice plants in your area, you can always substitute with broccoli or green leaf lettuce. Enjoy! 
Yields
2 servings
Cook Time
20 mins
Print
Ingredients
Udon
2

servings

Fresh Udon

1

tbsp

Sesame Oil
Sauce
1/2

cup

Raw Cashews

2

cups

Water

1/4

tsp

Konbu Dashi (Kelp Dashi)

1/2

tsp

Koji Salt

1/2

tsp

Soy Sauce

1

clover

Garlic

1/4

cup

Kalamata Olives

Salt & Pepper

by preference
Toppings
6

Kalamata Olives

12

Mini Tomatoes

1

bundle

Ice Plant
Instructions
Mince the garlic and set aside. 

In a small pot, boil the cashew nuts in 2 cups of water for 15 minutes. 

While the cashew nuts are being boiled, Cook the udon noodles in a separate pot. Use plenty of water to cook the noodles for 4 to 45 minutes. Once the noodles are cooked, set aside ½ cup of cooked water and drain the noodles. Put the noodles in a bowl and stir in sesame oil to keep the noodles from clumping together. 

After the 15 minutes are up, Drain the cashew nuts from Step 2 and blend in a mixer. Add in the garlic, olives, konbu dashi, koji salt, soy sauce, and ¼ cup of cooked water from step 3. After blending, add in the rest of the cooked water (1/2 cup of water) and blend until the mixture is creamy. Cashew sauce is ready! 

Pour the cashew sauce from Step 4 to the udon noodles from Step 3 and mix well. Place the noodles on a plate and garnish with an Ice plant and mini tomatoes. Finish by topping some olives and enjoy! 
Recipe Reviews
There are no reviews yet. Be the first one to write one.