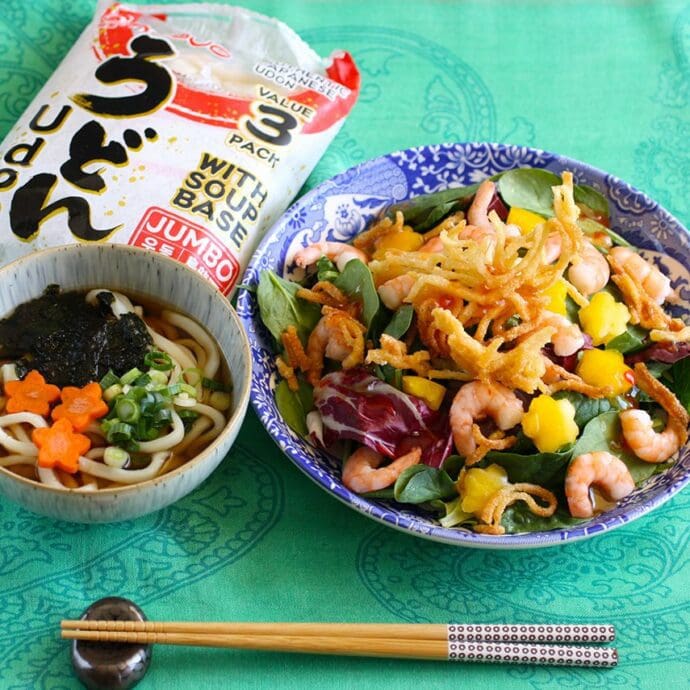 Looking for an udon recipe that is filling? Why not try making two dishes out of one serving? With a single serving of fresh udon noodles, you can make a small bowl of udon and salad! Deep-fried Udon is super crispy, making it a great topping for salad! To make the deep-fried udon super crispy, deep-fry over medium heat and wait until the moisture evaporates. Shrimps are used for the salad, but you can also top with chicken, tofu, and avocado! Making two dishes is easy with this recipe, so try it out!
Yields
1 serving
Cook Time
30 mins
Print
Ingredients
Udon
½

serving

Jumbo Udon with Soup (For salad)

½

serving

Jumbo Udon with Soup (For udon)
Soup
½

packet

JumboUdon with Soup Seasoning (For udon)
Salad
2

cups

Mixed Baby Green Salad

½

cup

Frozen Medium-sized Shrimps

½

Yellow Paprika

1

tbsp

Sweet Chili Sauce

1

cup

Frying Oil
Udon
¼

sheet

Nori Seaweed

1

tbsp

Spring Onion

chopped

2

slices

Carrots

1

cup

Water
Instructions
In a medium pot, bring 2 cups of water to a boil. Add noodles and stir until separated. Drain noodles.

In a frying pan, heat the frying oil. Slowly add half potion of the Udon noodles. Set aside the left half for another dish. Deep fry for 5 minutes over a medium heat. (Wait patiently until the moisture evaporate.) When the udon is crispy, flip over with a spatula and fry for another 2 to 3 minutes until the other side is also crispy. Transfer to a kitchen paper and drain the excess oil.

Cut the yellow paprika and the carrot intoflower shape by using a cookie cutter.

Thaw the frozen shrimps and drain. Pat off the excess water with kitchen paper.

In a serving bowl, place the green salad and the paprika and shrimps.

Crush the deep-fried Udon into small pieces. Sprinkle over the salad.

Pour the sweet chile sauce.

In a small pot, pour the 1 cup of water and add the carrot. Bring to a boil. Add the rest of cooked Udon from the Step 1. Before turning off the heat, add the soup base and stir well.
Recipe Reviews
There are no reviews yet. Be the first one to write one.