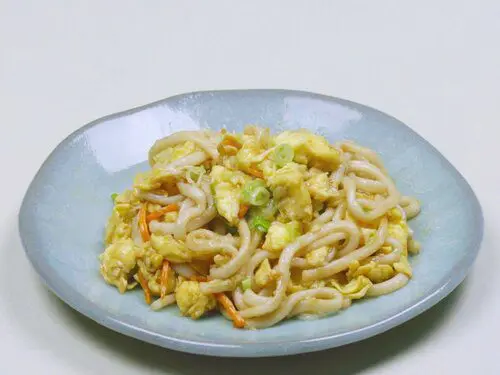 Udon can be enjoyed in a hot pot, or a broth-less dish known as Yaki-Udon. Yaki-Udon, or stir-fried udon, can be made with vegetables such as carrots and scallions, and a protein (we used eggs!). With our Jumbo Udon, there are 5 servings individually wrapped in 1 package for easy cooking. Pre-cooked and vacuum-packed, you can rest assured for a quick and simple meal. We encourage creativity with our products! Try adding sliced beef, roasted peppers, and your own secret sauce!    
Yields
1 serving
Cook Time
15 mins
Print
Ingredients
Udon
1

package

Jumbo Udon 

1

pot

Hot Water
Toppings
2

Eggs

1

oz

Shredded Carrots 

1

oz

Green Onion 

1

oz

Kikkoman Oyster Sauce 

2

tbsp

Oil
Instructions
Boil water in a pot then add noodles and cook for 1 minute. 

Drain noodles and set aside.

Add 1 tbsp of oil to a frying pan and cook 2 eggs scrambled. Set Aside. 

Add 1 tbsp of oil to the frying pan and add cooked udon noodles and stir-fry.

As noodles are being stir-fried, add carrots, green onions, scrambled eggs, and 1 oz of Kikkoman Oyster Sauce. 

Once the udon and toppings have been mixed well, turn off heat and serve! 
Recipe Reviews
There are no reviews yet. Be the first one to write one.