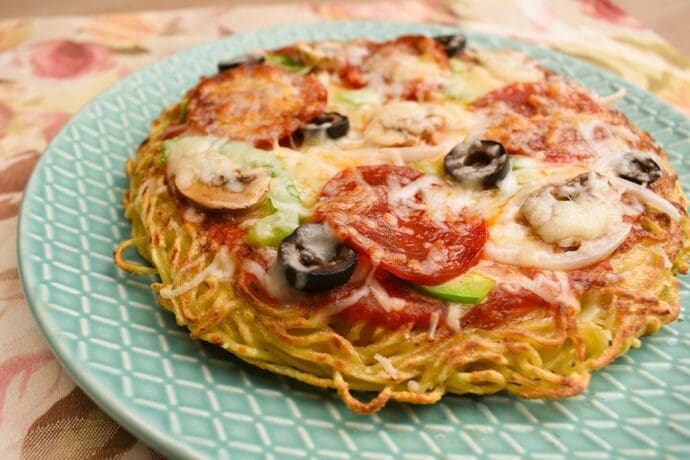 If there's ramen burger, why not ramen pizza? We got creative and experimented with our Signature Tonkotsu Ramen! Who knew ramen could turn into pizza? To make the pizza crust, mix the noodles with our Signature Tonkotsu Ramen soup base and eggs. The soup base adds flavor to the crust. We recommend that the crust should be as thin as possible, so that it will turn nice and crispy. Top the pizza crust with your favorite toppings and enjoy while it's hot!
Yields
1 serving
Cook Time
15 mins
Print
Ingredients
Ramen
1

serving

Signature Tonkotsu Ramen
Soup
½

packet

Signature Tonkotsu Ramen Soup Base

1

Egg
Toppings
½

cup

Mozzarella Cheese

1

tbsp

Pizza Sauce/Marinara Sauce

⅛

Bell Pepper

⅛

Onion

1

tbsp

Vegetable Oil

4

slices

Pepperoni

Black Olives

sliced

Mushroom

sliced
Instructions
Thinly slice the bell pepper, onion, mushroom, and black olives.

Stir the egg in a bowl and set aside.

Follow the package instructions to cook the noodles. Once the noodles are cooked, rinse and drain the noodles.

Add ½ of the Soup Base to the egg from step 2 and mix well. Add in the drained noodles and mix.

Heat the vegetable oil in a frying pan and pour in the noodles from step 2. Spread the noodles into a round, thin layer. Cook both sides until the noodles turn crispy and golden brown.

Lay the noodle from step 5 onto a baking sheet or aluminum foil. Spread the pizza/marinara sauce and sprinkle on mozzarella cheese. Top the pizza with bell peppers, onions, mushrooms, black olives, and pepperonis. Add on a little more cheese.

Cook the pizza in the toaster oven for 7 to 10 minutes, at 375F°. Enjoy it while it's hot!
Recipe Reviews
There are no reviews yet. Be the first one to write one.