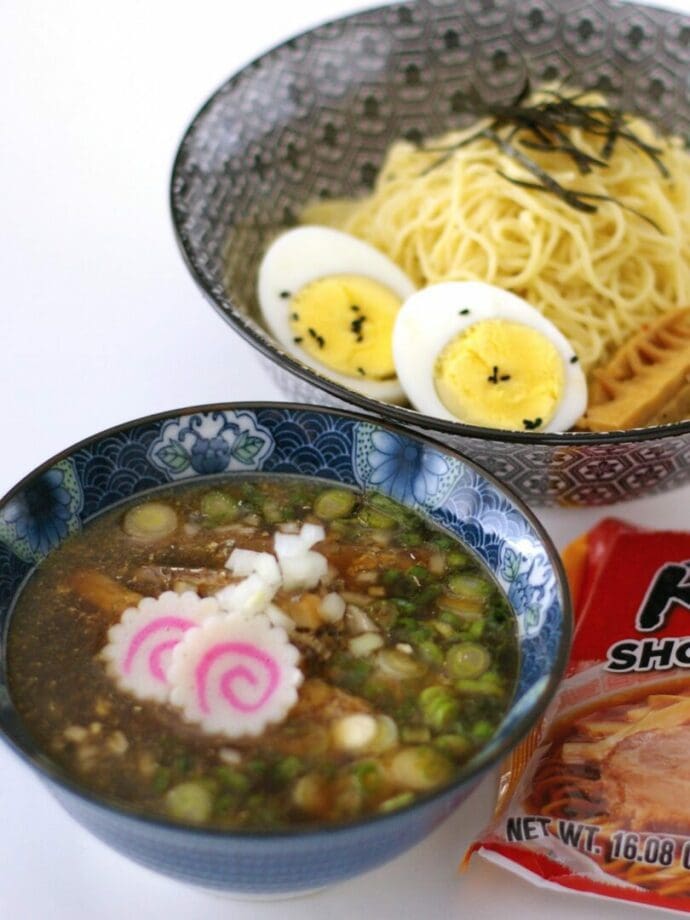 Craving for Tsukemen? Make dipping broth, using a can of sardines! Tsukemen is a ramen dish consisting of noodles which are eaten after being dipped in a separate bowl of soup or broth. The broth is usually thick so that the noodles can catch them while dipping! The sardine allows the broth to be savory and delicious! Try this with our Signature Shoyu Ramen, and slurp away!
Yields
1 serving
Cook Time
15 mins
Print
Ingredients
Noodle
1

serving

Signature Shoyu Ramen

1

tsp

Sesame Oil
Toppings for Noodle
1

Boiled Egg

cut into half

Nori (Seaweed)

thinly cut
Dipping Broth
1

packet

Signature Shoyu Ramen Soup Base

1

can

Sardine

drained

½

Spring Onion

chopped

1

thumb

Ginger

finely chopped

1

tbsp

Miso Paste

1

tbsp

Sake or White Wine

1

cup

Water

½

tbsp

Sesame Oil
Toppings for Dipping Broth
2

tbsp

Onion

finely chopped

2

slices

Narutomaki (Fish Cake)

½

tbsp

Vinegar

optional 
Instructions
Heat a frying pan over medium heat and coat with the sesame oil. Roast the sardine for 1 to 2 minutes each side. Add miso paste and roast until the miso becomes fragrant.

Pour the sake and add the ginger. Evaporate alcohol.

Add the water and bring to a boil. Just before turning off the heat, mix in the soup base.

In a large pot, bring water to a boil and cook the noodles for 1 minute and 30 seconds. Drain well and add the sesame oil to prevent the noodles from clumping. Transfer to another serving bowl. (If you prefer the noodles to be cold, wash the noodles in ice-cold water and drain well.) Place the egg and braised bamboo shoots and sprinkle the nori seaweed.

Warm up the dipping sauce from Step 4 and pour into a serving bowl and place the narutomaki, spring onion, and onion. Add the vinegar if using. Enjoy!
Recipe Reviews
There are no reviews yet. Be the first one to write one.