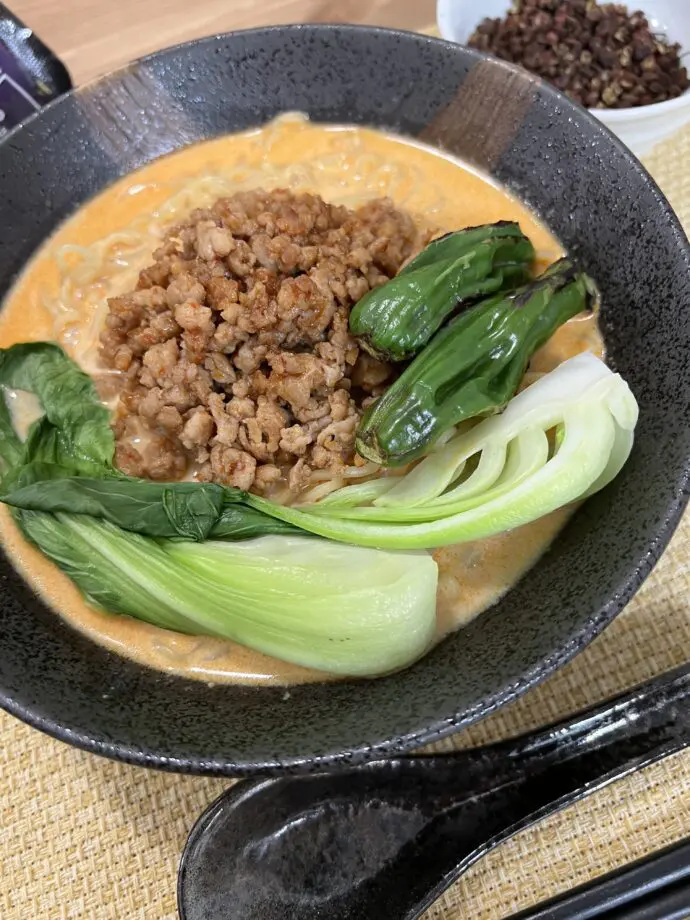 Discover a creamy twist to Tantanmen with our soymilk-based recipe. Despite the addition of soy milk, our Premium Spicy Tantanmen retains its tantalizing spice. Ground chicken enhances the rich, creamy soup but can be substituted with beef. Experience this trending, savory delight today!
Yields
1 serving
Cook Time
5 mins
Print
Ingredients
Ramen
1

serving

Premium Spicy Tantanmen
Soup
1

packet

Premium Spicy Tantanmen Soup Base

1 ¼

cup

Soy Milk
Toppings
¼

lb

Ground Chicken

1

tsp

Sesame Oil

½

Bok-Choy

2

pieces

Shishito Peppers

1

tsp

Garlic

minced

1

tsp

Ginger

minced

½

tbsp

Sugar

½

tbsp

Soy Sauce

1

tbsp

Oyster Sauce

½

tbsp

Tobanjan (Chili Paste)

2

tbsp

Water
Instructions
Boil the bok-choy in salted water and drain well. Grill the shishito peppers.

Heat sesame oil in a frying pan. Add in garlic and ginger, roasting until fragrant. Add ground chicken and cook well.

Add sugar, soy sauce, oyster sauce, tobanjan, and water. Mix well and simmer in low heat, until there is less water.

In a medium sized pot, add soy milk and cook under medium heat. While paying attention not to boil over, add in the soup base and mix well. Pour the soup into a soup bowl.

Follow cooking directions to cook the noodles. After cooking the noodles, drain well and place the noodles in the soup from step 4. Top with ground chicken, bok-choy, and shishito peppers.
Recipe Reviews
There are no reviews yet. Be the first one to write one.