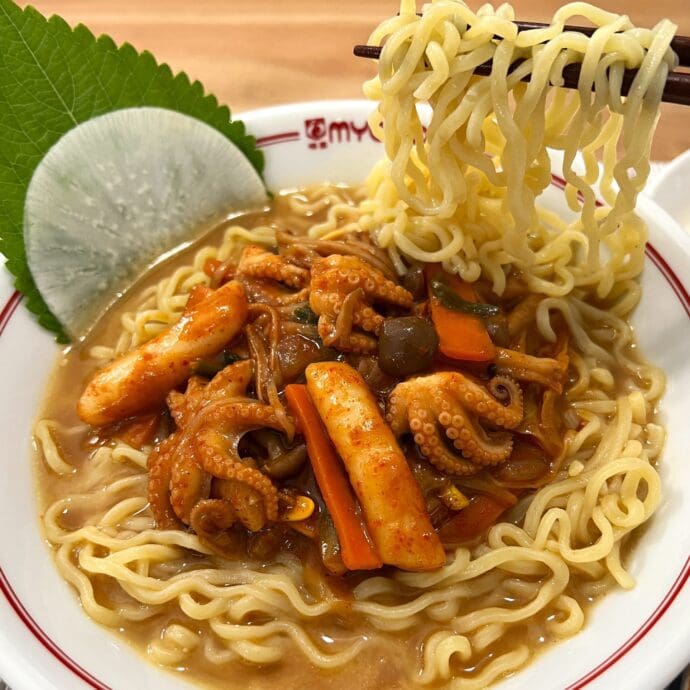 While our Sapporo Miso Ramen is great on its own, we decided to add a kick to it! Jjukmi Tteokbokki is a Korean spicy grilled baby octopus with rice cakes. It is one of the spicy dishes you can try in Korean cuisine! We experimented and topped this spicy dish to our Sapporo Miso Ramen. The spicy taste of the jjukkmi and the rich taste of Sapporo Miso Ramen are well balanced!
Yields
2 servings
Cook Time
20 mins
Print
Ingredients
Ramen
2

servings

Sapporo Miso Ramen
Soup
2

packets

Sapporo Miso Ramen Soup Base¼

2 ½

cups

Hot Water
Toppings
½

pack

Shimeji Mushrooms

5

leaves

Cabbage

3

Green Onions

½

Onion

⅓

Carrot

⅓

bag

Tteok (Korean Rice Cake)

⅓

bag

Mung Bean Sprouts

1

lb

Baby Octopus

1

tbsp

Sesame Oil

1

piece

Store-bought Ssam-mu (Korean Pickled Radish)

1

piece

Perilla Leaf
Jjukkmi(Spicy Grilled Baby Octopus)
1

tbsp

Gochujang

2

tbsp

Korean Chili Peppers

½

tbsp

Sugar

1

clove

Garlic

1

tbsp

Soy Sauce

1

tbsp

Sake

1

tbsp

Sesame Oil

1

tsp

Chicken Bouillon Powder or Dasida
Instructions
Cut the shimeji mushrooms, cabbage, green onion, onion, and carrot to bite sized pieces. Mince the garlic.

Rinse the baby octopus with running water. After cleaning the baby octopus, discard the inside of the head and beak. Separate the head and legs. Parboil the baby octopus and set aside.

Prepare the marinade for jjukmi in a bowl. Place the baby octopus and tteok inside a ziploc bag. Pour the marinade inside the bag and mix well. Marinate for 10 minutes.

Heat sesame oil in a pan or a wok and add in the vegetables, leaving the center empty. Add in the marinated baby octopus and tteok. Stir-fry and the jjukkmi is ready!

Boil water in a pot and follow package instructions to cook the noodles. Prepare the soup using hot water. After the noodles are done cooking, drain well and place in the soup.

Top the bowl with jjukkmi from Step 4 and garnish with a store-bought sam-mu and perilla leaf. Enjoy!
Recipe Reviews
There are no reviews yet. Be the first one to write one.