Ginger Rainbow Vegetarian Shoyu Ramen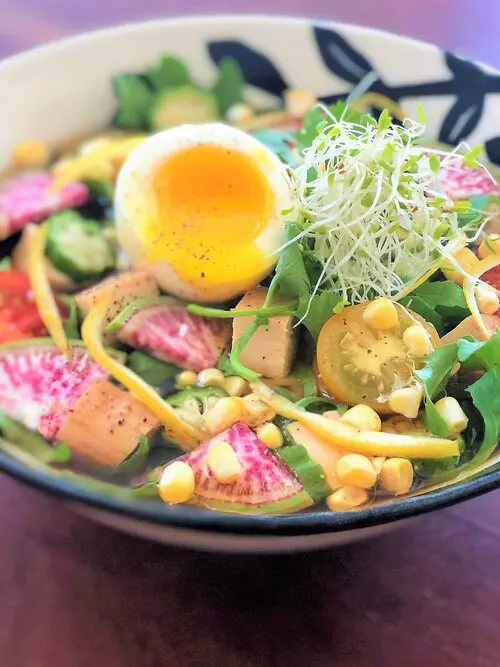 Vibrant and fresh, we call this bowl our Ginger Rainbow Vegetarian Shoyu Ramen. Using our Premium Vegetarian Shoyu Ramen as the base, we topped it off with fresh arugula, crisp watermelon radish, okra, sweet corn, cherry tomatoes, and baked tofu. For the tofu, we highly recommend the teriyaki-flavored. Whisk in grated ginger to the Vegetarian Shoyu soup base for extra depth of flavor and warmth, and garnish with toasted sesame seeds, lemon peel, and a soft ramen egg.
Yields
2 servings
Cook Time
15 mins
Print
Ingredients
Ramen
2

servings

Premium Vegetarian Shoyu Ramen
Soup
2

packets

Premium Vegetarian Shoyu Ramen Soup Base

2 ½

cups

Hot Water (1 ¼ cups per serving)
Toppings
Handful

Arugula

3

Okra

½

Corn Cob

6

Cherry Tomatoes

2

Watermelon Radish

990

g

Baked Tofu (preferably Teriyaki-Flavored)

2

tbsp

Grated Ginger

1

Soft or Hard-Boiled Egg

Lemon Peel

Toasted Sesame Seeds
Instructions
Prepare toppings. Wash arugula and drain well. Slice okra, radish, cherry tomatoes, and cut egg in half. Cut baked tofu into small dices. Cook corn and cut out kernels for use. Set all toppings aside.

Boil the noodles per the cooking instructions on the back of the package.

While the noodles are being cooked, empty two soup base packets into two ramen bowls. Add grated ginger and mix with 1 ¼ cups of boiling water for each bowl.

Once noodles are cooked, drain the excess water. Place noodles in each bowl of soup.

Top with toppings from Step 1, sprinkle sesame seeds and garnish with lemon peel. Enjoy!
Recipe Reviews
There are no reviews yet. Be the first one to write one.