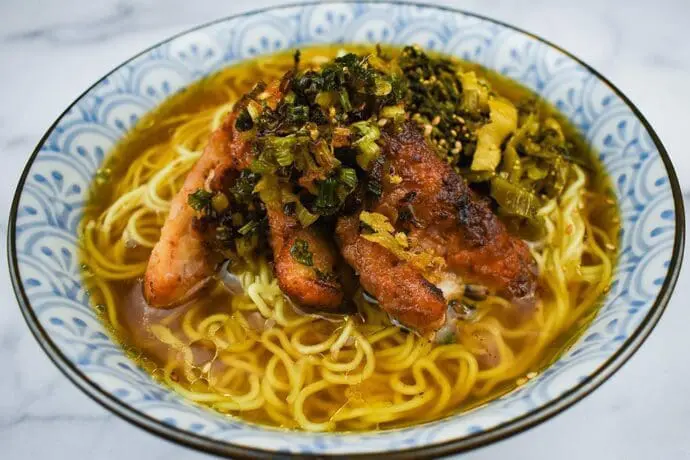 Blackened green onions are recommended as a topping for ramen, as it brings out the flavor and aroma. If you add them to our Signature Shio Ramen, it becomes irresistible! To best match with blackened green onions, marinate chicken thighs with some koji salt! Koji salt is a Japanese cure made by fermented rice. It tastes slightly sweet and salty, and it tenderizes the chicken! Add some Takana, pickled mustard greens for some vegetables! The combination of the green onions, oil, koji marinated chicken, and takana makes it perfect for light shio ramen!
Yields
1 serving
Cook Time
30 mins
Print
Ingredients
Ramen
1

serving

Signature Shio Ramen
Soup
1

packet

Signature Shio Ramen Soup Base

1 ¼

cups

Hot Water
Toppings
100

g

Chicken Thigh

1

tbsp

Koji Salt

1

tbsp

Flour

3

tbsp

Cooking Oil

Takana Leaves

by preference

Sesame

by preference

Blackened Green Onion and Oil

you can follow our recipe below
Blackened Green Onion and Oil (4~8 servings)
1

Green Onion

¼

cup

Canola Oil (Olive/Vegetable Oil is okay)

1

Dried Red Pepper

1

thumb

Ginger
Instructions
Blackened Green Onion and Oil
Chop the green onion to 3 mm sizes. Mince the ginger.

In a small frying pan, heat the canola oil. Add in the chopped green onions, ginger, and dried red pepper, and cook in medium heat. Stir occasionally to avoid charring. Once the green onions turn brown, stop the heat. The Blacked Green Onion and Oil is ready!

*The green onions cook very fast with residual heat, so please take precaution.

*Can be stored in the fridge for 1 month
Ramen
Cut the chicken thigh to bite sizes and marinate with koji salt for 10 minutes. After marinating, cover the chicken thigh with enough flour.

Heat cooking oil in a frying pan and add the chicken thigh from Step 1. Stir-fry the chicken until they fully cook and turn golden brown. Set aside.

Follow the package instructions to cook the noodles and soup, prepare a bowl, and set aside.

Add the chicken from Step 2 to the noodles and top with Takana Leaves. Add a large topping of blackened green onions and swirl in the green onion oil (about 1 tbsp). (See recipe for blackened green onions and oil)

Finish off by sprinkling in sesame, and you are done!
Recipe Reviews
There are no reviews yet. Be the first one to write one.