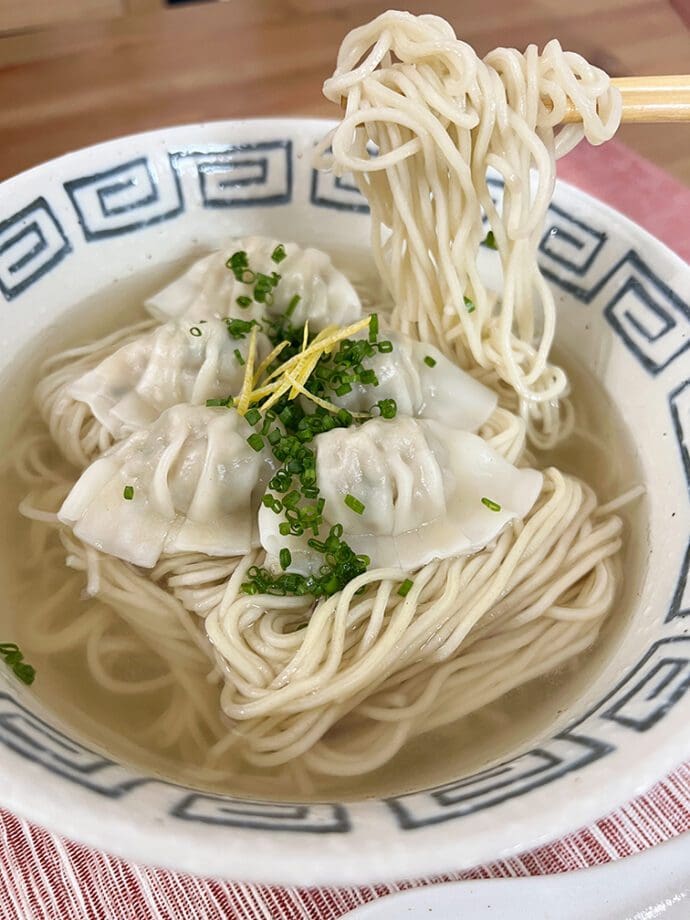 When we think of thin straight ramen noodles, Tonkotsu Ramen would come to mind. But did you know that our Thin and Straight Noodles are also great with light soups? In this recipe, the soup consists of chicken broth and bonito broth. A hint of yuzu citrus juice is added for a slight tart flavor. Add some wontons and noodles, and slurp away! Because the soup is light and gentle, an empty bowl won't be an issue!
Yields
1 serving
Cook Time
20 mins
Print
Ingredients
Ramen
1

serving

Thin and Straight Noodles Only
Soup
1

cup

Chicken Broth (Or Chicken Bouillon Powder with Water)

1

cup

Bonito Dashi Broth (or Dashi Powder with Water)

1

tbsp

Yuzu Citrus Juice (or Lemon Juice)
Instructions
Chop the green onion to thin bits and cut the yuzu citrus peel to thinly sliced strips.

Pour in the chicken broth and dashi broth to a pot and heat up the soup (If you are using chicken and dashi powder with water, bring to a boil). Add in the yuzu citrus juice.

On a separate pot, bring the water to a boil and cook the wontons. Set the wontons aside and change out the water.

Using the pot from step 3, bring another water to a boil and cook the ramen noodles for 50 seconds. Drain well.

Pour the soup from step 2 into a soup bowl and place the wonton. To finish, garnish with green onions and yuzu citrus peels. Enjoy!
Recipe Reviews
There are no reviews yet. Be the first one to write one.