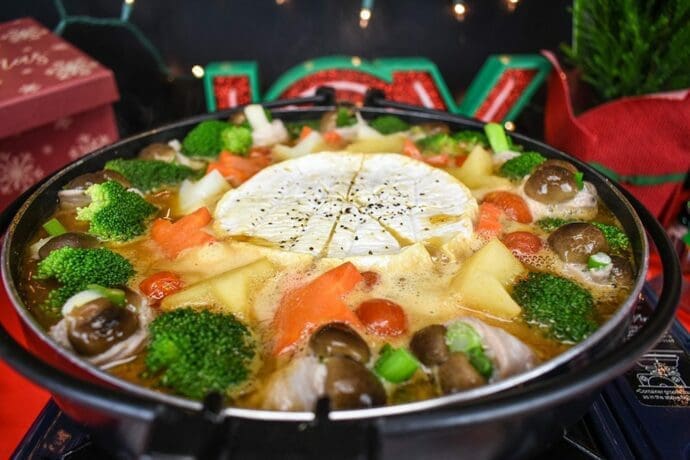 Looking for something different to try this Christmas? Hotpot is one of the best ways to celebrate Christmas! We turned our Signature Miso Ramen into a hotpot! Camembert Cheese is used for cheese fondue, and we decorated the hotpot, so it looks like a Christmas wreath. The Miso from the ramen soup base is a great match with the Camembert! Dip the pork belly wrapped mushrooms and vegetables into the melted cheese and enjoy! Once you are done with most of the vegetables, finish off with ramen!
Yields
3 servings
Cook Time
10 mins
Print
Ingredients
Ramen
2

servings

Signature Miso Ramen
Soup/Sauce
2

packets

Signature Miso Ramen Soup Base

3 ⅓

cups

Water
Toppings
12

sliced

Pork Belly

1

Spring Onion

½

Shimeji Mushroom

½

pack

Mini Tomatoes (grape or cherry)

1

bunch

Broccoli

separated

¼

Nappa Cabbage

1

Potato

½

Carrot

Salt and Pepper

by preference

Camembert Cheese
Instructions
Cut the spring onion and shimeji mushroom to 3 cm sizes. Cut the nappa cabbage and broccoli to bite sizes. Cut the potato and carrot into 7 mm thick round slice, cutting it into shapes using a cookie cutter.

Spread the pork belly, season with salt and pepper. Place the spring onion and shimeji mushroom onto the pork belly and roll it up. Make 12 of the meat wrapped vegetables.

Place the nappa cabbages in a nabe / pot. Place enough in the center so that the Camembert can be placed on top (Later in the recipe).

Arrange the meat wrapped vegetables and broccolis along the inner rim of the pot. You can arrange it anyway you want it, but we did a pattern. Decorate any empty spaces with the mini tomatoes, potatoes, and carrots.

In a separate bowl, mix the water and soup base. Pour the prepped soup into the pot. Start heating the pot and cover the pot with a lid. Once the meats and vegetables are cooked, pre-cut the Camembert to 8 slices. Place the Camembert on the center of the pot and sprinkle on pepper. Cover the pot with a lid and cook for another 2 minutes.

Once the cheese starts to melt, fondue hotpot is ready!

In a separate pot, follow the package instruction to cook the noodles. Cook the noodles about 1 minute earlier than instructed, so that the noodles are slightly firm. Rinse and drain the noodles and keep the noodles in a separate plate.

After enjoying the fondue hot pot, pour in the noodles from Step 7 and let it cook for approx. 45 seconds. Finish off with ramen!
Recipe Reviews
There are no reviews yet. Be the first one to write one.