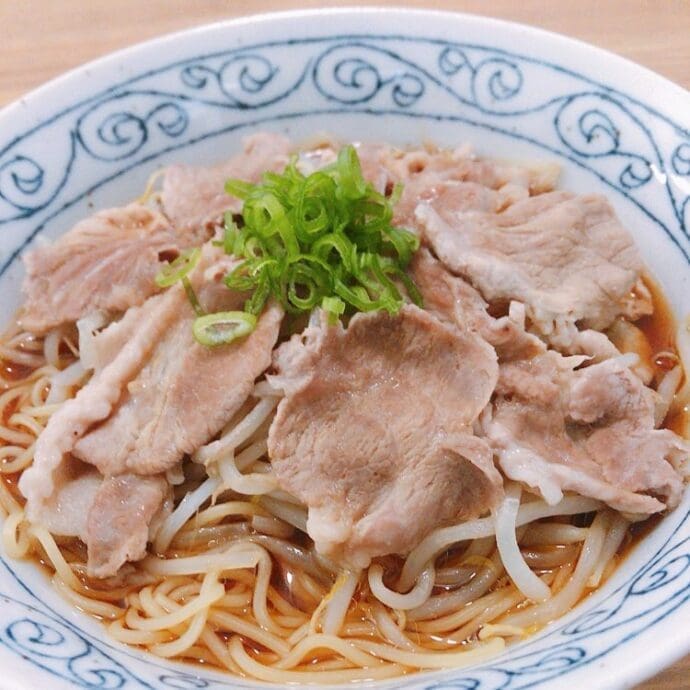 In Japan, easy and simple meals are called Zubora Meshi, which literally translates to Lazy Food! Lazy Food recipes are popular among those who are too busy to cook. In this recipe, we tried making Zubora Ramen a.k.a Lazy Ramen, using Signature Shoyu Ramen! Enjoy the taste of fresh ramen noodles, topped with easy but tasty and well-balanced toppings! All you have to do is microwave, so cleaning will be easy.
Yields
1 serving
Cook Time
10 mins
Print
Ingredients
Ramen
1

serving

Signature Shoyu Ramen
Soup
1

packet

Signature Shoyu Ramen Soup Base

1 1/4

cups

Hot Water
Toppings
1/2

lb

Pork

thinly sliced

1

cup

Bean Sprouts

1

Green Onion

1

tbsp

Sake (Rice Wine)

1

tbsp

Ponzu Sauce
Instructions
Thinly chop the green onions and set aside.

In a microwave safe bowl, add in the bean sprouts. Layer the thinly sliced pork over the bean sprouts. Layer the pork so it does not overlap with each other.

Swirl in sake and lightly cover with a plastic wrap/wrap. Microwave for 2 minutes.

After checking that the pork are cooked, swirl in ponzu sauce.

Follow package instructions and cook the noodles. While waiting for the noodles to cook, prepare the soup in a bowl. Once the noodles are cooked, drain well and place the noodles in the soup bowl.

Slide down the pork and bean sprouts from Step 3 over the noodles. To finish, top with chopped green onions. Enjoy! 
Recipe Reviews
There are no reviews yet. Be the first one to write one.