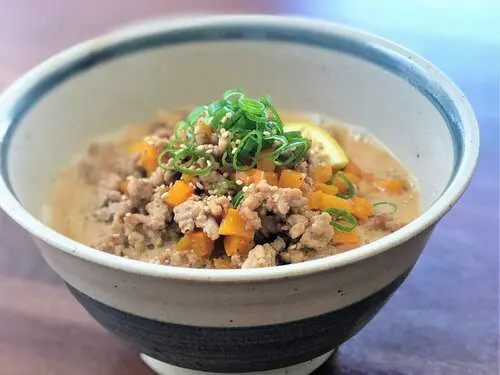 Take our Signature Miso Ramen to the next level of a creamier, heartier bowl while staying healthy. Blend your choice of ground pork or chicken with sweet yellow bell peppers, fragrant with garlic and miso. Then, use the soup packets that comes with the noodles to mix with soy milk.
Yields
2 servings
Cook Time
15 mins
Print
Ingredients
Ramen
2

servings

Signature Miso Ramen
Soup
2

cups

Unsweetened/Unflavored Soy Milk

2

packets

Signature Miso Ramen Soup Base

¼

cup

Water
Toppings
150

g

Ground Pork (or Chicken)

½

Yellow Bell Pepper

diced

1

clove

Garlic

minced

½

tbsp

Miso Paste

¾

tbsp

Cooking Oil

Ground Black Pepper

by preference

Green Onions

chopped
Instructions
Prepare toppings. Heat a medium pan over medium-high heat. When hot, swirl in cooking oil. Stir in garlic and cook until fragrant.

Add ground meat and cook well.

Add in miso paste and mix well. Lower heat to prevent burning.

Toss in yellow bell pepper. Season with ground pepper to taste. Set aside.

Pour ¾ cup of water and 2 Signature Miso Ramen Soup Bases in a small saucepan. Place the pan on medium heat. When soup is dissolved, add soy milk and lower heat to low. Do not let it boil, or the milk will curdle. If the soup is too salty, add more soy milk. Divide soup into two ramen bowls.

Cook the noodles per Cooking Instructions on the back of the package.

Once noodles are done, drain out excess water. Place noodles into each bowl of soup.

Garnish with chopped scallions and enjoy!
Recipe Reviews
There are no reviews yet. Be the first one to write one.