Leftover Corned Beef Tonkotsu Ramen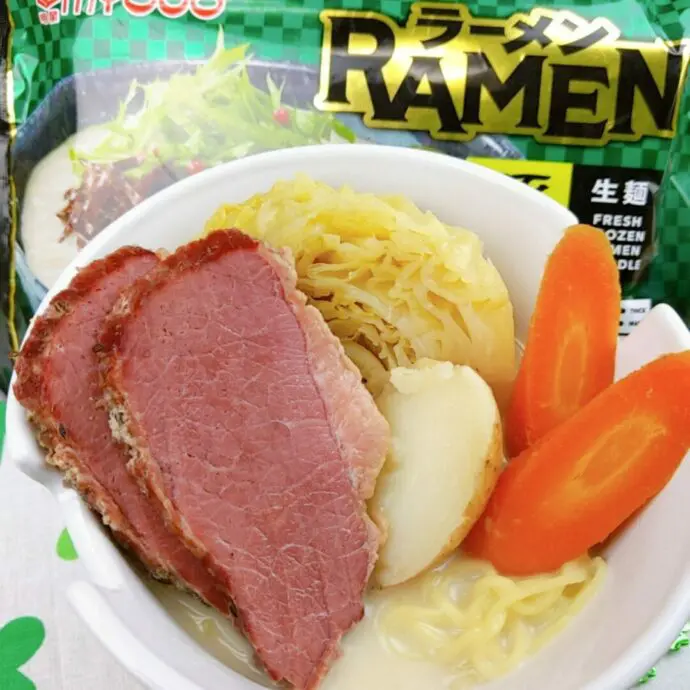 Have lots of leftover corned beef from St. Patrick's Day? While it is common in the states to use leftover corned beef for sandwich, we have learned that it is also good with our Shio Tonkotsu fresh ramen noodles! The rich shio tonkotsu broth pairs well with corned beef and vegetables. The corned beef and vegetables are salted enough, so all you need to do is to microwave and use them as toppings! If you have not already cooked the corned beef, check out the recipe, "Corned Beef and Cabbage with Kale Noodles"! 
Yields
1 serving
Cook Time
15 mins
Print
Ingredients
Ramen
1

serving

Premium Shio Tonkotsu Ramen
Soup
1

packet

Premium Shio Tonkotsu Ramen Soup Base

1 1/2

cups

Hot Water
Toppings
2

pieces

Corn Beef

cooked

1/6

Cabbage

cooked

2

slices

Carrot

cooked

1/2

Potato

cooked
Instructions
Boil plenty of water and follow the package instructions to cook the noodles. Once the noodles are cooked, drain well and place the noodles in a bowl. Pour the soup over the noodles. 

Microwave the cooked corn beef and vegetables for 1 min-2min. Top the ramen with cooked corned beef, cabbage, carrot, and potato. Enjoy! 
Recipe Reviews
There are no reviews yet. Be the first one to write one.