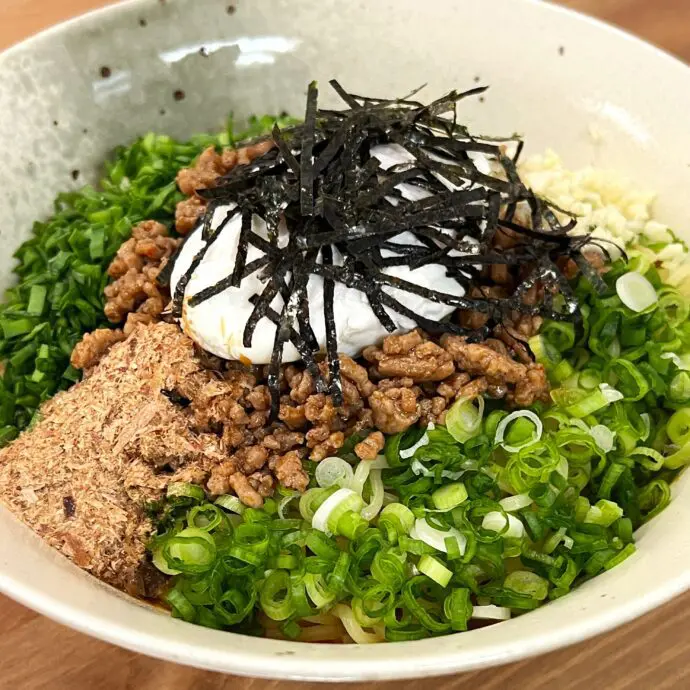 Mazesoba is a popular dish in Japan, and some restaurants started offering Mazesoba! There isn't much soup in the dish, but the thick and spicy soup is a great match with our Premium Tantanmen noodles! After trying some of our Tantanmen Mazemen, be sure to try adding some vinegar for a change in taste! Finish the dish with a bowl of rice, leaving no soup behind.
Yields
2 servings
Cook Time
20 mins
Print
Ingredients
Ramen
2

servings

Premium Tantanmen
Soup
1

packet

Premium Tantanmen Soup Base

⅔

cup

Hot Water (For 2 servings - Split to two bowls) 
Toppings (Pork)
½

lb

Ground Pork

1

tsp

Sesame Oil

1

tsp

Garlic

minced

½

tbsp

Sugar

½

tbsp

Soy Sauce

1

tbsp

Oyster Sauce

½

tbsp

Tobanjan (Dobanjiang)

1

tbsp

Sake

3

tbsp

Water
Toppings
2

Eggs

½

Chives

5

tbsp

Green Onions / Scallions

Minced Garlic

by preference

Bonito Flakes

by preference

Shredded Nori

by preference

½

cup

Rice
Instructions
Finely chop the chives and onions, set aside.

Heat sesame oil in a frying pan and roast the garlic until fragrant. Add ground pork and stir-fry.

Add in sugar, soy sauce, oyster sauce, tobanjan, sake, and water. Stir-fry over low heat until the water is gone. Cook until the mixture becomes less watery.

Boil water in a pot and make poached eggs. Remove the eggs from the pot before the yolk hardens.

Prepare the soup into two bowls.

Follow the package instructions to cook the noodles. Once the noodles are cooked, drain well and place inside the bowl from Step 5.

Top the noodles with chives, green onion, pork, and garlic from Step 3. Add on bonito flakes and finish topping with poached eggs and shredded nori. You are done!
How to Eat
Crack open the poached egg and mix the egg with noodles, then enjoy! You can also add vinegar for a change in taste.

Add rice to the leftover soup and enjoy! Less food waste, the merrier!
Recipe Reviews
There are no reviews yet. Be the first one to write one.