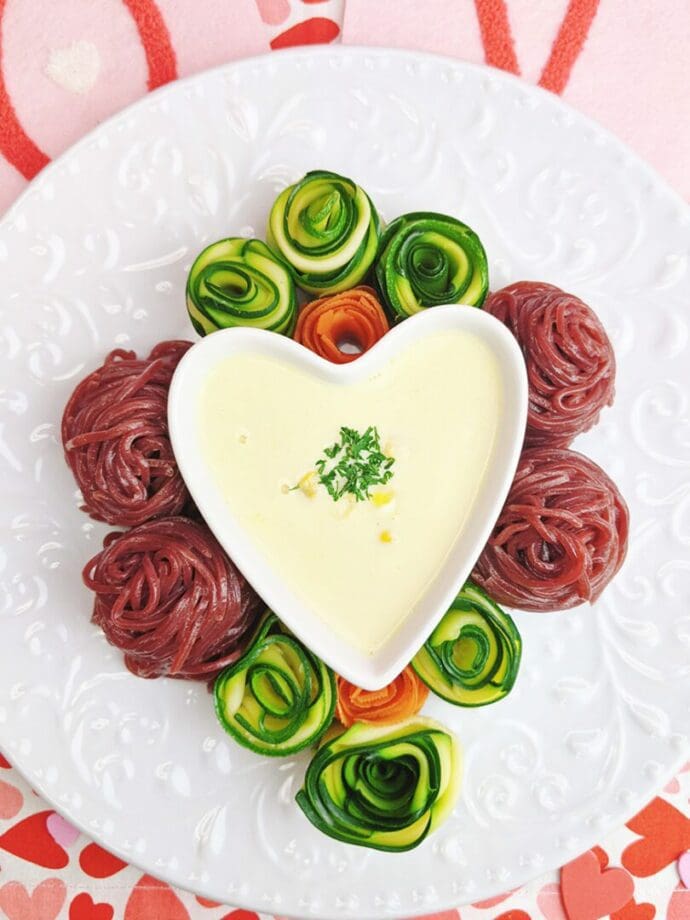 Looking for something healthy and aesthetic for Valentine's? Our Beet Noodles are great for Valentine's! With a little bit of arrangement, this dish can transform into a colorful bouquet! The refreshing taste of our noodles dipped in a creamy corn soup is a great combination! If you do not have time, simply use broccolis as a colorful decoration.
Yields
2 servings
Cook Time
30 mins
Print
Ingredients
Soup
1

can

Corn (or 1 cup Corn)

1

Onion

1

cup

Water

1

cup

Milk

1

cube

Chicken Bouillon

2

tbsp

Butter

1/4

cup

Heavy Cream

Salt

by preference
Toppings
2

Zucchinis

2

Carrots

2 1/2

cups

Water (For Boiling)

Salt

by preference

Parsley
Instructions
Mince the onions and drain the corns. While keeping the minced onions and drained Corns in a separate bow, set aside 1 tbsp of corn for topping.

Heat the butter in a pot and add in the corns and onions from Step 1. Thoroughly cook the onions, add in water and chicken bouillon. After the soup starts boiling, lower the hit and simmer for 10 minutes.

Turn off the stove and let the pot cool down. Pour the soup into a blender and blend until the mixture is pureed. Strain the soup to ensure that the soup is smooth. Pour the soup back into the pot and add in milk. Heat the pot and stir well, making sure that the soup does start boiling. The corn soup dip is ready!

Peel the skin off the zucchinis and carrots. Using the peeler, thinly slice the vegetables into strips. Cook the vegetables in boiling water and drain well. Once the vegetables are cooled down, roll them up into a ball (like the picture).

Add plenty of water to a separate pot and boil. Add in the beet noodle and cook for 3 minutes 30 seconds. Once the noodles are cooked, drain well. Drizzle olive oil so that the noodles do not stick together.

Place a small soup bowl on the center of a plate and pour in corn soup. Top the soup with parsley and corns you've set aside on Step 1. Arrange the vegetables from Step 4 anyway you like them. Lastly, roll up the noodles using a work and arrange them on the plate. Enjoy!
Recipe Reviews
There are no reviews yet. Be the first one to write one.