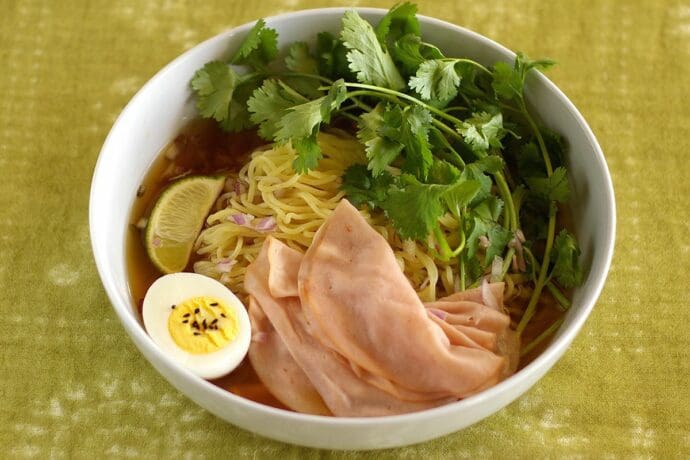 Thanksgiving is around the corner, and many of us will be busy grocery shopping! With lots of feasts on the way, leftovers are bound to happen. Our Signature Shio Ramen is so versatile, it makes any toppings possible! If you have turkey ham, try using it as a topping! Besides the salted eggs, all other toppings are easy to find. 
Yields
1 serving
Cook Time
15 mins
Print
Ingredients
Ramen
1

serving

Signature Shio Ramen  
Soup
1

packet

Signature Shio Ramen Soup Base 

1 ¼

cups

Water
Toppings
50

g

Turkey Ham

very thinly sliced 

10

g

Cilantro Leaves 

½

tbsp

Red Onion

chopped 

1

Lime Wedge 

½

Salted Egg

you can follow our recipe below
Salted Egg (1~6 servings)
1-6

Eggs (As you need)

4

cups

Water (For Boiling)

2

cups

Water (For Brine)

2

tsp

Salt
Instructions
Place Eggs in a medium pot and pour 4 cups of water, then bring to boil. Keep boiling for 6-7 minutes. Turn off heat and immediately cool down the egg under running water.

In a small bowl, combine 2 cups of water and salt. Mix well until the salt is dissolved.

Peel off the eggshells and soak in the brine from Step 2 for overnight.

*The longer soaked, the boiled eggs get saltier. This salted egg can be stored in a fridge for a week.

*1 cup of water and 1 teaspoon of salt makes 2 - 3% salinity brine
Ramen
Prepare Signature Shio Ramen, following direction on the package. 

Place cooked noodles in a pasta bowl and add soup. Add Turkey Ham, Cilantro and Salted Egg. Sprinkle with Red Onion. Enjoy!  
Recipe Reviews
There are no reviews yet. Be the first one to write one.