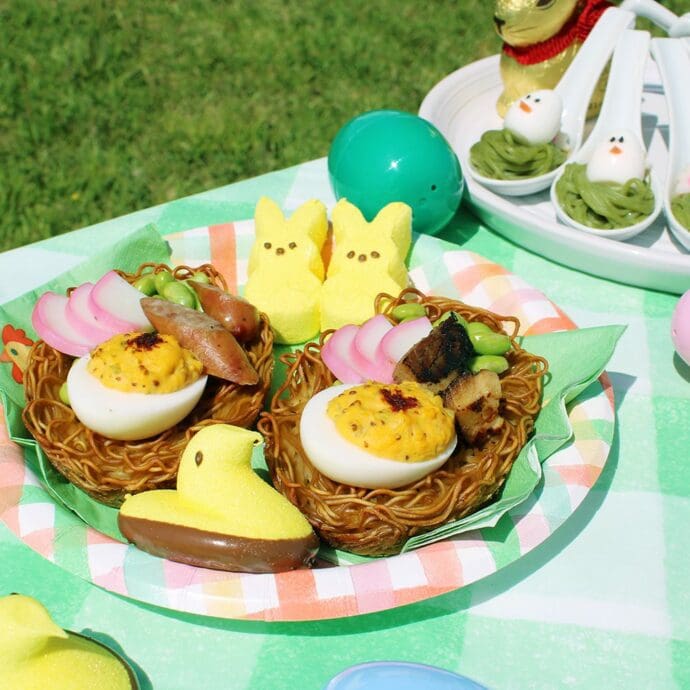 While there are many ramen brands with recipes, you will rarely find recipes that are party/holiday themed like ours! Inspired by the deviled eggs served during Easter, we have decided to get creative and turn our fresh ramen noodles into a nest! After experimenting, we have learned that shoyu ramen tastes surprisingly well baked! Decorate the nest with ramen toppings like Chashu and kamaboko, and finish topping with a deviled egg! This is recipe is recommended for parties, so impress your guests with this Easter (and other) themed recipe!
Yields
4 servings
Cook Time
30 mins
Print
Ingredients
Ramen
2

servings

Signature Shoyu Ramen
Soup
2

packets

SignatureShoyu Ramen Soup Base

1

cup

Hot Water
Toppings
2

BoiledEggs

1

tbsp

Sweet Relish

1

tbsp

Mayonnaise

Salt & Pepper

by preference

Paprika

by preference

1

slice

Chashu (Braised Pork)

2

Mini Sausages

6

slices

Kamaboko (Fishcake)

Edamame (Soybean)

by preference
Instructions
Make boiled eggs and cut the eggs vertically. Separate the egg yok in a small bowl and mix with sweet relish, mayonnaise, salt, and pepper. Fill the empty part of the eggs with the mixture. The deviled eggs are ready!

Cut the chashu, sausages, and kamaboko into small bite sized slices. Shell the edamame and set aside.

Boil plenty of water in a pot and follow the package instructions to cook the ramen noodles. Once the noodles are cooked, drain well. Prepare the soup by mixing the soup base and hot water in a bowl. Add in the noodles and let it sit for about 3 minutes to soak in the flavor. Using a strainer, drain well.

Thinly apply butter inside the round egg tart mold, and coat with flour. Place the ramen noodle from step 2 and shape with the mold. Gently push down the noodles so that it is thin and shaped with enough space to decorate the center with toppings.

In a 350F (180C) pre-heated oven, bake the noodles for approximately 30 minutes (The time depends on the type of oven).

Remove the tart mold from the oven and let it cool. Remove the noodles from the tart mold, and the ramen nest is ready!

Once the ramen nest is cooled down, decorate with deviled egg, chashu or sausage, kamaboko, and edamame. Enjoy!
Recipe Reviews
There are no reviews yet. Be the first one to write one.