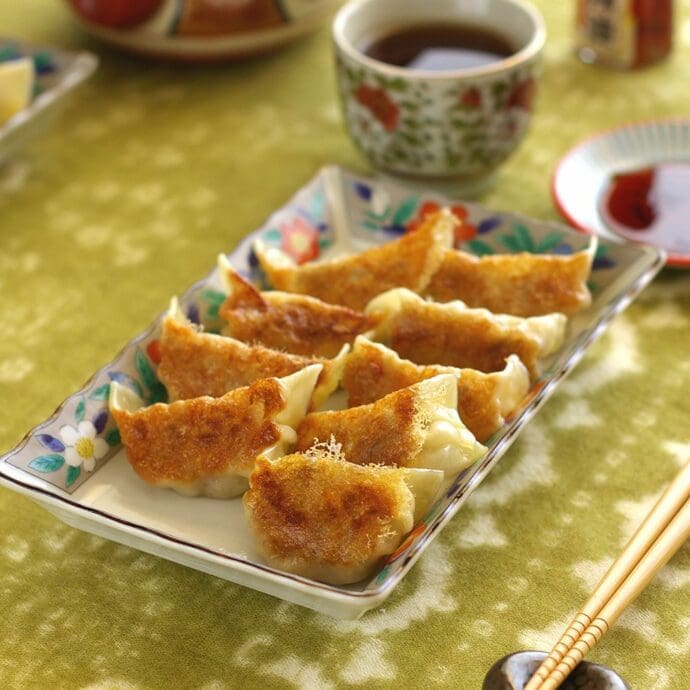 Love vegetarian recipes? How about some Vegetarian Gyoza? With ingredients that could easily be found in supermarkets (Western and Asian), you can easily make gyoza at home! The celery and walnuts are for the texture, and the tofu is to keep everything together. While the shiitake mushrooms can be difficult to find in Western Supermarkets, they are easily found in Asian markets. Shiitake is the key ingredient to create an umami flavor! Adjust the ingredients as you like and omit the garlic and ginger if you are looking for a Taoist recipe. Enjoy! 
Yields
2 servings
Cook Time
30 mins
Print
Ingredients
Wrap
16-20

pieces

Gyoza Wrappers

1/2

cup

Water

1

tbsp

Cooking Oil
Filling
100

g

Firm Tofu

50

g

Total of Onion, Celery, Carrot

chopped into small pieces

25

g

Walnuts

chopped into small pieces

3

g

Dried Shiitake Mushrooms

1

tsp

Sesame Oil

1/2

thumb

Ginger

by preference

1/2

clove

Garlic

by preference

1/2

tsp

Salt

1/4

tsp

Black Pepper
Sauce
1/2

tbsp

Vinegar

1/2

tbsp

Soy Sauce

Chili Oil

by preference
Instructions
Wrap the tofu in kitchen paper, and lightly weigh the tofu down. Leave for about 20 minutes then drain.

Soak the dried shiitake mushroom in warm water for about 20 minutes to rehydrate. Chop into small pieces.  

By using a fork or your hand, crush the tofu into small pieces. In a medium bowl, combine all ingredients for the filling, except for the sesame oil. 

Add the sesame oil and mix well. 

Place a gyoza wrapper on your palm. Scoop one heaping teaspoon of the filling onto the wrapper. Apply just little water around the edge of the wrapper then seal it. Repeat until you run out of wrappers or filling. 

Heat a frying pan over the medium heat and coat with cooking oil. Place the gyoza on the pan and heat until browned. 

Pour the water into the frying pan and cover with a lid. Steam for 5 to 6 minutes until the water evaporates. Transfer to the serving plate.  

Combine the vinegar and soy sauce in a small plate. Add some chili oil to taste. Dip the Gyoza in sauce and enjoy!
Recipe Reviews
There are no reviews yet. Be the first one to write one.