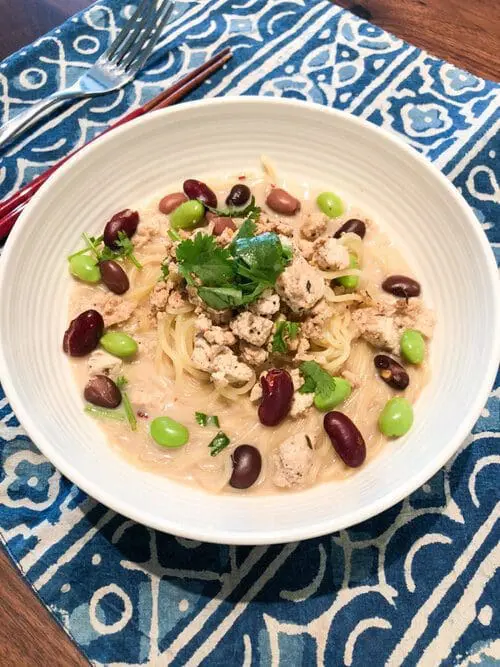 Love ramen but you want to be healthy? Try adding some tofu and beans! Who knew tofu and beans would taste great with ramen? We used our Signature Tonkotsu Ramen for this recipe! Tofu is low on calorie and high on protein, making it a healthy dish! Make sure to press the tofu to drain the water, as tofu can get water. Stir-fry tofu and beans with sesame oil, soy sauce, and a hint of chili powder. Enjoy the savory taste of the stir-fried tofu and beans while staying healthy! By using a simple plate, it looks like a pasta dish! 
Yields
3 servings
Cook Time
20 mins
Print
Ingredients
Ramen
3

servings

Signature Tonkotsu Ramen
Soup
3

packets

Signature Tonkotsu Ramen Soup Base

3 ¾

cups

Hot Water (1 ¼ cups per serving)
Toppings
1

pack

Tofu

firm or extra firm

½

can

Black Beans

½

can

Kidney Beans

½

cup

Edamame

thawed if frozen

1

tsp

Sesame Oil (for tofu)

1

tsp

Sesame Oil (for beans)

½

tbsp

Soy Sauce (for tofu)

1

tsp

Soy Sauce (for beans)

Chili Powder

by preference

Salt and Pepper

by preference

Cilantro
Instructions
Press the tofu with a paper towel and drain the water. Wrap the tofu in paper towel and place in microwave-safe plate. Microwave for 60 seconds to drain more water. 

Heat a frying pan over medium heat. Add 1 tsp of sesame oil. Add tofu and stir-fry while cutting up the tofu with a spatula to large bite sizes (do not use metal spatulas). Once the water from the tofu evaporates, stir in ½ tbsp of soy sauce and season with salt and pepper. 

Using another pan, heat up another 1 tsp of sesame oil. Add ½ can of black beans and kidney beans to stir-fry. After stir-frying the beans, season with 1tsp of soy sauce and a pinch of chili powder.  

Prepare the ramen (noodles and soup) by following the instructions in the back.

After the ramen is prepared, top the ramen with stir-fried tofu and beans. Add edamame.  

Garnish with cilantro, and you are done! 
Recipe Reviews
There are no reviews yet. Be the first one to write one.