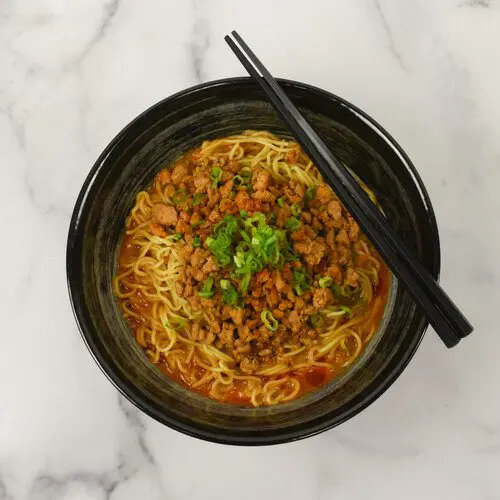 Tantanmen is a Japanese take on Dan Dan Noodles, a Sichuan cuisine. While Dan Dan Noodles are usually soup-less, Tantanmen can be with or without soup. The common ingredients used for Tantanmen are sesame paste and soy milk, which mellows the spiciness and gives a nutty sweet flavor. Because sesame paste can be hard to find, we recommend trying peanut butter! Peanut butter is a good alternative for a nutty creamy flavor. Tantanmen can be easy, so try this recipe using our Signature Spicy Miso Ramen! 
Yields
1 serving
Cook Time
15 mins
Print
Ingredients
Ramen
1

serving

Signature Spicy Miso Ramen
Soup
1 ¾

cups

Water

1

packet

Signature Spicy Miso Ramen Soup Base

1

tbsp

Peanuts Butter
Toppings
80

g

Ground Pork

1

Green Onion

minced

1

tsp

Ginger

minced

1

tsp

Doubanjiang

1

tsp

Sesame Oil

Salt and Pepper

by preference

La-yu Chili Oil

by preference
Instructions
Add 1 tsp sesame oil to a deep-dish pan and heat the pan. Add in ground pork and stir-fry as you season the pork with salt and pepper. 

Add 1 tsp of minced ginger, ½ of minced green onions, and 1 tsp of doubanjiang to the pan and stir-fry. 

After the pork is cooked, set aside half of the meat for topping. 

With ½ of the meat still in the pan, Add 1 ¾ cups of water to the pan. As the water boils, add in the soup base. Lower the heat and simmer for 1-2 minutes. 

While the soup is simmering, mix 1 tbsp of peanut butter with a little bit of the soup in a separate bowl. Once the peanut butter is completely dissolved, add it back into the pan. Set aside. 

Follow the instructions on the package to cook the noodles. 

Once the noodles are cooked, drain well and place the noodles and soup (Step 5) to a bowl. 

Add the pork that was set aside for topping, and add ½ of the minced green onions to the bowl. Finish up by swirling in chili oil as you like. 
Recipe Reviews
There are no reviews yet. Be the first one to write one.