Chicken Chashu on Shio Tonkotsu Ramen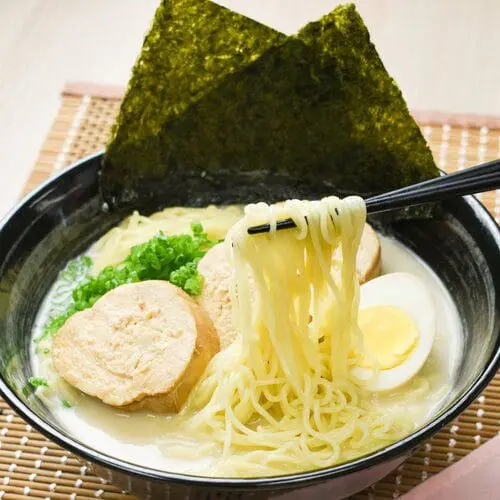 Chashu is one of the most popular ramen toppings when making ramen. Cooking it from scratch can be a bit tricky, but you should try chicken chashu if you are tired of fatty pork chashu! Get healthy by making chashu using chicken breasts! Use a rice cooker (or slow cooker) to make tender and juicy chicken chashu! It tastes great with our Premium Shio Tonkotsu Ramen.
Yields
2 servings
Cook Time
120 mins
Print
Ingredients
Ramen
2

servings

Premium Shio Tonkotsu Ramen
Soup
2

packets

Premium Shio Tonkotsu Ramen Soup Base

2 1/2

cups

Hot Water (1 1/4 cups per serving)
Toppings
Chicken Chashu Slow Cooking Method

you can also follow the recipe below

1

Ajitsuke Tamago

halved, you can follow our recipe

2

Green Onions

chopped

1

Dry Seaweed (Nori)

halved
Chicken Chashu Slow Cooking Method
1

Chicken Breast

2

tbsp

Soy Sauce

2

tbsp

Sake

1

tbsp

Mirin

1

tbsp

Honey

1

tsp

Ginger

minced

1

tsp

Vegetable Oil

Hot Water (Enough to cover chicken)
Instructions
Chicken Chashu Slow Cooking Method
Mix together soy sauce, sake, mirin, honey, and ginger in as mall bowl.

Cut open the thick part of the chicken breast to even out the thickness.

With a fork, puncture the chicken breast all over. Using a butcher's twine (cooking string), roll, wrap, and tie up the breast.

Heat oil on a frying pan, grilling both sides of the breast. This is to keep the umami flavor.

Put together chicken breast and the marinade from step 1 inside a Ziploc bag. Close the bag while keeping the air out. The bag should be airtight.

Place the bag inside the rice cooker and add in hot water to cover. The hot water should be enough to cover the chicken. The recommended temperature is below 158°F (70°C).

Close the lid, and keep warm for 2 hours.

Take the bag out of the bag and let cool. Once it is cooled down, slice the chicken and the chashu is ready!
Ramen
Prepare the Premium Shio Tonkotsu Ramen while following package instructions.

Top the ramen with chicken chashu, eggs, green onions, nori seaweed, and you are done!
Recipe Reviews
Yum
I used this marinade just on some boneless skinless chicken thighs. I marinated for an hour and then sauteed in a grill pan for a few minutes each side because I don't have a rice cooker and I was in a hurry. It was SO GOOD! I'll definitely make this again.